Novak Djokovic was included in the Australia Open Draw today. Although uncertainty remains about whether the government will cancel the top seed's visa for a second time.
Novak Djokovic was drawn against a fellow Serb, Miomir Kecmanovic. Uncertainty still looms over whether he will be allowed to compete in the Australian Open.
Also Read:- Jamie Hampton Furious With Fans For Speculating Rafael Nadal To Retire; Says; "They Play Because They Love It."
It appeared that the Immigration minister Alex Hawke's decision could be imminent when the draw was postponed from 3pm at the last minute and without explanation.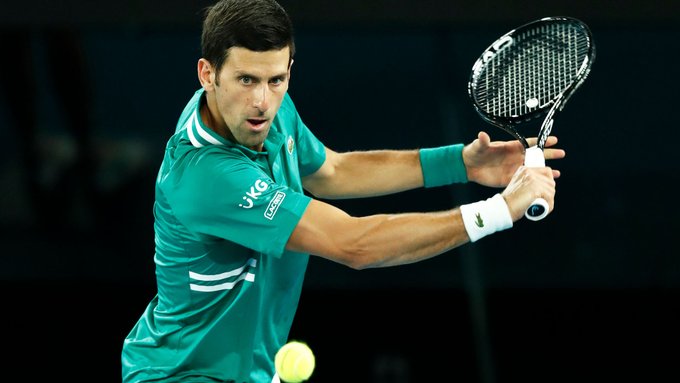 The draw was pushed back 75 minutes because Alex Hawke was not ready to make a decision about Djokovic. It was pushed back from 3pm to 4.15 pm.
Novak Djokovic's Australia Open Draw Still Temporary
The Australian Open Draw ceremony on Thursday eventually did take place even after a long delay.
The two draws of 128 were slotted in the men's and women's singles categories. Novak Djokovic's name was among them. He is to play fellow Serbian Miomir Kecmanovic in the first round.
The 34-year-old defending champion, was out practicing at the Rod Laver Arena earlier on Thursday.
Top seed and nine-time #AusOpen champion ???????? @DjokerNole begins his title defence against Miomir Kecmanovic.#AO2022 pic.twitter.com/96MAlHNElG

— #AusOpen (@AustralianOpen) January 13, 2022
He drew unseeded Miomir Kecmanovic for his opening round match and is expected to be played on Monday or Tuesday.
Novak Djokovic is a nine time champion. He is the top seeded draw and will be allowed to defend his title.
Organisers already have the guidelines in place to change the draw should Djokovic be forced to withdraw due to Alex Hawke's decision.
Immigration Minister Alex Hawke is still weighing exercising his discretionary power to revoke Djokovic's visa.
The decision depends over concern about the tennis star's medical exemption from Australia's COVID-19 vaccination requirements.
Guidelines In Place If Djokovic Has To Withdraw
The draw for the Australia Open was done by the Tennis Australia. Craig Tiley, the director and chief of the tournament was present at the event. He did not take any questions from the press.
If Djokovic is forced out of the tournament ahead of Monday's order of play being announced, there are guideline for these scenarios.
The seeds will be shuffled around, with fifth seed Andrey Rublev taking Djokovic's place. If the withdrawal happens after that time but before the first-round match, he will be replaced by a lucky loser from qualifying.
Rafael Nadal was placed in the same half as Djokovic and is a potential semi-final opponent for the top seed, with third seed Alexander Zverev also in the top half.