The introduction of Battlegrounds Mobile India (BGMI) Early Access for Android smartphones has sparked joy among the Indian community. They were eventually permitted to play the customized edition months after the ban on PUBG Mobile was announced.
#BattlegroundsMobileIndia is currently playable on PC exclusively with #BlueStacks5

If you're one of the few lucky players with access to the game, try it now.
🔗Know More: https://t.co/jdkyTh1cRG#BlueStacks #gamers #gaminglife pic.twitter.com/413SIsjWru

— BlueStacks (@bluestacksinc) June 23, 2021
Battlegrounds Mobile India has made great strides, and the community is overjoyed with the outcomes. The game's Early Access version is now accessible on the Google Play Store for those who have enrolled for the Beta Program, which is now open to everyone.
Many gamers are also curious if they will be able to play the new region-specific edition of the game on their PCs using software such as emulators. This article investigates whether or not BGMI may be played on Gameloop or other emulators.
Feels bad for iOS and Emulator users! 🤧#BGMI #battlegroundsmobileindia #IndiaKaBattleRoyale pic.twitter.com/GYdu4hCMLh

— GemWire (@GemWire) June 18, 2021
Emulator showing errors on Gameloop
Battlegrounds Mobile cannot currently be played on Gameloop or any other emulator, much to the chagrin of gamers except Blue Stacs5. When the gamers attempt to open it on them an error was shown.
Several gamers want to use an emulator to play BGMI on their PCs. However, they were met with an error notice reading, "Server is busy, please try again later. Error code: restriction – area "When they attempted to do so, they were unable to do so since emulators were not supported.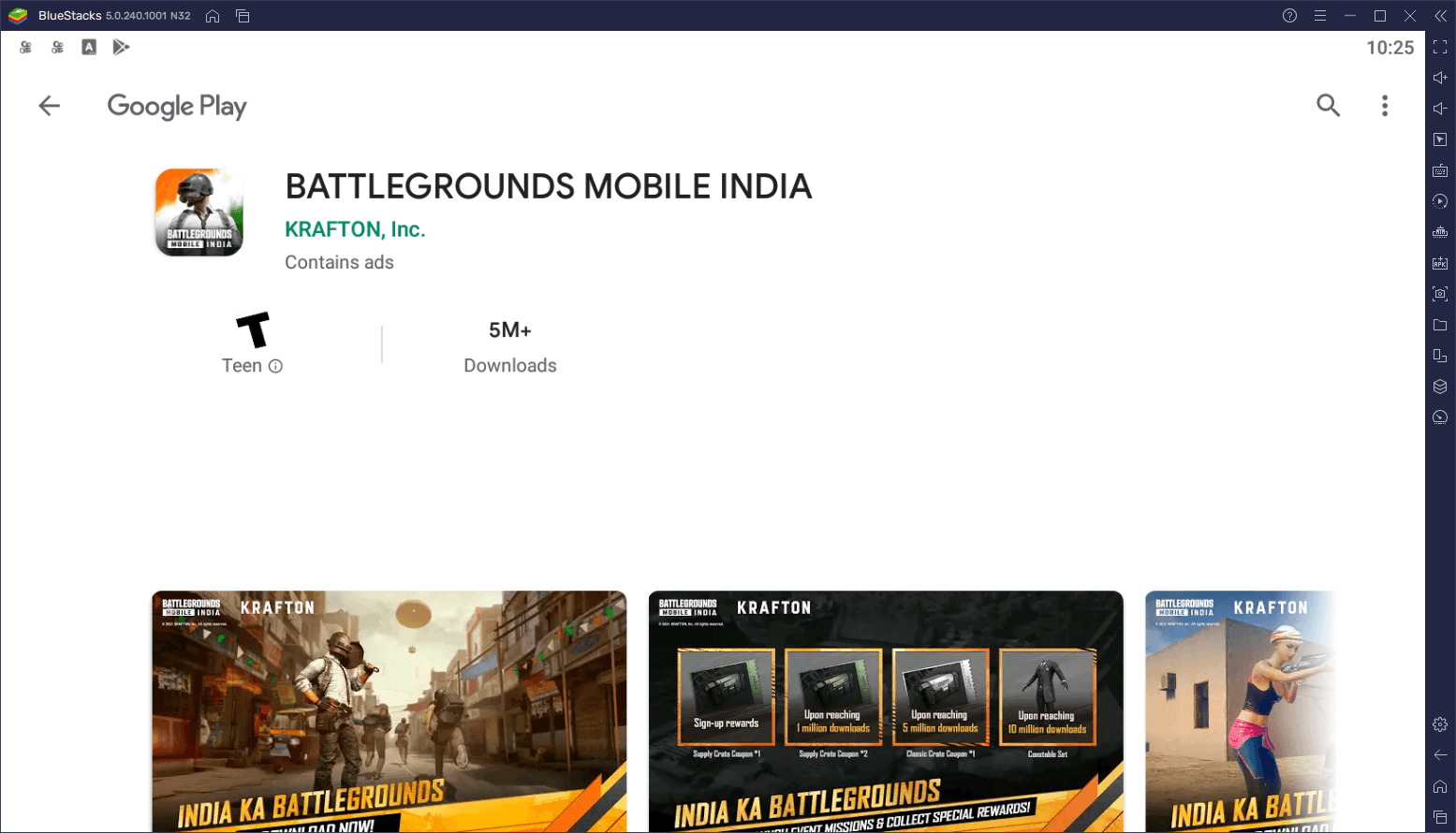 However, only a few days after the Early Access launch, BlueStacks announced that Battlegrounds Mobile India is only accessible on BlueStacks 5, the most recent version of their emulator.
Choosing the right weapon gives you an edge over your competition in Battlegrounds Mobile India.

Here is a list of the best weapons in each category.
🔗https://t.co/VVikSqSixc
.
.

.

.

.

.#BlueStacks #BlueStacks5 #BGMI #BattlegroundsMobileIndia pic.twitter.com/ZIRNZ9TYMI

— BlueStacks (@bluestacksinc) June 24, 2021
How to Play BGMI on Blue Stacks
Players may now enjoy the game on a large PC or laptop screen in addition to Android smartphones. All thanks to the BlueStacks emulator. Players will also be able to utilise keyboard and mouse controls to improve their performance in-game. You can also download and play Battlegrounds Mobile India (BGMI) on BlueStacks by following the instructions outlined below:
Download and instal BlueStacks 5 emulator from its official website on your PC or laptop.
Open Google Play Store and sign in using the account you used to register for the BGMI open beta test.
Install the game by searching for Battlegrounds Mobile India or BGMI in the search box.
Then, from the emulator's home screen, launch it and log in with your account after agreeing to all of the rules to begin playing BGMI.
With Krafton is adding support for new devices for Battlegrounds Mobile India or BGMI, expect exciting news going forward. However, right now, the game may not work on all PCs.
Also Read: First Look at Battlegrounds Mobile India: A Reimagined Version of PUBG Mobile