Daniil Medvedev is the 2nd seeded player after Novak Djokovic in the Australia Open. He has admitted that any country can deny entry to a foreign national.
Yet he still has questions about the legal basis for Australia's impending deportation of Novak Djokovic.
Also Read:- The Net Worth of Daniil Medvedev: How Much Has the Russian Earned From Tennis and Brand Endorsements?
Daniil Medvedev says that even if Nole doesn't hit a single serve in the first Grand Slam event of 2022, the hype of the world's no.1 player will largely loom over the Australian Open.
Novak Djokovic's deportation can push Daniil Medvedev to be the top seed alongside Rafael Nadal. Roger Federer is not playing the tournament and has withdrawn due to injury.
Daniil Medvedev Supports Novak Djokovic During His Visa Cancellation Debacle
Novak Djokovic arrived in Melbourne with a medical exemption due to Australia's requirement for visitors to be vaccinated for COVID-19.
He still had his visa cancelled first on arrival and then again on Friday. It was cancelled even after he won a court case earlier in the week.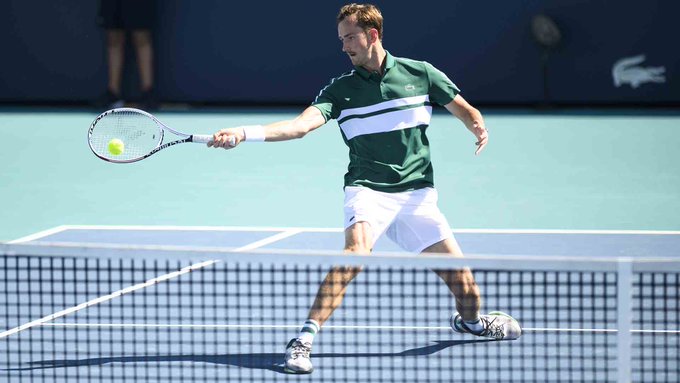 Rafael Nadal is tied on a record 20 Grand Slam title wins alongside Djokovic and Roger Federer. He offered his thoughts on Novak and hinted that Djokovic has been the architect of his own undoing due to his refusal to get vaccinated against Covid-19.
Daniil Medvedev who is the second seed and the one player with the most to benefit from Djokovic's absence, offered a different take and defended him.
Medvedev Coins Djokovic One Of The Greatest
Medvedev said, "I want to say about Novak's situation that we're in Australia, it's their rules. But from what I know, again, if he has a valid exemption to be in this country and to do what he wants, then he should play."
"If the exemption is not valid or something else is not valid – well, any country can deny your entry."
The reporters still asked him questions about Novak Djokovic's greatness. He said, "I don't know what the perception around the fans is."
"I know that in the sport he's still seen as one of the greatest players because his achievements are not taken away."
He continued, "He still won 20 Grand Slams. He still has the most weeks as world number one and he still has the most Masters Series (titles). Still for me, one of the greatest players of all time."
"This is obviously not a nice thing for everyone, for him especially. But don't question his legacy because of this."
Daniil Medvedev is fairly confident in his chances of winning the tournament. He starts his Australian Open campaign by facing Swiss player, Henri Laaksonen in his opening match on Tuesday.