Frances Tiafoe Jr. was born on January 20, 1998, making him 23 years old. He is the son of Sierra Leonean immigrants and was raised at the Junior Tennis Champions Center (JTCC), which is a United States Tennis Association (USTA) regional training center in Maryland, where his father worked as the head of maintenance. He became a successful teenage player, which led to him being widely regarded as a great prospect to become one of the United States of America's next tennis stars.
Tiafoe first broke into the top 100 of the ATP rankings in 2016 with his victory at the 2018 Delray Beach Open. His best performance at a Grand Slam event came at the Australian Open in 2019, where he reached the quarterfinals. Early in his career, Tiafoe won the 2013 Orange Bowl at 15 years old, making him the youngest boys' singles champion in the history of the tournament.
At the age of 17, he became the youngest American to participate in the main draw of the French Open since Michael Chang in 1989. As a teenager, he also won the US Junior National Championship and enjoyed success on the ATP Challenger Tour, reaching 9 finals and 4 titles.
Frances Tiafoe has been ranked as high as no. 29 by the Association of Tennis Professionals (ATP) in the world in singles on 11 February 2019. His career-high ranking is No. 160 in doubles, which he achieved on 1 November 2021. Tiafoe won his first ATP title at the 2018 Delray Beach Open and became the youngest American man to win a title on the ATP Tour since Andy Roddick in 2002.
Frances Tiafoe currently resides in Orlando, Florida, USA. He grew up in Hytasville, Maryland, but has since moved to Florida.
Early Life of Frances Tiafoe
Frances Tiafoe was born, along with his twin brother Franklin, in Maryland, to Frances Sr. Tiafoe and Alpina Kamara, who were immigrants from Sierra Leone. His father emigrated to the United States in 1993, and his mother joined him in 1996 to escape the civil war in their home country. In 1999, his father began working as a day laborer on a construction crew that built the JTCC in College Park, Maryland.
Frances and Franklin lived with their father at the center five days a week for the next 11 years. They took advantage of their living situation to start playing tennis regularly at age 4. They stayed with their mother when she was not working night shifts as a nurse.
When Tiafoe and his brother were 5 years old, their father arranged for them to begin training at the JTCC. At age 8, Misha Kouznetsov began coaching Tiafoe at the center after seeing his work ethic, passion, and interest in the sport. Kouznetsov helped Tiafoe by getting sponsors for him to play at tournaments as he progressed through the juniors.
Thank you for everything you've done. True inspiration to all of us. #UntilWeAllWin ???????????????????????? https://t.co/Mlv7mziyQJ

— Frances Tiafoe (@FTiafoe) June 1, 2020
He continued to coach Tiafoe for nine years until he moved to the USTA National Training Center in Boca Raton, Florida. Frances' brother Franklin stayed in Maryland, where he played high school tennis at DeMatha Catholic High School and later played college tennis at Salisbury University.
Also read: "Serena Williams and Venus Williams Are Always Going to Be Major Goats" – Frances Tiafoe Heaps Praises on the Williams Sisters
Frances Tiafoe and his professional career
2014-16
· Frances Tiafoe made his ATP Tour main draw debut at the age of 16 after being granted a wild card by his home tournament, the 2014 Citi Open in Washington.
· In April 2015, Tiafoe broke through to the ATP Challenger level. After starting the month outside the Top 800, he put together a string of solid performances that pushed him into the Top 300 in the world by the time the first set of ATP rankings were published in May. In his Grand Slam debut, Tiafoe lost his first-round match to Martin Kližan. Even then, he became the first 17-year-old American to play in the main draw of the men's singles tournament since Michael Chang and Pete Sampras in 1989.
I have a feeling we will seeing this amazing video (and commentary) in @FTiafoe highlight reels for a long time to come!

— Mark Ein (@Markein) October 30, 2021
In 2016, Tiafoe consistently produced big tournament runs at the Challenger level but was still unable to break through. At the Indian Wells Masters, he was awarded a wild card into the main draw and won his first-round match against his compatriot rival, No. 80 Taylor Fritz, in their first-ever ATP-level match. In October, Tiafoe cracked into the Top 100 for the first time by winning the maiden event at Stockton by defeating fellow American Noah Rubin in the final. He finished the year ranked at No. 108, making him the highest-ranked player at his age for the second year in a row.
2017-19
In 2017, at the Australian Open, Tiafoe began the year by reaching the main draw of a Grand Slam by qualifying for the first time and then recording his first career Grand Slam match win over Mikhail Kukushkin. He also qualified for the Miami Masters and won the first-round match before falling to Roger Federer.
In 2018, Tiafoe ended the year with a ranking of No. 39. Tiafoe's biggest result of the year came at the Australian Open, where he made it to the quarterfinals of a Grand Slam tournament for the first time. During the tournament, he upset No. 5 Kevin Anderson in the second round as well as No. 20 Grigor Dimitrov in the fourth round before losing to the Spaniard, Rafael Nadal.
As a result of this successful run, he reached a career-high ranking of World No. 29 on 11 February 2019.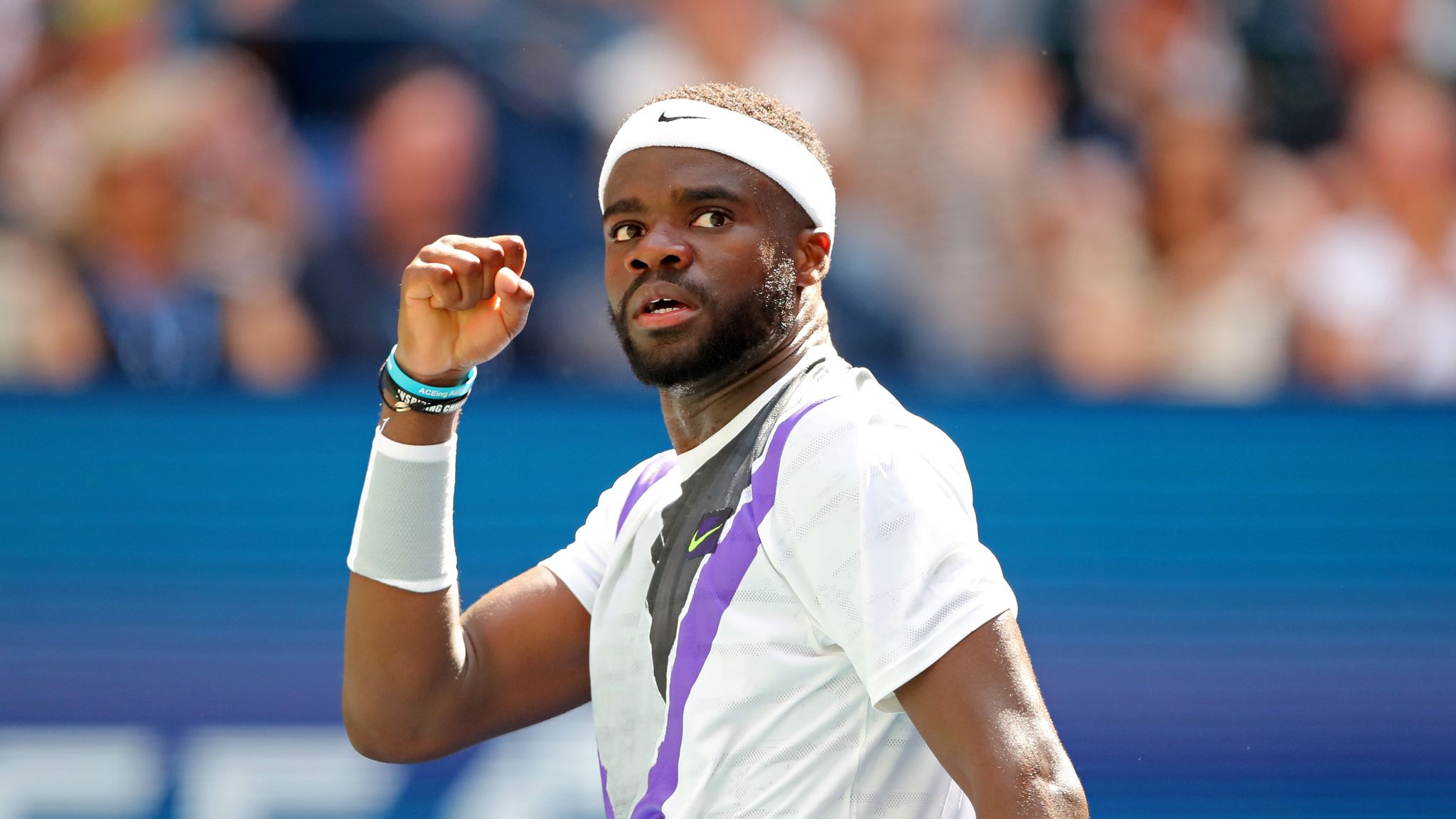 2020-21
Tiafoe did not have the best of starts as he suffered an early elimination in the 2020 Australian Open at the hands of Danii Medvedev. At the 2020 US Open, Tiafoe advanced to the third round of the tournament for the first time following triumphs over Andreas Seppi of Italy and John Millman of Australia in the first two rounds, respectively.
In 2021, Tiafoe started the year with the Delray Beach Open, where he was beaten by Cameron Norrie in the quarterfinals. At the US Open, he reached the fourth round for a second consecutive year after defeating 5th seed and world No. 7 Andrey Rublev in a five-set match. He was the first American man to reach the second week at the US Open in consecutive years since Andy Roddick and Mardy Fish in 2011–12.
Who have been the mentors of Frances Tiafoe throughout his Career?
When Frances Tiafoe was playing at the Junior Tennis Champions Center in Maryland, he was coached by Misha Kouznetsov from age 8 to 17. He left his job at the JTCC to work with Tiafoe full-time.
Tiafoe moved to Florida to train with the USTA, he was coached by José Higueras from Spain, who had coached fellow Americans Michael Chang and Jim Courier to Grand Slam titles.
Tiafoe also worked with Nicolas Todero while at USTA.
Tennis from another planet ????@FTiafoe was on FIRE for his comeback win today!#ErsteBankOpen pic.twitter.com/T9FQhRKJhD

— Tennis TV (@TennisTV) October 30, 2021
· Robby Ginepri began coaching Tiafoe in the fall of 2016.
Tiafoe's friend Zack Evenden started to help coach him shortly before he won his first ATP title in 2018. Evenden took over as Tiafoe's primary coach before the start of the 2019 season.
In 2020, Tiafoe hired former top 10 player Wayne Ferreira as another coach of his, with Ferreira eventually becoming his primary coach.
Net Worth & Sponsors:-
As of 2021, Tiafoe has earned $385,566 in prize money for 24 matches in various tournaments. During his professional career, Frances earned $4,280,469 in prize money, according to the official ATP website. His net worth is estimated at $5,000,000.
Tiafoe has been sponsored by Nike since May 2016 and was previously sponsored by Adidas. Tiafoe also endorses the Yonex VCORE Pro 97 tennis racket equipped with Polytour Pro 125 strings. He chose this racket because it helps him "play more aggressively." He also collaborates with TAG Heuer; a Swiss luxury watch manufacturer.