The Milwaukee Bucks won the 2020-21 NBA Title. They beat the Phoenix Suns in 6 games and closed out the series on a 4 game win streak. The Final score in Game 6 was 105-98. Even though the Bucks scored just 13 points in the 2nd quarter, their elite defense helped them close out this series. Giannis Antetokounmpo averaged 35 points, 13 rebounds, 5 assists, 1.2 steals and almost 2 blocks on 62% from the field.
He's the only player to average numbers like these in the NBA Finals. That's why he won the Finals MVP and deservedly so.
We've just witnessed something we've never seen before in NBA Finals history.

35.2 PPG
13.2 RPG
5.0 APG
1.2 SPG
1.8 BPG
61.8 FG%

First player ever to average 30/10/5 on 60% shooting in a Finals series. And he did it with a hyperextended knee. pic.twitter.com/57OOejmKjO

— StatMuse (@statmuse) July 21, 2021
These 2 trophies now add to all his previous accolades and begins to cement his greatness.
Also Read: NBA Finals: The Reason Why Milwaukee Bucks Were Able to Defeat Phoenix Suns
Giannis and Jordan: The Only Players to Win Finals MVP, MVP, All-Star MVP and DPOY
Michael Jordan is the greatest player in NBA History. He's won it all. NBA Champion, MVP, Finals MVP, Defensive Player of the Year, Scoring titles, etc. Because he has been able to prove his greatness time and time again, is why he's regarded as the best.
Giannis Antetokounmpo just won the NBA title and was named the Finals MVP. This is the first time that he has been able to win this honor. He, like Mike, is a former MVP, DPOY and a frequent member of the All-NBA and All-defensive teams but he's just been in the league for 7 years.
Michael Jordan and Giannis Antetokounmpo are the only 2 players in NBA History to win an NBA Title, Finals MVP, Regular Season MVP, All-star game MVP and Defensive Player of the Year. Michael ups Giannis with his ROTY trophy but Giannis Matches that with his MIP award.
Two players with a Ring, Finals MVP, MVP, All-Star MVP and DPOY. Giannis and Michael Jordan.

— Chris Palmer (@ChrisPalmerNBA) July 21, 2021
Giannis is not obviously on the level of Jordan just yet but to win all these accolades and still be only 26 is a great sign for Antetokounmpo.
The Similarities between Giannis Antetokounmpo and Michael Jordan
Giannis is a big man that dominates the paint like Shaq, has the speed of John Wall, the athleticism of Lebron and the defense of Ben Wallace. That kind of mold of player we have never seen before. He can score 50 points in a game without attempting a 3 or a mid-range shot and that shows how dominant he is. Even though teams know what they need to do to slow him down its very hard to implement this in the Game.
This is the same problem teams faced with Michael Jordan during his dominant era. Even though Jordan was not a good 3 point shooter, he would still absolutely destroy teams.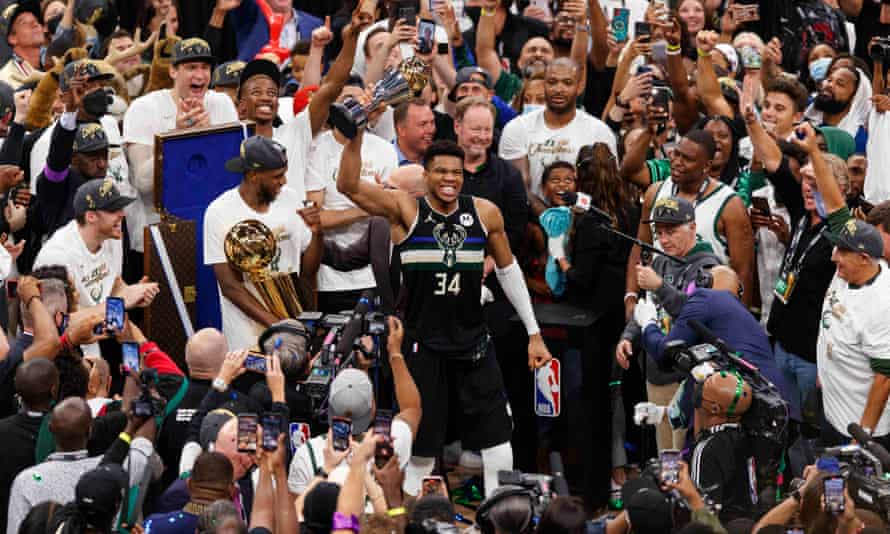 We see that in Giannis and its impossible to hate him with the way he plays the game. Every NBA Fan knows he deserved this title and we all let out a tear when we saw him cry. Tears of joy. To think that a kid from Greece that struggled in the USA when he first got here is now in the same conversation as Michael Jordan is mind-boggling.
We now shift our focus to the offseason and see what the Milwaukee Bucks will do to try and defend their NBA title next year. Can the Milwaukee Bucks repeat or 3-peat like Jordan's Bulls did? We can't wait to find out.
Also Read: LeBron James, Stephen Curry, Kevin Durant and Others React to Milwaukee Bucks' Historic Win Against Phoenix Suns in the 2021 NBA Finals