Jan Blachowicz's Suicide Rope – Here's Everything You Need to Know About the Polish Lucky Charm
It's been a very long time since the world saw a 205lb UFC champ other than Jon Jones and Daniel Cormier. That new king of the light heavyweight division is none other than Jan Blachowicz. The newly crowned king of 205 pounders is all set for his first title defense.
But, it won't be any ordinary title defense. It is going to be against the undisputed UFC middleweight champion Israel Adesanya as a headliner for UFC 259. To emerge victorious over Izzy, Jan has to be complete as a fighter as much as possible. The Prince of Cieszyn has still got the raw Polish power behind his punches by which he demolished Dominick Reyes to win the LHW strap. But does he have his luck in place?
Also read: Tony Ferguson Takes Tutelage Under Legendary Boxing Coach
Now, that might seem to be a weird and unanswerable question. But when it comes to UFC's newest champion, the answer is a big YES. It might come as a shock to many fans that such an iron-willed fighter believes in a charm, but that's the truth.
What actually is Blachowicz's lucky charm?
As if the very fact that he has a lucky charm wasn't weird enough, his charm turns out to be a suicide rope. Sounds creepy, right? But as long as it proves to be blessed, it has the champ by its side.
Also read: Max Holloway Rubbishes P4P List- Takes a Subtle Dig at Khabib Nurmagomedov
Very important #UFC259 update: The champ officially has his lucky hangman's rope on him for fight week. Jan says he cut off a big piece and had it turned into a bracelet, in case someone stole the original. Gold piece is a wolf.

Adjust your betting lines accordingly. pic.twitter.com/0hXvtgeTIr

— Shaheen Al-Shatti (@shaunalshatti) February 24, 2021
There's a very interesting story behind it too. One day Balchowicz was walking his dogs in the evening when he saw a dead body hanging from a tree. Upon calling the police, they asked him if he took a piece of the rope as a good luck charm.
The officer further explained to him that it was something people had been believing since old days. To keep his charm always near him, he had even cut a piece off the rope and had turned it into a bracelet with a wolf shaped piece of gold. Check out the video below where he explains the origins of his weird lucky charm:
Jan Blachowicz is set to face Israel Adesanya in his first title defense
After claiming the LHW gold, it will be the first time the Polish is going to defend his belt. With his belt on the line, it will be a big test for the 37-year old against one of the best strikers in MMA. It will be a very interesting back and forth to witness when raw power will face technical finesse.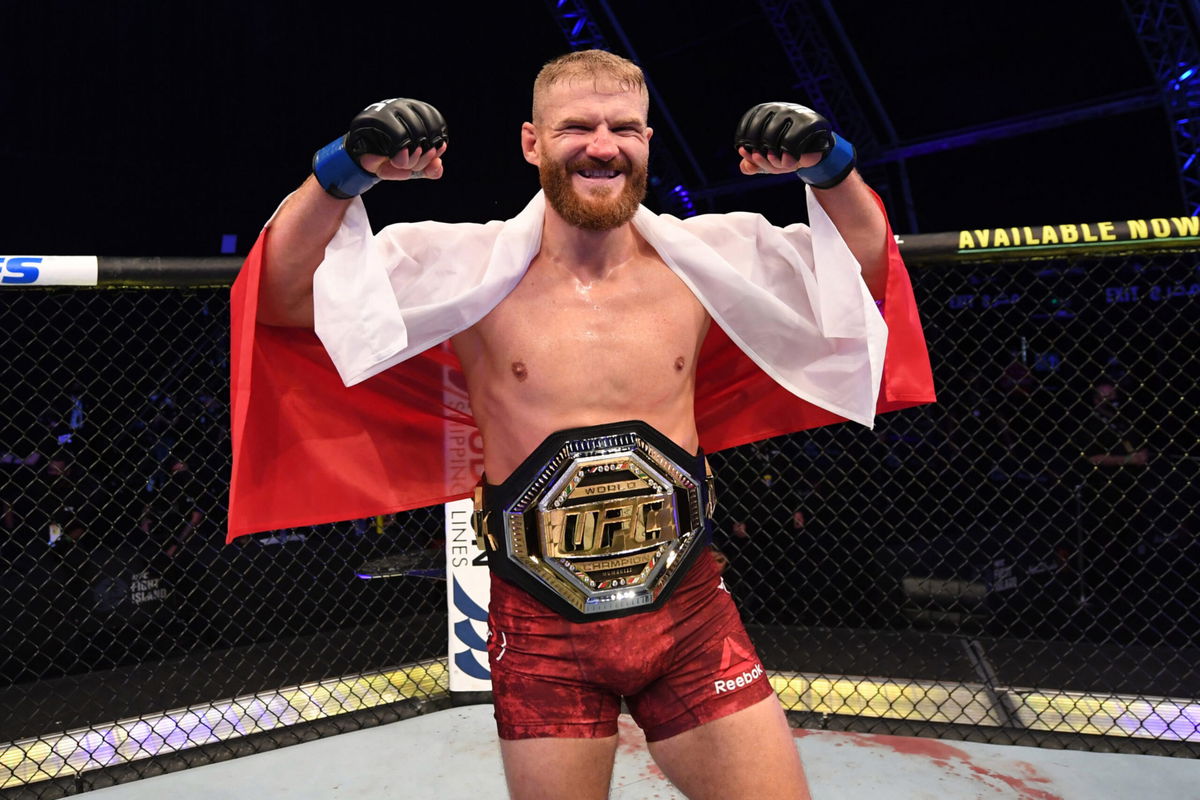 What do you think- will Adesanya end up becoming the triple champion or will Jan successfully defend the title he won in the twilight of his career? Let's know your thoughts down the comments section below.