The figures reveal that the number of players in Counter-Strike: Global Offensive or CS: GO has decreased with the introduction of paid Prime accounts.
The popular first-person shooter game is now asking $15 to unlock the Ranked account. The game is no longer free as it once was. This is one of the primary reasons for the decrease in the number of gamers.
Also Read: Everything You Need to Know About Shroud's Valorant Team for VCT – Old Guys Club
According to Valve, this paid prime account was established to safeguard the games from hackers. A hacker would simply refuse to pay $15 and then hack to obtain a ban. As a result, they believe it will be an excellent strategy for combating the ever-increasing amount of hackers in the Shooter game.
The player base significantly goes down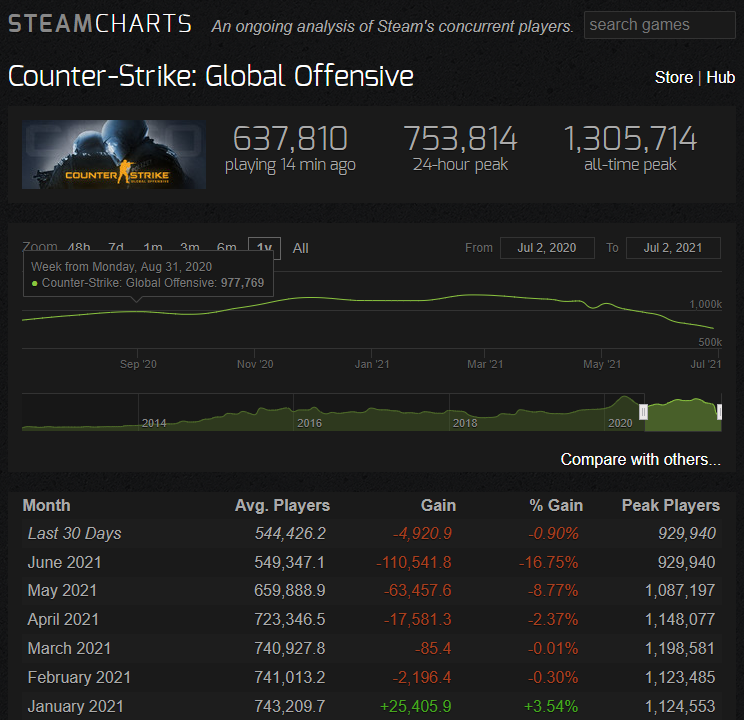 On June 4, Valve began charging for access to CS:GO Prime matchmaking, and the number of players significantly started dropping. According to the figures provided by SteamCharts, there is a reduction of 110K players in one month. The total is enormous. In May, there were 659,889 active gamers, but in June, just 549,347 were active. Only April 2018 and the month after the game's launch in October 2012 had a greater drop in player numbers. However, it was swiftly regained by CS:GO.
Also Read: The Most Prominent eSports Games and Online Tournaments: Passion to Pursue
The $15 dollar pricing is causing the valve to lose a lot of money because the number of players is decreasing. The majority of gamers and streamers have already switched to Valorant.
CS:GO ranked is now a paid feature. What do you think of this change? https://t.co/1QvjJQ9kCm

— CSGOFightNight (@CSGOFightNight) June 7, 2021
What is free in CS:GO?
The rest of CS:GO is still free to play, including casual matches and the Danger Zone battle royale mode. Valve also included an Unranked matchmaking setting for gamers who want a taste of competitive gaming without paying for Prime. Unranked is identical to Competitive in gameplay, but players do not receive rankings, XP, or loot drops.
Cs go made ranked a paid feature only hopefully other F2P games will follow https://t.co/yf6opuc7FH

— airdylan 🇨🇦 | ShineGG (@AirdylanCA) June 15, 2021
It remains to be seen whether CS:GO will continue to lose players in the next months, particularly during the PGL Stockholm Major, which is scheduled to take place from October 23 to November 7. The Major usually attracts more casual players to the game, but that may not be the case this time.
It is hoped that now that the prime status has been established, there will be fewer cheaters and legitimate players will be able to enjoy their games.
Also Read: Valorant, CS:Go, Pubg, and Free Fire Are Among the Titles Nominated for the eSports Awards 2021