Italian professional tennis player, Matteo Berrettini overcame a gripping fightback from teenage Spaniard Carlos Alcaraz for the 3rd round win.
He defeated Alcaraz to edge a heavy defeat 6-2 7-6(3) 4-6 2-6 7-6 (10-5) on Friday. The win confirms his spot in the fourth round of the Australian Open.
Also Read:- "Always is a Big Challenge Against Karen" – Rafael Nadal Talks About his Next Australian Open Opponent Karen Khachanov
Berrettini, a Wimbledon finalist last year used all of his experience to put down the 18-year-old Alcaraz. The Spaniard is the youngest man in the draw and was defeated 6-2, 7-6 (7/3), 4-6, 2-6, 7-6 (10/5) in 4 hours 10 minutes in the Rod Laver Arena.
Matteo Berrettini Pleased With The Performance
Berrettini won a final set super tie-break after an enchanting four hours and 10 minutes. The match grabbed the attention of the spectators at the Rod Laver Arena.
The Italian rolled his right ankle in the second game of the final set. He continued on after receiving treatment from the physiotherapist. His movement did not appear to be significantly restricted.
Matteo was however able to continue playing without much discomfort though he was unable to find a way past Alcaraz`s power and athleticism.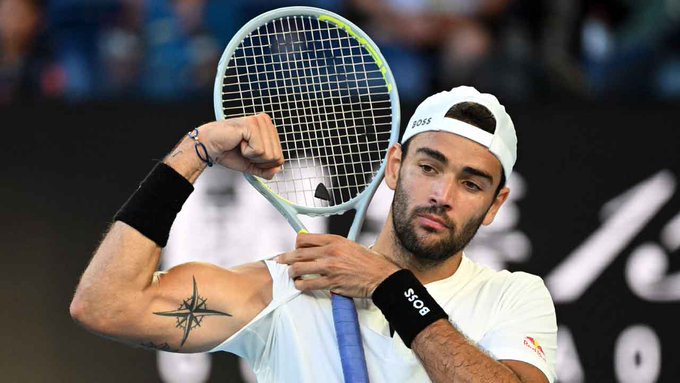 Berrettini`s experience as a player showed as he raised his game in the tiebreak with Alcaraz undone by forehand errors.
The Italian sealed the contest on his second match point when Alcaraz committed a double fault.
Recollecting and speaking on almost letting slip his two-set lead, Berrettini said, "I felt confident, and that momentum was on my side in the third set, but then I got broken."
"My energy wasn't right in the fourth set, and in the fifth set, I just started to fight for every point. In every match, something happens (like the ankle), but I fought through it."
Berrettini Praises Carlos Alcaraz
Matteo Berrettini was impressed with the talent of young Carlos. He expressed his admiration for the Spaniard.
He said, "He's unbelievable. I think at his age, I didn't even have an ATP point."
"He's impressive, he can only improve playing matches like this. He showed everybody his potential, luckily, today, I won, but congratulations to him." – Berrettini said.
After his performance Carlos Alcaraz's said, "When I've played against the top players, apart from Rafa (Nadal), I was close," said Alcaraz, who reached the US Open quarterfinals last year."
"I think I have the level to play against the top players. I'm getting close, getting closer every tournament I play."
Carlos' coach, Juan Carlos Ferrero who is a former world no.1 said he was getting closer to the game's elites.
Alcaraz finished his press conference by saying, "Very proud of what I did in court. Coming back from two sets down, fighting till the very end."