The UFC legend Khabib Nurmagomedov really seems to be enjoying his retirement life. With an astonishingly impressive record of 29-0, he hung up his gloves after submitting Justin Gaethje in UFC 254. Recently, he sat down for an interview with Magomed Ismailov.
The conversation mainly revolved around Khabib's training camp for his final fight during which he suffered from mumps and a dislocated toe and his dream fight against the great GSP. But, one segment was noteworthy where Ismailov asks him about Tony Ferguson. The Dagestani, in response, replied he never considered El Cucuy an elite fighter.
Also read: Kamaru Usman's Wife, Daughter, and Family – Here's Everything You Need to Know
This response seems to be quite similar to that of Gaethje when he sat down with Submission Radio a few weeks back.
Check out the conversation between the two revolving Ferguson:
"Who did you have to fight, beat him and make everybody say 'Ok, that's the fight, he won fair and square, he beat the best guy, no more questions.' Who's that guy? You just cleaned out the whole division, didn't you?", Ismailov put forward the question.
Also read: Meet Ana Karolina – UFC Legend Henry Cejudo's Girlfriend
As a response, Khabib said: "Maybe it should have been Tony Ferguson. All of my closed ones would confirm this. I swear, I have never considered Tony Ferguson an elite lightweight.
He's very good, was very good, but never an elite one. You just can't belong to elite at the age of 37. Nobody has ever done this, and even Khabib can't."
Also read: What Went Wrong For Gilbert Burns Against Kamaru Usman?
Khabib Nurmagomedov And Tony Ferguson Fight Has Had Been Scrapped For 5 Times
The Eagle and El Cucuy have a history dating back to 2015. But, due to unfortunate circumstances arising prior to every booking of the fight, it used to get scrapped. This has happened for a whopping 5 occasions.
Also read: Is Alexa Grasso Secretly Dating UFC Featherweight Yair Rodriguez?
2 of them resulted due to Khabib's injuries while the other 2 were the results of Ferguson's injuries. The 5th and the most recent scrapping was the title bout of UFC 249 from which Nurmagomedov pulled out due to COVID-19 restrictions.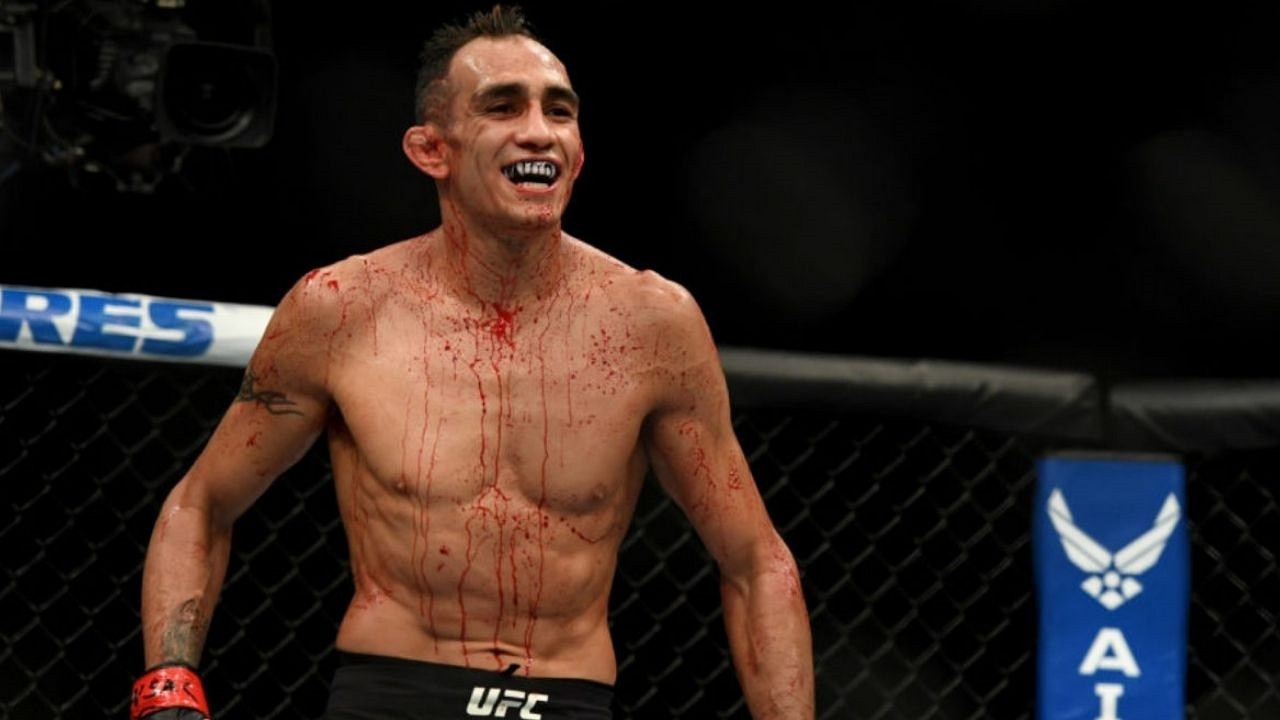 Now that the 155lb king has announced his retirement, there's no chance that the fight many fans dreamt of would ever happen. Khabib most recently submitted Justin Gaethje to defend his title for the 3rd time in a row following his announcement of retirement from the sport. On the other hand, Ferguson is on a 2 fight streak against Gaethje and Charles Oliveira.
It is to be seen what the future holds for Khabib Nurmagomedov and Tony Ferguson. While Khabib has shifted his focus towards his new bought promotion EFC, Tony is looking to snap his losing streak.
Also read: "He is Completely Obsessed About the Rematch" – Dana White Says Conor McGregor Can't Wait to Fight Dustin Poirier Again