The sport of MMA has seen many showmen and trash talkers during all these years. Whether it be Conor McGregor, Michael Bisping or Israel Adesanya, they all have been notorious for selling shows through their slick-talking. However, there's only one guy who has been revered as the Big Mouth in the UFC, Kevin Holland.
What makes Holland's trash talk different and unique from other fighters in the UFC?
Well, you might have seen plenty of fighters talking smack to their opponents during the build-up and stare-downs. Sometimes, they even start swinging at each other before the actual fight itself. However, they don't talk much once they step inside the octagon.
Also Read: Kevin Holland Reveals the Meaning Behind His New Tattoos
If you're wondering how @Trailblaze2top earned the nickname "Big Mouth"… 😅 #UFCVegas22 pic.twitter.com/NXg8984t0v

— ESPN MMA (@espnmma) March 18, 2021
That being said, Kevin Holland is quite different. What makes him different is the fact that he talks as much as he fights. Even when he's inside the cage fighting his opponents, he just wouldn't stop talking to them.
Doesn't matter who he's fighting, he would always talk to them. Whether it be a light-hearted conversation or brutal insults, he just can't keep his mouth shut.
Also Read: Kevin Holland Ridicules Israel Adesanya for Hand Picking His Opponents
Kevin's trait that Dana White hated but now likes the most
You might have a misconception regarding the Contender Series that if a fighter wins, he/she will get signed for sure. If you think so, you are wrong. Holland, an alum of Contender Series, won his fight but didn't get signed by the UFC. Let's see why:
"He was on the Contender Series. He was a talented guy and he won his fight, but he wouldn't shut up. The entire fight, he was talking to me, the whole fight. Now any of you that have been to Las Vegas event of the Contender Series, it's straight killers."
"This guy comes in and he's talking shit the entire fight. So, I said 'I'm not signing this guy. I don't want him, I'm not interested in him.'"
However, as luck would have it, fast forward some time, Thiago Santos didn't have an opponent to fight on UFC 227. White talked to all the Contender Series alums, but they turned it down due to the short notice. The only man willing to take up the bout on a 2-week notice was Holland himself.
"So, Thiago Santos' fight falls out. So, I said 'let's call some contender guys then that we liked.' They all turned down the fight. I said 'call big mouth. I want to see if big mouth takes this fight.' Took the fight, came in and fought the fight, still talking shit."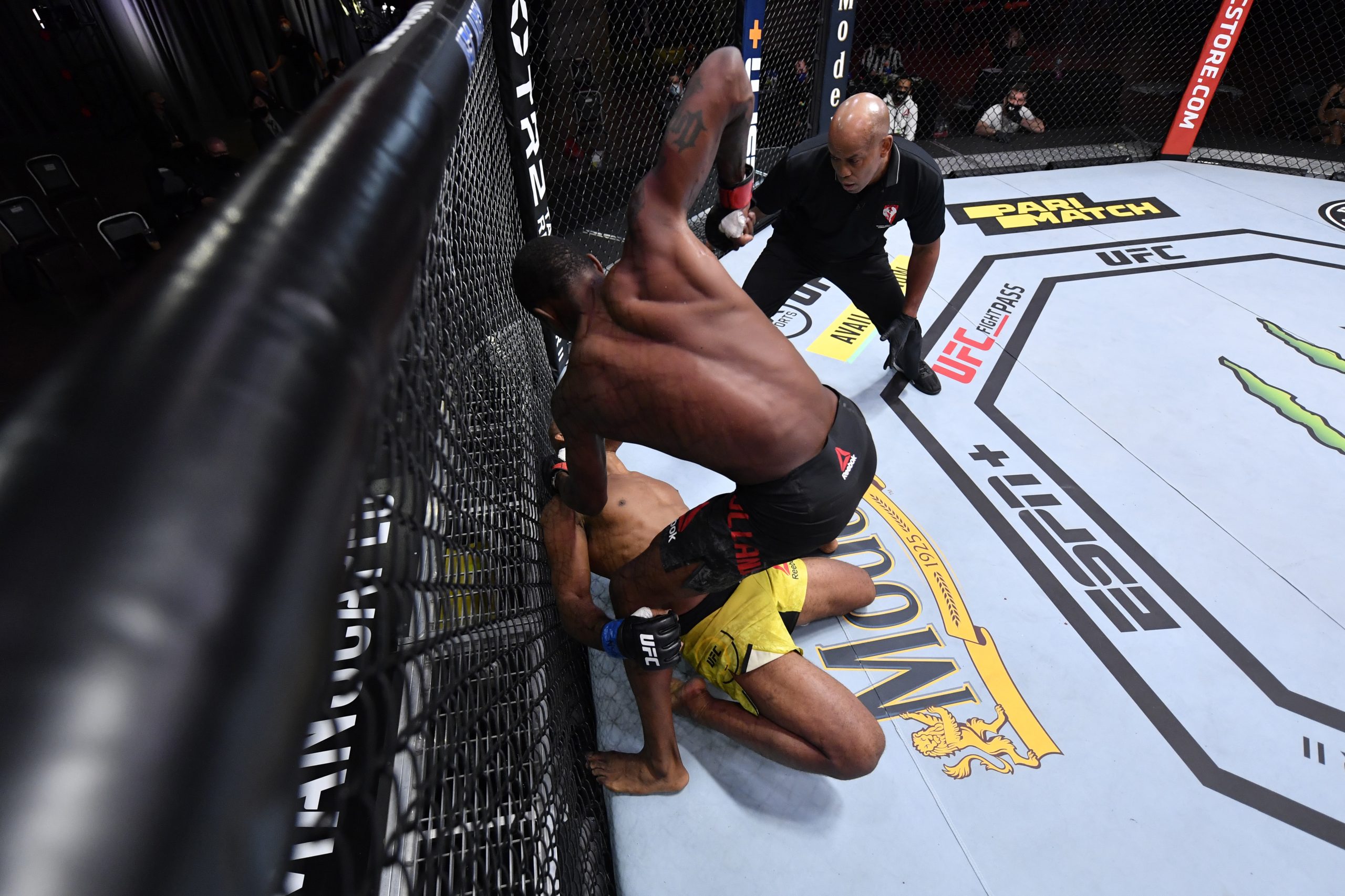 Though he lost the bout, his trash-talking during the fight delighted fans and attending celebrities so much, that it impressed Dana. At least to sign him.
"Tonight, all the celebrities that were there, loved Holland. It's all they wanted to talk about."
And that's how he got into the UFC boss's good books. and came to be known as Big Mouth.
What's next for Kevin Holland?
Big Mouth is currently scheduled to face Derek Brunson this weekend. It will be interesting to see how this fight goes. He is currently on a five-fight win streak. Let's see if he manages to make it six on March 20 when he will step in the cage to face Brunson.
What do you think who will win- Kevin Holland or Derek Brunson? Let's know in the comments section.
Also Read: Kevin Holland Exposes "True Loser" Israel Adesanya, Calls Him Out For Lying