A new year has started and it has brought a lot of spotlight on the UFC as well. From Max Holloway putting up one hell of a fight to the rematch between Conor McGregor and Dustin Poirier. But one thing has grabbed our attention more than others – Dana White meeting Khabib Nurmagomedov to persuade him to fight.
The lightweight division has been in a state of chaos ever since The Eagle announced his retirement from the sport in October last year.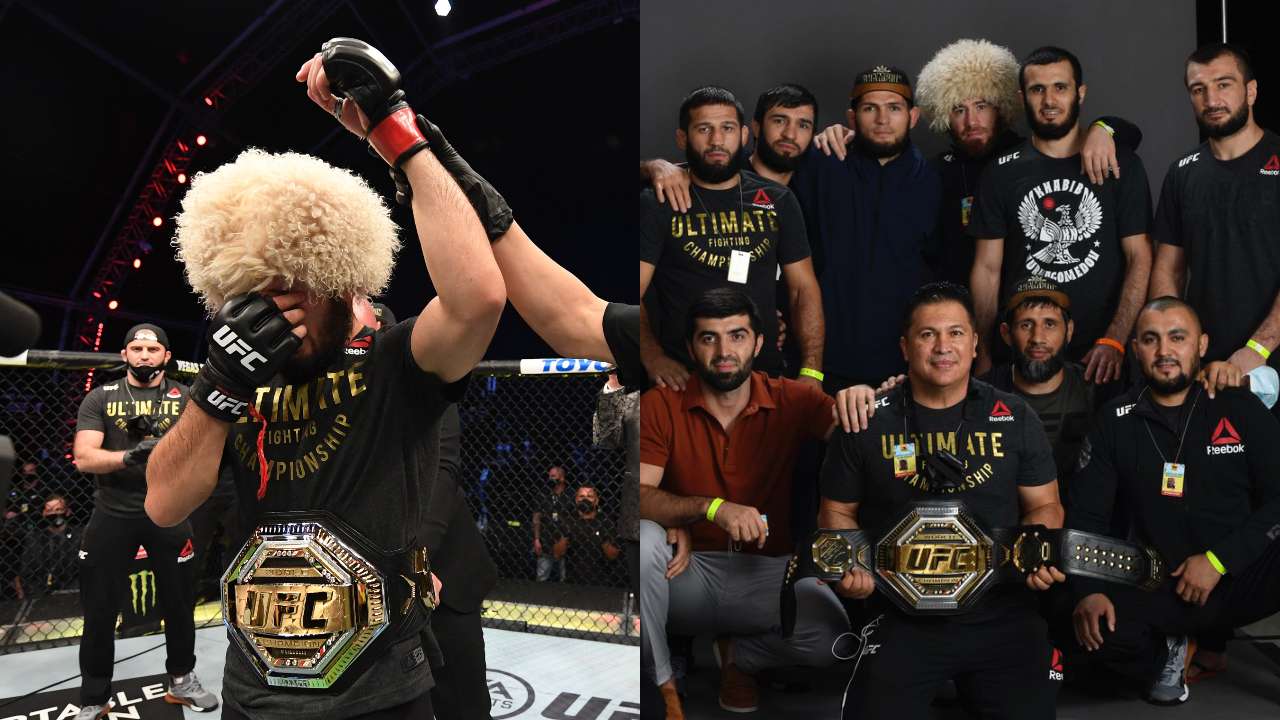 The Russian has probably been the combat sport's biggest name. His retirement rather came as a shock to millions of his fans worldwide. The biggest reason that led him to take this decision was the untimely demise of his father and lifelong mentor- Abdulmanap Nurmagomedov. But the UFC boss has said on numerous occasions that he would try his best to talk him out of retirement.
Also Read: WATCH: Conor McGregor Almost Comes Face to Face With Khabib Nurmagomedov at UFC Fight Island
Over the years, Khabib has built his reputation as a man of his words. So, many fans might think if he would really come out of retirement, or is Dana White just selling wolf tickets?
Also read: "Khabib Will Fight" – Dana White Makes a Huge Announcement About Khabib Nurmagomedov
What is a Wolf Ticket?
Selling wolf tickets means to oversell oneself. It also refers to spreading boasts or rumors that one can't back up. It has been popularized by Nick Diaz who had accused UFC and Georges St. Pierre of selling wolf tickets by making him look like the bad guy during UFC 158.
The highly-publicized Khabib Nurmagomedov and Dana White meeting
The meeting between Dana White and Khabib was highly publicized. Currently, UFC 257 is just around the corner and is headlined by a lightweight bout that will most probably decide the next title contender.
At the exact same time, White is meeting the Russian which certainly raises some eyebrows. Carefully looking at this, it seems to be a publicity stunt to make UFC 257 a superhit. After all, all the attention focused on the future of the lightweight division will surely help in popularizing UFC.
Also Read: How Much Money Will Conor McGregor Make at UFC 257?
White might be trying to sell wolf tickets as his strategy. But it can also be the other way round. He might genuinely be trying to persuade Khabib to achieve a rare feat of 30-0, thus cementing his legacy even further.
At last, I would just say that it doesn't matter if Dana White is selling wolf tickets or not, as long he manages to get Khabib fighting again – a possibility the UFC fans would love to see come true.
Also read: Conor McGregor Congratulates Dustin Poirier for The Good Fight Foundation