It's not very uncommon to see a married couple within the same industry nowadays. Just look at Hollywood or the entertainment industry, you'll find tons of examples. Even at the place where you work there are good chances that you might come across a married couple working within the same organization. Just like them, UFC is also no different.
Also Read: Who is Askar Askarov- The Dark Horse of the UFC Flyweight Division
There are several UFC fighters who are married to each other or have been dating for so long that they share bonds the same as that of a married couple. So, let's jump right into it.
#6. JP Buys and Cheyanne Buys
Both JP Buys and Cheyanne Buys will become the second couple as they step inside the Octagon on the same card at UFC Vegas 22. Both the fighters will start their UFC journey after earning their respective contracts at Dana White's Contender Series back in 2020.
#5. Montana De La Rosa and Mark De La Rosa
Both Montana and Mark currently compete in the female and male 125lb division of the UFC respectively. Apart from the flyweight division, Mark also competes in the Bantamweight division. Apart from marrying fellow UFC fighter Montana, he is also the stepfather to her daughter from a previous relationship.
Also read: There's Every Reason to Believe That Jake Paul Can Beat Ben Askren
#4. Rose Namajunas and Pat Barry
Moving further with our list, comes Thug Rose along with her coach and former MMA fighter Pat Barry. Though they are not married, still they have been together for several years. And looks like, they are not going to part ways anytime soon either. Despite the 13-year old age gap, they have done quite great. Apart from that, Barry also trains Namajunas and is quite essential in her octagon success.
Rose Namajunas is a former UFC strawweight champion. She is still one of the best MMA fighters in the world. A lot of credit to her success also goes to her partner and former heavyweight kickboxer and mixed martial artist Pat Barry.
Now, that's the definition of a real power couple.
#3. Ronda Rousey and Travis Browne
Yeah, I know that Ronda has parted ways with the UFC several years ago. But, she has been a UFC fighter after all. Let's talk about her lesser-known better half, Travis Browne. Most people might not know but  Hapa has also fought in the UFC but in the heavyweight division.
Also read: Eddy Reynoso, Man Behind Canelo Alvarez and Ryan Garcia Believes Conor McGregor Has Serious Potential in Boxing
Of course, his success in MMA was nowhere near to Rowdy's, but in the end what more can you expect if your spouse one of the most dominant athletes in MMA. Talking about Rousey, she was, at a time, one of the biggest stars and the face of MMA. A former UFC Bantamweight champion, she is currently signed with WWE.
Ronda and Travis started dating in 2015 with their relationship coming to fruition in 2017 when they finally married.
#2. Thiago Santos and Yana Kunitskaya
This one's the most recent. Thiago Santos got engaged with Yana Kunitskaya in December 2020. To those who don't know, Santos is a #2 UFC light heavyweight. A former paratrooper, the Brazilian has once challenged for the LHW belt most recently coming off a loss against Glover Teixeira. He is currently slated to fight Aleksandar Rakic at UFC 259.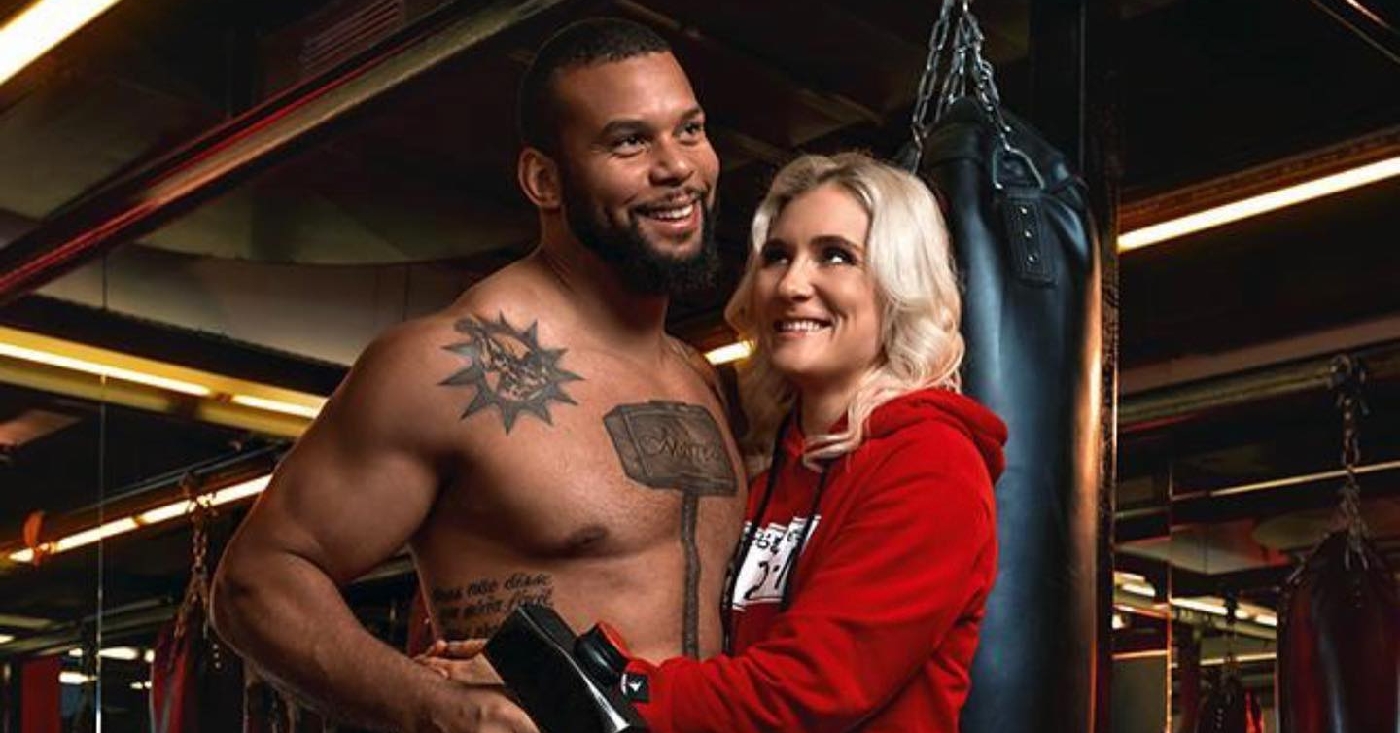 His significant other, Kunitskaya is a #5 UFC women's bantamweight fighter. The Russian is on a decent two fight winning streak. Let's hope that their already eventful MMA careers become even more fruitful and great as a result of this relationship.
#1. Amanda Nunes and Nina Ansaroff
Last but not the least, probably the greatest couple in the UFC and MMA as a whole, these 2 women are in a relationship which can't be defined as a conventional form of love. Being in a same-sex relationship isn't easy in a world like this, but Nunes and Ansaroff have proved that love can't be of only one form.
Also read: "I Hope He Keeps Winning" – Israel Adesanya Expresses Interest in a Potential Match-up Against Kevin Holland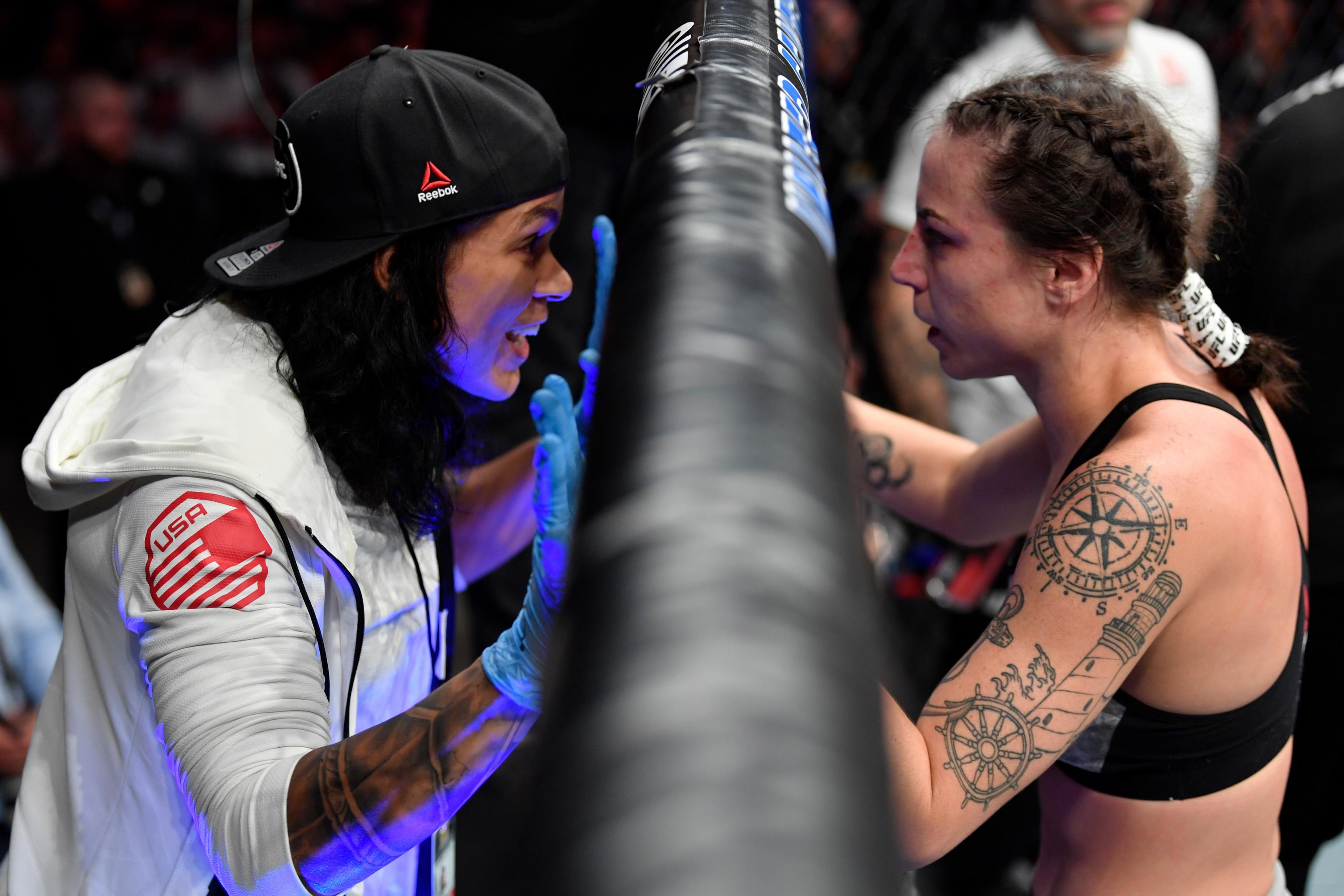 Both women met in 2012 as training partners. In 2014, they started dating each other and ultimately marrying one another in 2018. Amanda Nunes needs no introduction. The Lioness is the GOAT of women's MMA. A double champion in UFC, she is scheduled to defend her featherweight title against Megan Anderson in UFC 259.
Talking about Ansaroff, she is also competing in the UFC, but in the strawweight division. Recently, she had taken break from her professional career to try to conceive, which she successfully did. She gave birth to their daughter, Raegan Ann Jones on 24th September, 2020. Now, Nina is also ready to step back inside the octagon.
She is slated to face Mackenzie Dern in UFC Fight Night 188.
You can say whatever you want to say, but one thing is for sure- these people are great in maintaining a good balance between their jobs and love lives. So, who is your favorite UFC couple. Don't forget to let us know in the comments.
Also read: BLUNDER! Israel Adesanya Didn't Make 201.5 Pounds For UFC 259, NSAC Makes Correction