[responsivevoice_button]
The topic of illegal strikes in UFC or MMA as a whole has again become a hot topic after Petr Yan lost his belt to Aljamain Sterling because of an illegal knee to the face. This incident has again brought to everyone's attention the need for a third man inside the cage. Apart from the illegal knee, there are many other moves that can force a referee to warn a fighter or possibly stop the fight in some situations.
Most of these prohibited strikes and actions are recognized by the Unified Rules of Mixed Martial Arts. To those who don't know, this is the most widely accepted set of rules in professional cage-fighting. Top-notch MMA promotions, in fact, most of them, including the UFC, follow them.
Also Read: How Did Anderson Silva Break His Leg – The Horrific Story Behind UFC 168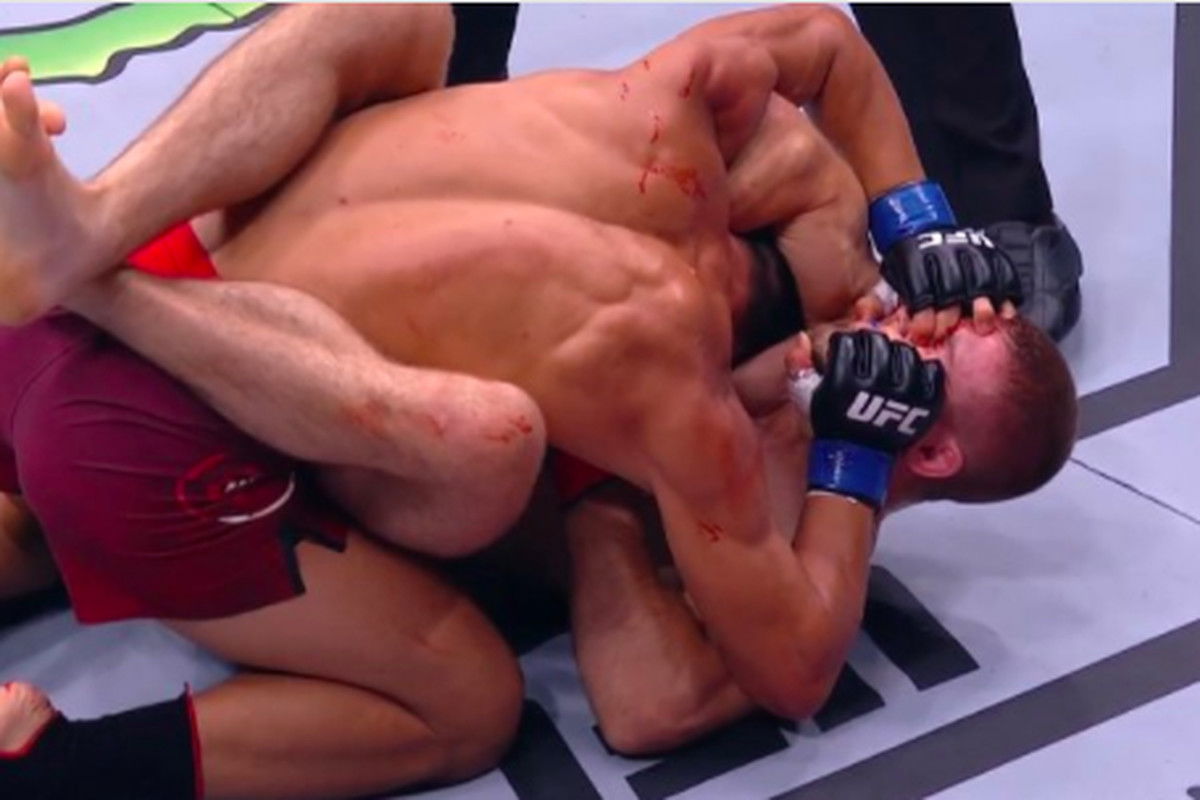 So, without wasting any time, let's have a look at the banned moves in UFC.
Groin Strikes are deemed illegal in MMA
These are some of the most common fouls in MMA. Mostly unintentional, but when lands, it hurts real bad. Ask any male MMA fighter and he will tell you. Even though protective pads are worn by the fighters, but the momentum with which a kick strikes the groin region still hurts a lot.
You will certainly see a couple of those getting landed in one out of every two or three fights. Generally, the referee only gives a warning to the fighter throwing the groin shot but might deduct a point if he fails to stop throwing them.
Groin shots are mostly seen when a fighter attempts to throw a low kick at his opponent's thigh but ends up hitting his groin region. You will get to see plenty of accidental groin strikes in an MMA bout. The most recent was Israel Adesanya accidentally striking Jan Blachowicz on the groin in UFC 259. Groin strikes are very common and can happen by accident from any fighter.
Head Butting is illegal in MMA
Yeah, there is a martial art, Lethwei, that allows headbutts, hence the name- the art of 9 limbs. But, MMA is different and so are its rules. Headbutt is rather an accidental offense.
This mostly happens when two fighters are grappling or are in the clinch position. Headbutts can result in nasty cuts and bleeding around the sensitive regions of the face like near the eyes or nose. It is also quite a common thing to come across.
Just remember the time when Dominick Cruz accidentally headbutted Henry Cejudo in UFC 259. Consequently, Triple C started bleeding near his eyebrow. Accidental headbutts can often help a fighter in a situation where the other fighter finds himself significantly compromised. Henry Cejudo had stated after his win over Dominick Cruz that he was worried about the blood loss that had occurred due to the headbutt and wanted to finish the fight as quickly as possible.
Also Read: Meet Ana Karolina – UFC Legend Henry Cejudo's Girlfriend
Fish Hook is not allowed in the UFC
This is one of the nastiest things a person can do to their opponent. Totally unsportsmanlike conduct and is bound to get you disqualified. If you don't know what a fish hook is, it is inserting a finger(s) in a person's orifice (eyes, nose, mouth, etc.) and pulling it away from the body's centerline.
It causes an insurmountable amount of pain along with lacerations and damage to the tissues. One of the most notable examples includes Bryan Caraway's submission win over Erik Perez back in 2014. Though he didn't get booked for this foul, certain footages surfaced clearly showing Caraway using the banned move on Perez while attempting to hold him in a rear-naked choke.
Unfortunately, the referee failed to notice it and Caraway managed to get away with it.
12-6 Elbows are not allowed in MMA
This infamous elbow is the reason behind Jon Jones' only loss to date which came via DQ against Matt Hamil. If you don't know how that elbow works and why it is banned just look at the picture below.
This elbow goes straight down on the opponent's face. The positioning of this elbow and the trajectory it follows makes it extremely dangerous for the person at the receiving end of it. Guess what! I think it is good to ban such kind of overly painful strikes for obvious reasons.
The most notable and probably the only example in UFC is Bones' only loss against Matt Hamil which dates back to 2009. Remember Eddie Alvarez vs Dustin Poirier 1 where the fight was called off after Eddie landed an illegal elbow. Needless to say, considering how elbows have become a prominent move for many fighters, there's always debate on why 12-6 elbows should be legal.
Grabbing the fence
This is what you do when you have nowhere to go and your opponent is mauling you or holding you in an unescapable clinch against the cage. Though it doesn't physically hurt either fighter, it can be considered a sort of malpractice. A lot of fighters use this move instinctively.
It can be seen as a desperate move because you are losing control over your body as well as the fight. Though it might be difficult to give an example of its use in MMA, one of its most blatant displays can be witnessed in Khabib's fight against Conor McGregor.
McGregor can be clearly seen grabbing onto the fence while Khabib mauling him badly. You can also hear the referee repeatedly instructing McGregor to avoid grabbing the fence.
Also Read: Here's Everything You Need to Know About Jan Blachowicz's Lucky Charm – Suicide Rope
Rabbit Punch is illegal in MMA
Also known as the punch to the back of the head. It's been rightfully banned for pretty obvious reasons. This shot lands at the base of the skull where the brain is connected with the spinal cord. It is quite a sensitive area and equally vulnerable to damages.
A powerful shot can even fatally injure the fighter getting hit by it because the impact can easily damage the connection between the brain and the spinal cord. This is more common in boxing and kickboxing where main focus is on throwing punches.
Also read: Should Knees on a Downed Opponent be Made Legal in MMA?
Eye Pokes are not allowed
Again, one of the most witnessed fowls in MMA. Eye pokes refer to inserting a finger into an opponent's eye. The severity of the damage differs. Mostly eye pokes don't do much damage with fighters quickly recovering from it. In some cases, corneal damage can also occur.
An eye poke attracts a stern warning from the referee. Repeated eye pokes often force the ref to deduct a point from the perpetrator. These generally happen when fighters keep their fingers outstretched pointing towards their opponents instead of forming a clenched fist.
Outstretched fingers or open hands are generally used to gain head control over an advancing and aggressive opponent. This results in accidental eye poke sometimes.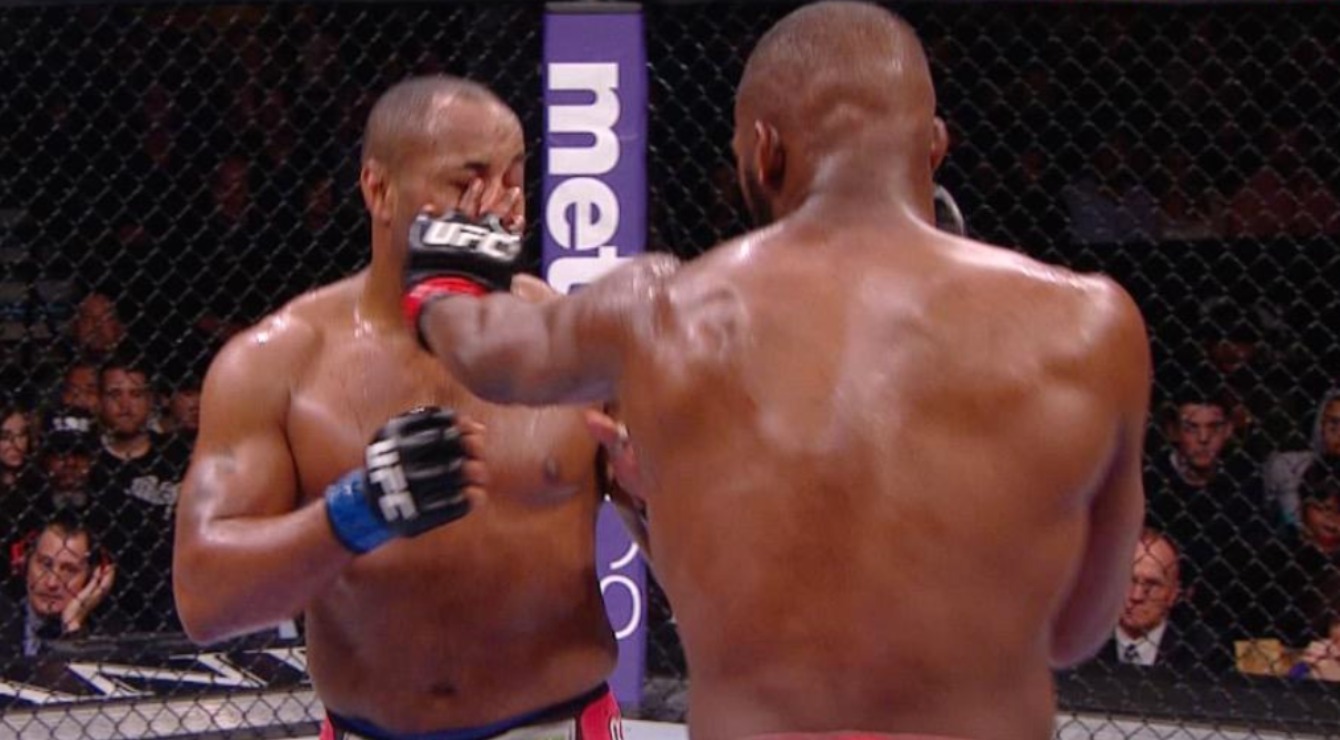 Notable examples include the trilogy between Stipe Miocic and Daniel Cormier where Miocic accidentally eye-poked DC so hard that he suffered from corneal damage.
Kneeing a downed opponent is illegal in the UFC
A downed opponent is the one who's at least one knee is touching the ground or his hands are on the ground. You can't attack such a fighter using your knee. The punishment for this offense is simply a DQ or a no contest. Though not all promotions ban this move. In ONE Championship, it is legal.
The most recent example is Petr Yan kneeing a technically downed Aljamain Sterling. Consequently, he got stripped of his title via a disqualification. The impact of the damage from a knee to the face of a downed opponent can have permanent repercussions on the health of the fighter. Hence, the move is seen as very dangerous and is not allowed in the UFC.
Grabbing your opponent's gloves or shorts is not allowed
Of course, this has to be illegal. Glove grabbing is commonly seen during desperate attempts to establish wrist control over the opponent. Though not a serious move, it will surely call for a warning and a deduction of a point if the fighter doesn't refrain from doing it.
Piledriver
Most of you might know it from WWE. The Undertaker's finishing move. And it was the sole reason Stone Cold retired early from his illustrious career because that same piledriver by Owen Hart broke his neck. The severity of this move has even forced WWE to ban it.
Now, if the very same move is attempted inside the octagon, just imagine the consequences because UFC is as real as it gets. Though rare, it is quite capable of cutting short fighters' careers.
Also Read: Here's Everything You Need to Know About Jan Blachowicz's Lucky Charm – Suicide Rope
Its most notable use in the UFC dates back to UFC 78 when Houston Alexander used it on Thiago Silva.
So what do you think is the most dangerous illegal move in UFC? Let us know in the comments.