Gilbert Burns is set to face his longtime teammate Kamaru Usman in UFC 258 with the welterweight gold on the line. Since both men have spent so much time sparring with each other, it will be quite interesting to know if they manage to put it into use inside the octagon. Who will emerge victoriously? This question can only be answered on February 13th when both men will step in to fight.
Gilbert Burns is famous as a UFC fighter and in his earlier days, he has been a world-class grappler and BJJ champion. But there's one more thing that has managed to catch the fans' attention apart from his in-cage skills. These are none other than his tattoos.
In this article, we will discuss Durinho's tats and the meaning behind them.
Also read: "He's Fighting for Legacy, to Push Himself"- Joe Rogan Gives Fascinating Insights on the Mindset of Conor McGregor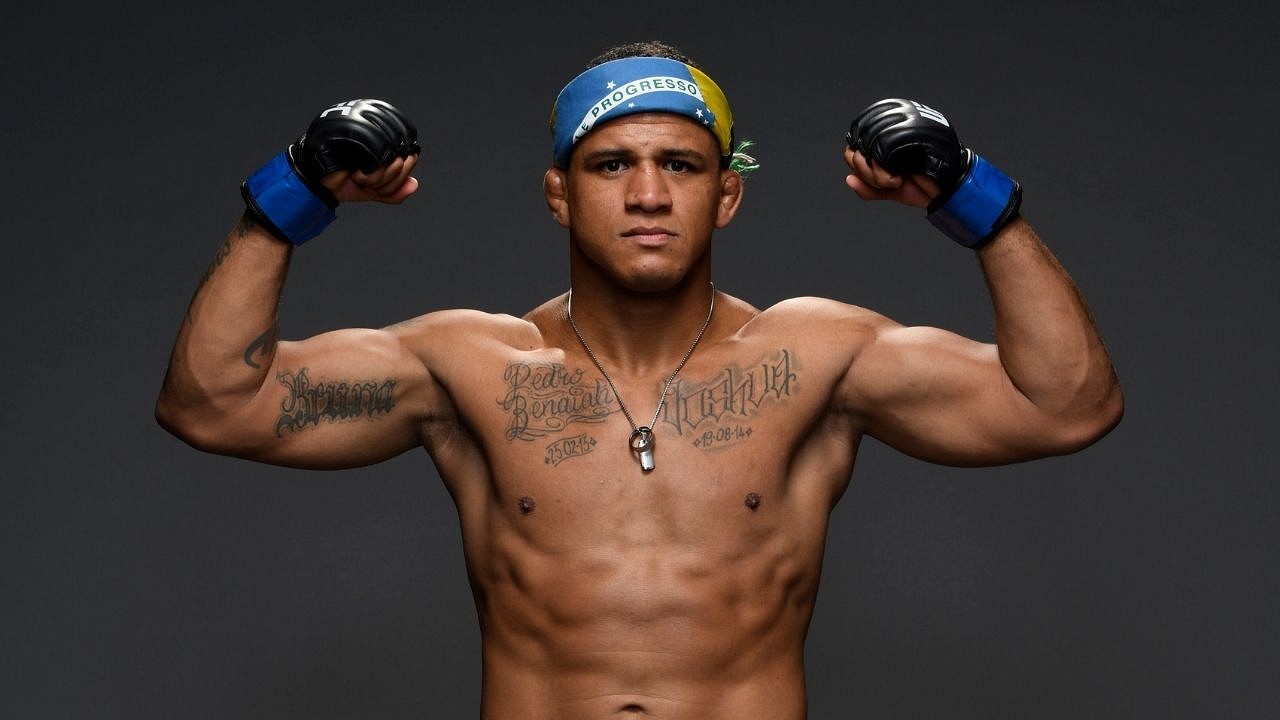 Burns' Chest Tattoos
Just like any other sportsperson, the Brazilian is also a very big fan of getting inked. He currently has 6 tattoos on his body.
2 of Burns' tattoos are on his chest. The 34-year old has his sons' names inked on his chest along with their birth dates. On his left chest, he has Joshua Burns' name tattooed with his birth date of 19th August 2014. On his right chest, Pedro Benaiah is inked with his birth date 25th February 2013.
https://www.youtube.com/watch?v=yvx76LeUcmI
Tattoos On Durinho's Arms
The other 4 tattoos are on his arms, with 3 of them being on his right arm. The first tattoo we will be discussing is of a lion with a crown. It might represent the fact that he's courageous and strong like a lion who is destined to be the king, that is to become the champion. On the other side of his left arm, he has his wife's name, Bruna, inked.
Also read: WATCH: The Exact Moment When Dustin Poirier Destroyed Conor McGregor With a Leg Kick
The 3rd one is on his left forearm. It is a known fact that Durinho is a religious man. And as a token of respect to his religion, he has got a tattoo which says 'filipenses 4:13'. To those who don't know, filipenses is the Spanish term for Phillipians which is a book of the Bible in the New Testament. Philippians 4:13 quotes "I Can Do All Things Through Christ Who Strengthens Me".
The final tattoo on Gilbert's arm is at the back of his left arm. It is a Chinese tattoo inscribed on his arm.
Also read: Max Holloway Is a Better Boxer Than Conor McGregor- Dustin Poirier Makes a Striking Statement