Amanda Nunes has cemented her legacy as probably the best to ever do it in women's MMA. After all, she is the one who demolished some of the best fighters in the women's MMA for so long. Not many have been as dominant as her inside the octagon as she has been.
With her current 11-fight win streak that witnessed her becoming the reigning queen of two divisions, she has defeated the likes of Miesha Tate, Ronda Rousey, Valentina Shevchenko(x2), and Holly Holm. And to take that legacy even further, she will step in the octagon to defend her belt against Julianna Penna. This Saturday, the world will witness the reason Nunes is called the GOAT of women's MMA.
Also Read: Can Islam Makhachev Follow in the Footsteps of Khabib Nurmagomedov
Though a lot is known about her achievements in the octagon, a lot of people don't know much about her personal life. The most famous person closely related to her life is her wife Nina Ansaroff.
Amanda Nunes' personal life
A lot is not known about her early years. She was born in Pojuca, a small Brazilian town. Raised by a single parent, her introduction to the world of martial arts was when she was four and started training in Karate. She has two sisters, both older than her.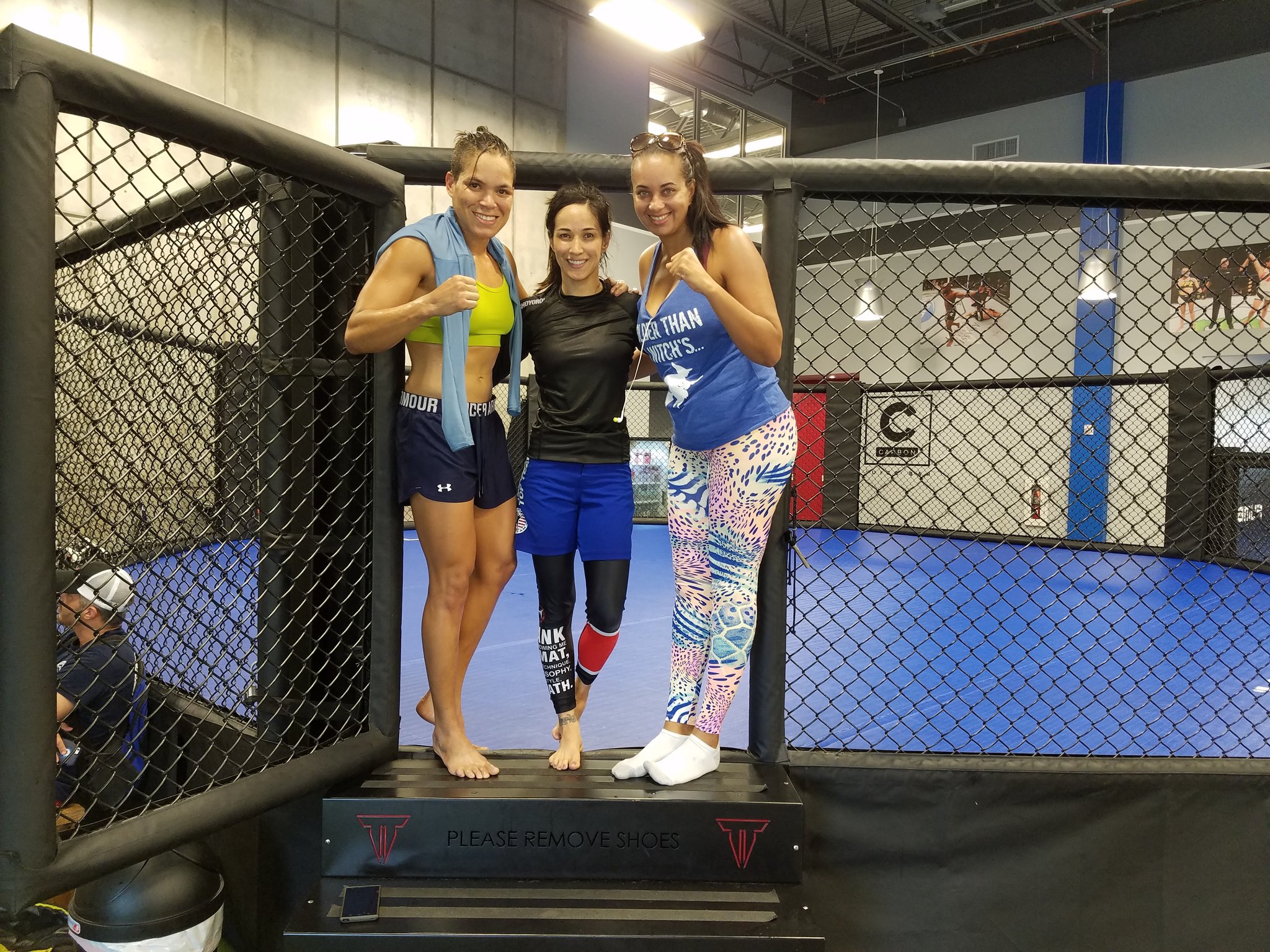 It was her elder sister by virtue of whom she first competed in BJJ. During her teenage years, she also got introduced to boxing. Upon defeating Miesha Tate in 2016, she became the first openly lesbian champion in UFC history.
Amanda Nunes' Wife – Nina Ansaroff
The most well-known person in her life is perhaps her wife Nina Ansaroff. She also fights in the UFC in the strawweight division. They first started dating in 2014. Talking about Ansaroff's career, she's doing great in her own right.
A #5 strawweight, she is at 11th position in the UFC women's P4P rankings. The 35-year old has been a professional since 2008 and made her UFC debut in 2014. One of the biggest highlights of her career was her victory over Claudia Gadelha in UFC 231.
Also Read: Dustin Poirier Wants Conor McGregor to Switch to His Old Persona Ahead of Trilogy Fight
Talking about her relationship with The Lioness, they first met in 2012 as training partners and started dating in 2014. By 2018, they knew they were the ones for each other and decided to show the whole world by getting engaged.
She had taken a break from professional cage fighting due to her attempt for having a first child. Luckily, the couple was blessed with a baby girl on 24th September 2020.
Amanda Nunes' and Nina Ansaroff's Daughter
In March 2020, Nina Ansaroff announced to the world that she is pregnant and stated that the couple would be expecting a baby girl in September 2020. On 24th September, she gave birth to a girl who they named Raegan Ann Nunes. Since she has given birth, she will again be kickstarting her MMA career.
Also Read: Dustin Poirier Praises Khabib's Wrestling Knowledge – "His Understanding of Balance and Weight Placement Was Incredible"
Nunes has stated that she loved being a mother. And she would be getting inside the octagon in UFC 259 with a renewed purpose. Let's hope that motherhood will also give Ansaroff the same energy and renewed purpose to kickstart her career. She celebrated her first birthday, and the Nunes family shared lovely photos of their daughter on the photo-sharing platform Instagram.
View this post on Instagram
Nunes on being a mother, and her relationship with Nina Nunes
Newly became mother Amanda Nunes is loving each and every aspect of being a mother. "Raegan is a blessed baby…She makes me happy every second.", that's how much she loves her daughter. Right now, she just wants to have her hand raised on March 6 and wants to dedicate the whole victory to the young Raegan.
Let's see what the future holds for this bright family of three. Let's see who wins the title bout on Saturday- Amanda Nunes or Julianna Penna. Great things and an opportunity to create history await Nunes with the birth of her daughter. Let's know in the comments section down below who do you think will have her hand raised this weekend at UFC 269.
Also Read: Dustin Poirier Reveals His Reaction When He Saw Conor McGregor on a Yacht at Fight Island