Kobe Bryant has left an untouchable legacy in the NBA. In his 20 seasons as the greatest Los Angeles Laker of all time, he won it all. His play and determination inspired a generation of players that are currently dominating the NBA. And since his passing, have been trying to keep his legacy alive. Devin Booker has made another gesture for the Black Mamba.
Devin Booker and the Phoenix Suns had finished the 2021-22 NBA season as the first seed in the NBA. Phoenix won 64 games last season. They were also the only team in the NBA to win 60+ games in the season. They looked like they would be able to finally win the NBA title after losing to the Bucks the year before. However, in the NBA playoffs, they did not look as convincing. And in the 2nd round, they got sent home by the Dallas Mavericks.
Kobe Bryant gets a nod in NBA 2k23 by Devin Booker
In 2016, the Kobe Bryant farewell tour got him to his last game against the Phoenix Suns. The game ended with Kobe losing 107-119 even though he scored 28 points on 12 of 22 shooting. The best player in Phoenix at the time was a rookie, Devin Booker. A first-year shooting guard taking on the best shooting guard of this generation is a surreal moment.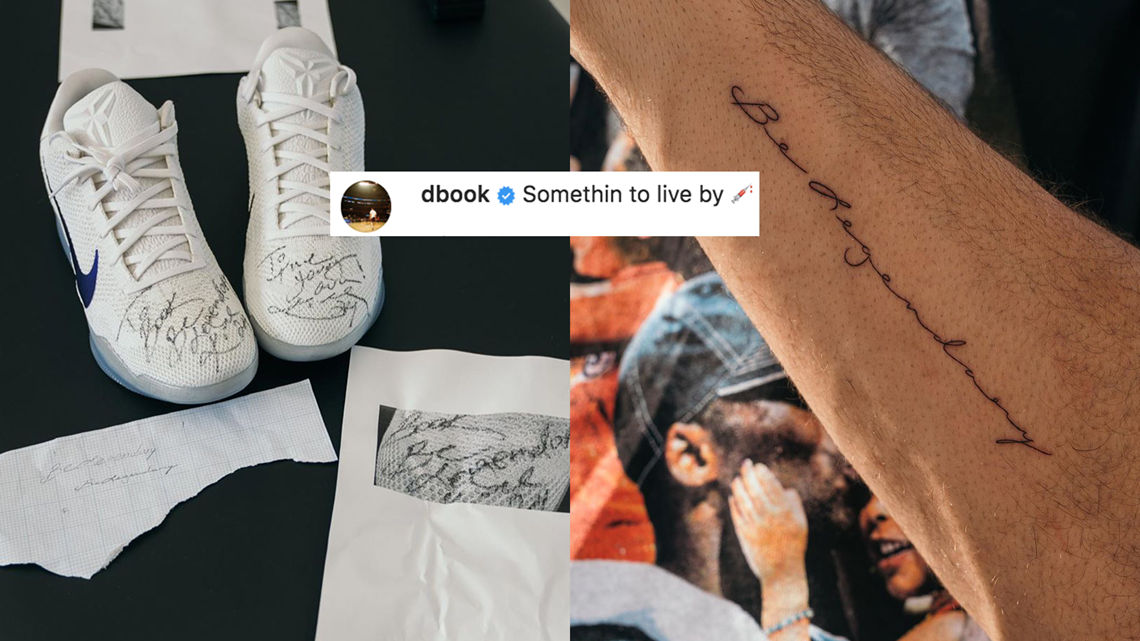 But it only got better. After the game, Kobe gave Book his shoes and signed them with 'Be Legendary'. Those words meant a lot to Devin Booker. A couple of months after the tragic helicopter accident, D Book got his first tattoo. The tattoo was a stencil replica of the message Kobe Bryant left for a young Booker. He even used to write those words on his shoes before games that he played.
Devin Booker is the cover athlete of NBA 2k23. This is the first time he's made the cover. And in the announcement video, behind-the-scenes video, and 2k photoshoot, the one thing he emphasized the most was 'Be Legendary'. It was the most obvious nod to Kobe and maybe one of the most meaningful ones when you consider the entire moment. Now the only thing left for him to do, that Kobe would've wanted, is win an NBA title with the Phoenix Suns.