Newly inducted into the Hall of Fame, the late Kobe Bryant has impacted a lot of people in the world. Some more than others. His early passing put the whole world at a standstill. Players of the NBA mourned and some still do. Before Kobe left us he did his most to inspire the next generation of basketball players.
Only one of them, however, fit the shooting guard mould of Kobe Bryant and in the first playoff series of his career took down LeBron and the Lakers. Devin Booker of the Phoenix Suns. For people who did not see the killer mentality of the Black Mamba they just need to watch Booker play. Devin isn't the All-NBA defender that Kobe was but he's is still young.
Also Read: How Kobe Bryant Helped Julius Randle Become the 2020-21 Most Improved Player
Devin Booker gets Kobe Bryant's words tattooed
Kobe Bryant wasn't like other NBA Greats who hated current players or the game. In fact, he would always support them. Interactions with Trae and Luka or taking Tatum and Randle under his wing? Something only Kobe would do.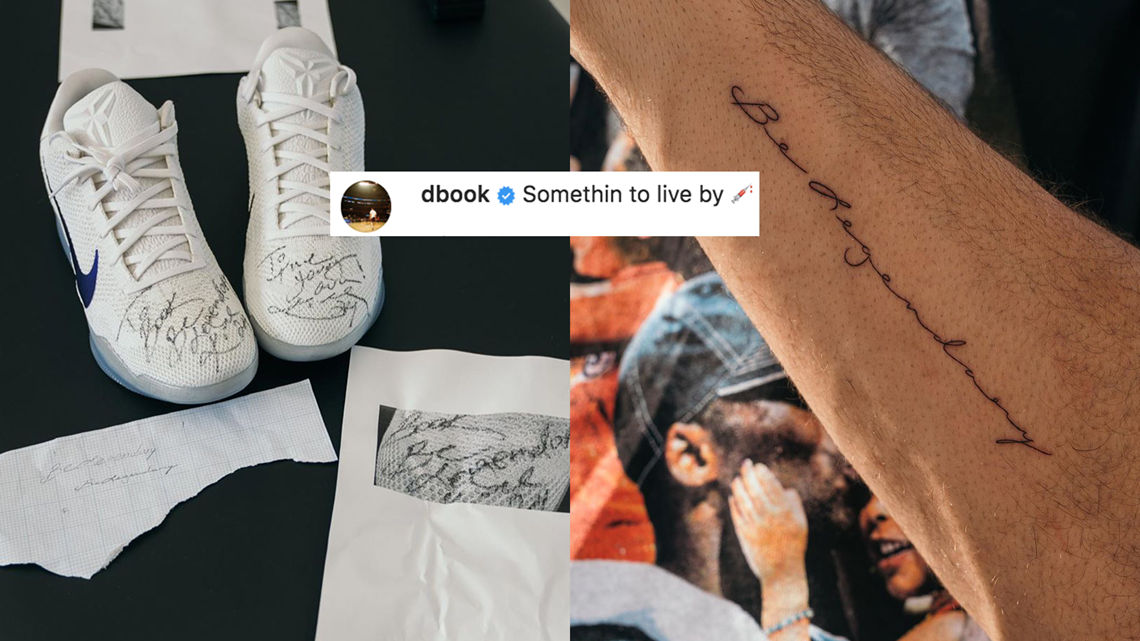 Devin Booker idolized Kobe. He was to Kobe what Kobe was to MJ. A student of the game who only wanted to learn from the best. On the court, you saw his tears when he came to know of his passing. In Kobe's last game against the Suns, he gave Devin Booker his shoes and signed 'Be Legendary' on them. Those words became so influential to him that he got them tattooed on his arm. A constant reminder for him to be legendary.
How Kobe Bryant influenced Devin Booker's game
The first time Devin Booker faced Kobe Bryant he tried Kobe's famous move on him. He missed the shot because the Mamba would not let you beat him with his own move. However, that day we saw a little bit of Kobe in Devin. At least Kobe Definitely did.
The footwork, the fadeaway, the pure scoring prowess that Booker possesses is that of a Prime Kobe Bryant. In my opinion, Jayson Tatum or Zach Lavine look more like a young Kobe with explosiveness. But Booker drew from the older and smarter Kobe Bryant. He could get his buckets and it would look near effortless. His 70 point game against Boston was the most points scored by a player since Kobe's 81.  The eye test helps us see how similar they are even if the stats might not say so. Even one of Kobe's greatest teammate Shaq sees it.
By the time Kobe was Devin's age he was a 3 time NBA champion averaging 30 points per game. Yes, he was drafted to a team better than Booker but he still was way better. That hasn't stopped Devin from trying to be like Kobe or even better. His team this season has a chance to make a deep playoff run and even win a title and it's all because of how Kobe helped Devin indirectly to be the player he is today. A bona fide superstar.
Also Read: Did the NBA Make a Mistake by Letting the Fans Back Into the Stadiums?