The Milwaukee Bucks absolutely dominated the Atlanta Hawks in Game 2. However, the Hawks had already stolen a Game in Milwaukee and were looking to go up at home. The Hawks lost the Game but it was an extremely close and competitive match up. Game 4 will also be played in Atlanta but they might be going in shorthanded.
The Hawks could've won Game 3 if Trae Young did not go down with an injury. He seemed to have injured his ankle after landing it on the foot of the referee. He left the game in the 3rd quarter but returned in the 4th to see the game out. However, will Trae Young play Game 4 with that injury?
Trae Young heads to the locker room with an apparent ankle injury

Prayers up 🙏 pic.twitter.com/KqbwUuUHMr

— Bleacher Report (@BleacherReport) June 28, 2021
Also Read: When Was the Last time the Atlanta Hawks Made the NBA Finals?
Trae Young Injury Update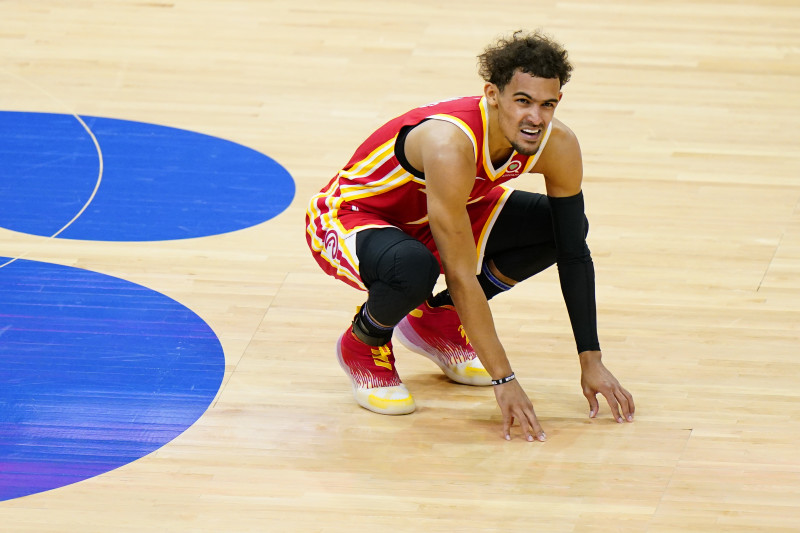 Trae Young and the Atlanta Hawks conducted an MRI on Monday to see the status of the injury. It has been classed as bone bruise in his right foot. The Atlanta Hawks have listed Young as questionable for Game 4. Game 4 is a must win for Atlanta. If they lose they go down 3-1 going back to Milwaukee. Coming back from 3-1 down is not impossible but highly unfavorable.
Trae Young has a bone bruise in his right foot, an MRI revealed.

He will be listed as questionable for tomorrow's Eastern Conference Finals Game 4 vs. the Bucks. pic.twitter.com/FGYcKtf3yA

— SportsCenter (@SportsCenter) June 28, 2021
Considering he played the rest of Game 3 and the situation the Hawks are in, Trae will most likely play through the injury. That will inhibit his play or could even worsen his injury. Trae is just 22 and will have many more opportunities to be here but he doesn't seem like the player who will give up.
Can the Atlanta Hawks win without Trae Young?
With Trae Young most likely playing Game 4, its fair to assume that the Hawks have an even lower chance of winning. If the game goes out of hand early or if Trae reaggravates his injury then its possible that he will be sat out.
The Atlanta Hawks have barely been winning with a healthy Trae Young. Without him, they have no one to carry the offense. They already lack the defense and then losing your best scorer is not something that's ideal for them. If Trae Young is seriously affected by the injury, it will a guarantee for Milwaukee to win Game 4 on the shoulders of Giannis.
Also Read: When Was the Last Time the Milwaukee Bucks Made the NBA Finals?