Czech professional tennis player, Renata Voracova is next after Novak Djokovic to have her visa revoked. She became the second Australian Open participant to be held in detention by authorities.
The government officials have only stopped Djokovic and Renata from entering the country with vaccination exemptions.
Also Read:- Tennis Fans and Players React to Novak Djokovic's Exclusion From the Australia Open
According to some reports, Renata has been held in a detention center by the Australian Border Force (ABF). She has been asked by the officials to leave the country and she has declared that she will not fight her deportation.
Renata Voracova Held In A Detention Centre
Renata Voracova is a doubles specialist from the Czech Republic. She had a promising start to her career when she won the French Open girls' doubles in 2001.
Voracova is being held at the Park Hotel in Carlton where Novak Djokovic is also being held. She said, "I'm in a room and I can't go anywhere. My window is shut tight, I can't open it five centimeters (two inches)."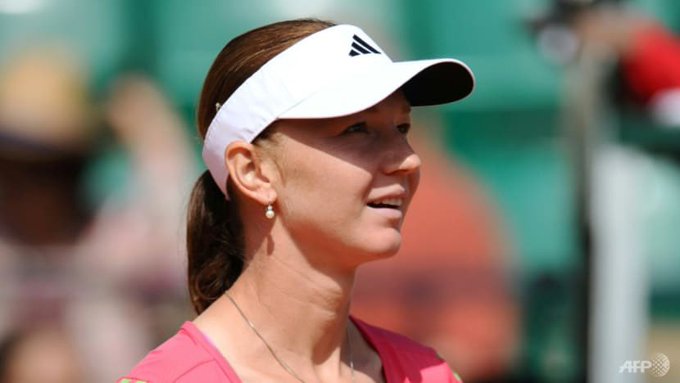 Renata has expressed her dislike of the detention center and the treatment she has received from the government officials.
She spoke to a local Czech news outlet and said, "And there are guards everywhere, even under the window, which is quite funny. Maybe they thought I would jump and run away. They bring me food and there's a guard in the corridor. You have to report, everything is rationed. I feel a bit like in prison. Like an action movie." Renata has said that the center is just a tad bit better than a dormitory.
Renata Voracova Granted A Medical Exemption by Tennis Australia
Tennis Australia was the one to grant medical exemptions to Novak Djokovic and Renata Voracova. They both are unvaccinated and received special permission.
Herald Sun published the document which was sent by Tennis Australia (TA) to the players before the tournament. TA had told players that a recent COVID-19 infection was grounds for a medical exemption from the vaccine.
Furthermore the document advises a COVID-19 infection in the last six months could be considered grounds that would enable an unvaccinated player to enter the country. The players would also have to provide the documents certifying the infection.
The information contradicts the advice which the Federal Government sent to Tennis Australia in November. They stressed that a prior infection in the past six months did not meet the requirements for quarantine-free entry.
"The federal officials let me in immediately," Voracova told the Czech reporters after her initial arrival.
"I was held at the Victoria state checkpoint as they sent my papers somewhere, but then they confirmed I was free to enter without problems.
Czech doubles specialist Renata Voracova became the second Australian Open participant to be held in detention and have her visa canceled by the Australian Border Force, in a sweep by authorities on players entering the country with vaccination exemptions https://t.co/OP7RFt2d7v pic.twitter.com/YlLWJJ0djW
— Reuters (@Reuters) January 7, 2022
"I don't understand why they would come to me after a week and say, look, the rules that applied do not apply anymore."
Renata Voracova said she had planned to receive the COVID vaccine at the end of the 2021 season. Unfortunately, she tested positive beforehand. Voracova had subsequently followed TA's guidance that she was clear to enter Australia.
"I did everything they asked me to do. Apparently, Tennis Australia has misled us, which is annoying," she said.
Voracova Set To Leave Australia
Renata Voracova was living freely in Melbourne before she was taken into isolation by the Australia Border Force (ABF).
Voracova has said that she would not challenge her cancellation of the visa. She said that it is impossible to follow in Djokovic's footsteps and launch a lawsuit to stay in the country and the tournament.
"I would have to ask for another visa and wait for a week, locked up in a hotel, without training." "It doesn't make sense. So I'm waiting for a permit (to fly out of Australia) on Saturday perhaps." – said Renata.
Renata has said that she would like Novak Djokovic to play in the tournament and has no hard feelings towards the Serb.