Roger Federer is a Swiss national professional tennis player. Right now he is ranked No.16 by the Association of Tennis Professionals (ATP). Federer has been world No. 1 in the ATP rankings a total of 310 weeks which includes a record 237 consecutive weeks – and has finished as the year-end No. 1 five times. Federer has won 103 ATP singles titles, the second most of all-time behind Jimmy Connors, including a record six ATP Finals.
A very versatile all-court player, Federer's effortlessness has made him highly popular among tennis fans. He was originally lacking self-control as a junior, Federer transformed his on-court demeanor to become well-liked for his general graciousness, winning the Stefan Edberg Sportsmanship Award 13 times. He has also won the Laureus World Sportsman of the Year award a record five times. Outside of competing, he played an instrumental role in the creation of the Laver Cup team competition.
????Novak Djokovic celebrates 350th week as World No. 1
⠀
Serbian player has achieved 350 weeks accomplishment in FedEx ATP Rankings as World No. 1. On 8 March he bypassed Roger Federer who had only 310 weeks.
⠀
????: REUTERS/ Susana Vera pic.twitter.com/AVS5i0kNpp

— the Net magazine (@thenet_m) December 6, 2021
Novak Djokovic is a Serbian professional tennis player. The Association of Tennis Professionals (ATP) currently ranks him as world No.1. Djokovic has been No. 1 for a record total of 349 weeks and has finished as ATP Year-End No. 1 on a record seven occasions.
Novak has won a joint record of 20 Grand Slam men's singles titles, including a record nine Australian Open titles. Overall, he has won 86 ATP singles titles, including a record 37 Masters events. Djokovic is the only man in the Open Era to achieve a double career Grand Slam and complete a non-calendar year Grand Slam. He is also the only player to complete the career Golden Masters on the ATP Tour, which he has done twice.
At age 20, he disrupted Roger Federer's and Rafael Nadal's streak of 11 consecutive majors to win his first Grand Slam title at the 2008 Australian Open. By 2010, Djokovic also separated himself from the rest of men's tennis to join Federer and Nadal in the Big Three, the group of three players who have dominated men's tennis for more than a decade.
Also Read: Rafael Nadal v/s Roger Federer: Here's Everything You Need to Know About the Incredible 'Fedal' Rivalry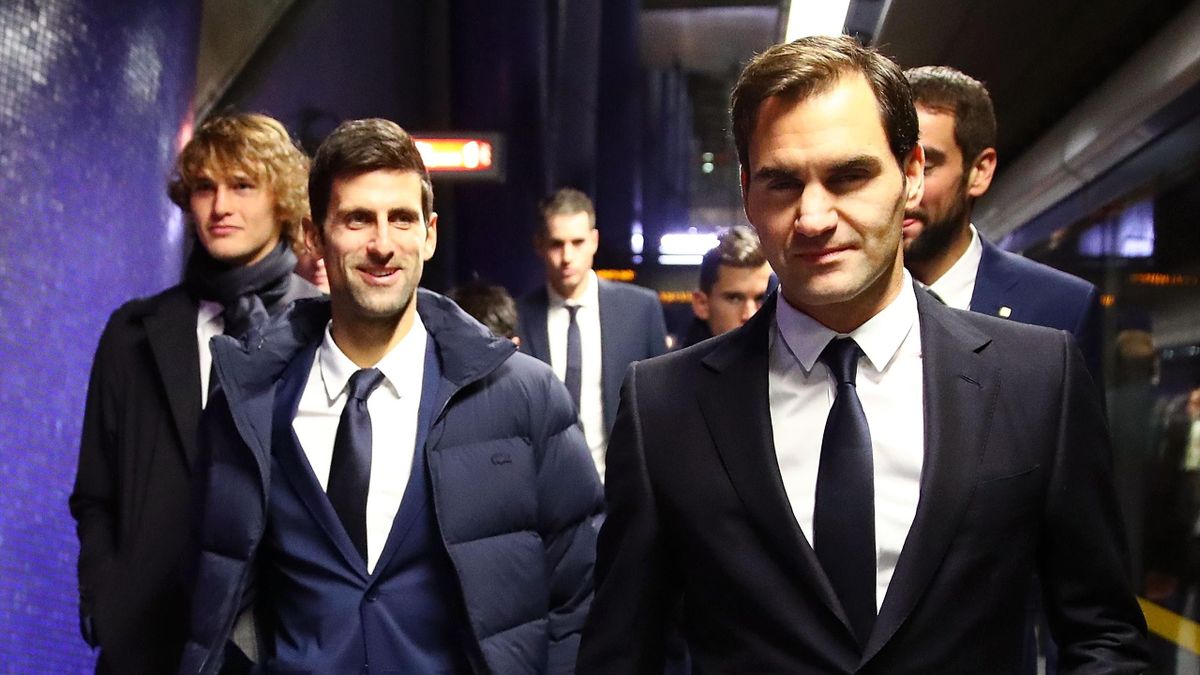 The Novak Djokovic v/s Roger Federer Rivalry
The Djokovic–Federer rivalry is another modern-day tennis rivalry between Novak Djokovic and Roger Federer. They together have played 50 matches between 2006 and 2020, where Djokovic leads head-to-head 27–23.
Djokovic leads 13–6 in finals and 11–6 in Grand Slam matches. These 17 Grand Slam matches are the most ever contested between two players. To date, Djokovic is the only man to have beaten Federer at all four majors and likewise, Federer is the only player to defeat Djokovic at all four of them.
Australian Open, 2008.@rogerfederer was on a 19 match win streak going into his 2008 semifinal. He was the big favorite going up against No. 3 seed @DjokerNole.

Watch the iconic match on our 24/7 channel ???? https://t.co/QkMHMC53nE pic.twitter.com/hacU616YuN

— Tennis Channel International (@TennisChanneli) November 30, 2021
Initially, Federer dominated the rivalry, leading 13–6 by the end of 2010. Later, Djokovic has been in control of the rivalry, leading 21–10 since 2011.
Their rivalry has been pretty even across hard, clay, and grass courts, which is very unusual. Djokovic and Federer have contested many acclaimed matches over the years, the most prominent was the 2019 Wimbledon final. The longest final in Wimbledon history, in which Djokovic triumphed.
Other notable matches which they have contested are the 2014 Wimbledon and 2015 Wimbledon finals along with the 2010 US Open, 2011 US Open, 2011 French Open, and 2018 Paris Masters semi-finals.
Also Read: Novak Djokovic v/s Rafael Nadal: All You Need to Know About the Incredible Rivalry
Djokovic v/s Federer: The Famous Matches
Wimbledon Final (2014)
2014 final was held at the All England Club. It is arguably one of the best ever matches played. Roger Federer was looking invincible with the way he had played over the course of the two weeks. Unfortunately for the Swiss, it was the Serb who came out on top while denying him his first Slam since 2012.
This was Djokovic's second Wimbledon title. He would go on to defeat Federer in the final in 2015 as well.
Result: Djokovic d. Federer 6-7, 6-4, 7-6, 5-7, 6-4
TOTAL WEEKS as ATP WORLD No.1 UPDATED!!!

???????????? @DjokerNole – 350!!!
???????????? @rogerfederer – 310
???????????? Sampras – 286
4 ???????? Lendl – 270
5 ???????? @JimmyConnors – 268
6 ???????? @RafaelNadal – 209
7 ???????? @JohnMcEnroe – 170
8 ???????? Borg – 109
9 ???????? @AndreAgassi – 101
10 ???????? @lleytonhewitt – 80

— NovakDjokovicSweden (@NoleSwedenFans) December 6, 2021
French Open Semi-final (2011)
Djokovic came into the semi-final by not having lost a single match throughout the year till that point. He had won 43 matches in a row. However, Federer seemed unbothered by that number as he arguably gave his best performance ever on a clay court.
His forehand and backhand worked wonders as he took the attack to the Serb and won the first two sets. He went on to win the match but unfortunately lost the final to Rafael Nadal.
Result: Federer d. Djokovic 7-6 (5), 6-3, 3-6, 7-6 (5)
⏰ 2008 Semifinals
???? Flushing Meadows, New York
???????? Roger Federer vs. Novak Djokovic ????????

Relive the entire match on the US Open YouTube page ⬇️

— US Open Tennis (@usopen) November 4, 2021
US Open Semi-final (2011)
The semi-final match at the Flashing Meadows between Djokovic and Federer was once again thrilling.
With the first four sets split between the two players, Federer had the upper hand in the fifth with a break to his name. He was up 5-3 and serving for the match and had two match-points.
However, Djokovic played one of the best and one of the riskiest shots of his life to deny Federer the win.
Federer was quite shocked with what had happened, saying that he did not expect Djokovic to go for that shot when he was down a match point. The Serb went on to defeat Rafael Nadal in the final to lift the title.
Result: Djokovic d. Federer 6-7 (7), 4-6, 6-3, 6-2, 7-5