Recently, Carlos Alcaraz has been confirmed as a participant in the 2022 Swiss Indoors Basel event. Recovering from injury, Roger Federer has also expressed interest in returning to the ATP Tour before October in time for his home tournament.
Alcaraz is set to participate in the 2022 Wimbledon Open which begins from 27th June, 2022. However he will miss out on the follow-up Queen's Club Tournament. He will miss out the opening grass court tournament due to his elbow injury.
Sharing the news on his Twitter page, he wrote, "As u all know, I was super excited to play at Queens Tennis but a slight elbow issue means I can't! I hope to be there in 2023… see u all in the UK in a few days!"
As u all know, I was super excited to play at @QueensTennis but a slight elbow issue means I can't! 😞
I hope to be there in 2023… see u all in the UK 🇬🇧 in a few days! 🎾🌱

— Carlos Alcaraz (@alcarazcarlos03) June 8, 2022
Roger Federer has won his home tournament 10 times. That includes the last three occasions in 2017, 2018, and 2019 – before the event had to be halted for two years because of the Covid-19 pandemic.
Carlos Alcaraz confirms participation in Swiss Indoors Basel event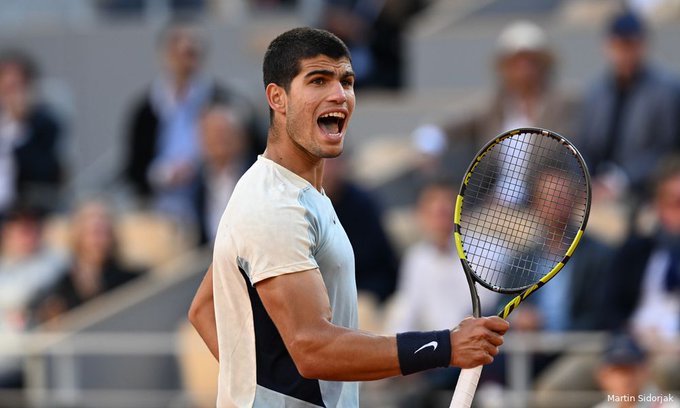 Carlos Alcaraz won his first ATP Tour event by capturing the Rio Open. He backed up that form and win by claiming the Miami Open. He then broke into the world's top-10 by winning the Barcelona Open.
Alcaraz's brilliant run continued in Madrid, where he became the first teenager to beat Rafael Nadal on clay, and also defeated Novak Djokovic and Alexander Zverev en route to another title. The title win made him one of the favourites for the recent French Open. However the 6th seed faced defeat in the quarter-finals by Zverev.
Carlos reached the second round of Wimbledon last year on his first appearance, but has since reached the quarter-finals of the US Open and French Open. World no.8 Casper Ruud is now the highest ranking player in the tournament.
Roger Federer has missed this year's Roland Garros as he continues his rehab following a third knee surgery. He hasn't featured on the ATP Tour since last summer's Wimbledon due to several injury problems.
The Swiss tennis legend missed most of the 2020 season to have double surgery on his right knee. Playing just five events in 2021 before going under the knife for a third time.
Roger's participation in this year's Wimbledon Open is in doubt. Recently the tournament's event organisers released their entry list which did not contain Federer's name. However he can ask for a wild card entry if he wants to participate. He will participate in his home tournament in Swiss Indoors Basel event.
Fans all around the world are excited for a potential match-up between the Spanish tennis sensation, Alcaraz and 20-time grand slam icon Federer.