Daniil Medvedev started his Australia Open 2022 campaign with a win against the Swiss, Henri Laaksonen on Tuesday.
Medvedev is the second seed and the favourite to lift his second major title. He is aiming to be the first man in the Open era to win his second major title on his next Grand Slam appearance.
Also Read:- Daniil Medvedev Defends Novak Djokovic Says, "In The Sport He's Still Seen As One Of The Greatest Players
Daniil Medvedev's work was made easy when 91st ranked Henri Laaksonen was placed against him. Daniil dismantled the Swiss in the Rod Laver Arena. He had a 6-1, 6-4, 7-6 (3) win over Laaksonen.
With Novak Djokovic out of the picture and Roger Federer not in Melbourne because of injury, the draw has opened up for Daniil Medvedev and Rafael Nadal.
Daniil Medvedev Demolishes Henri Laaksonen
After Novak Djokovic's deportation, US Open champion Daniil Medvedev is the favourite in winning the Australia Open title.
In his first game, Medvedev cruised over to win against Henri Laaksonen in 1hour and 54 minutes. The Swiss was determined and dragged the match to the third set.
Finland-born, Henri Laaksonen produced scintillating tennis to keep in touch with Medvedev. In the tie-break he faltered with a pair of unforced errors that gave the Russian three match points.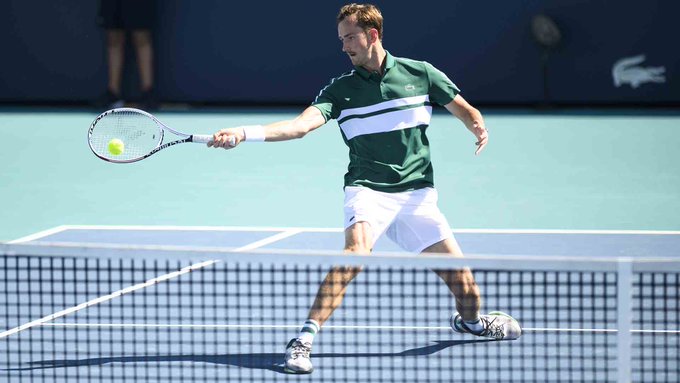 After the match, in the on-court interview Daniil Medvedev shared his opinion. He said, "I tried to win the third set, I thought I'll wait (for the tiebreaker), it managed to work out, so I'm really happy about it."
"I started well in Australia last year, won the ATP Cup and managed to be in the final here. I like to play here, I like hardcourts and I want to do better than I did last year."
Daniil Medvedev is aiming to go one better than last year's losing final appearance against Novak Djokovic.
With the world no.1 back home in Serbia after his deportation, the Russian is the nominated favourite for the title.
Medvedev To Face Nick Kyrgios For The Second Round
Daniil Medvedev's win against Henri Laaksonen means that he will face Nick Kyrgios in the second round.
Similarly, Nick Kyrgios won his first game against qualifier Liam Broady in Melbourne Park (6-4, 6-4, 6-3).
After the victory Kyrgios said, "I was training five hours a day, feeling extraordinary, and then it hit me and I was bedridden. Couldn't really breathe well. Coughing."
"I was pretty bad. Like, for someone that you assume is in the peak of his physicality, I got hit pretty bad."
Nick Kyrgios, a two-time Grand Slam quarterfinalist had to pull out of the Sydney Tennis Classic tournament on 10th January after testing positive for COVID-19.
"Anyone that's been through it, I hope honestly for the best. Obviously physically I don't feel 100%, but I'm not going to use that as an excuse," he said.
"Like, everyone is dealing with that at the moment. The whole world is dealing with it. So I'm just going to take it day by day."
The hometown boy is all set to face the world no.2 in their second round of the Australian Open 2022.