Elina Svitolina is a Ukrainian professional tennis player and is ranked world no.20 by the Women's Tennis Association (WTA). She reached career high of world no.3 in 2017 to become the first Ukrainian player to break into top 10. Surpassing fellow compatriot, Alona Bondarenko to move into the top 10.
Elina Svitolina, the no.1 seed defeated Russian player Anastasia Potapova in 2022 Monterrey Open, Mexico. The Ukrainian donated all her match fees to Ukraine's army who is fighting Russia. She said, "It's a very, very special event this one for me. All the prize money that I'm going to earn here is going to the Ukrainian army. So thank you so much for your support. In general, I was just focused. I was on a mission for my country."
A good cause! 😍 @ElinaSvitolina joins the Tennis Channel desk to discuss her fundraising auction called Racquets for Refugees.@MiamiOpen | #MiamiOpen pic.twitter.com/QTQutRYLH0

— Tennis Channel (@TennisChannel) March 27, 2022
Dressed in blue and gold in solidarity with her motherland, Elina played the match. She said it was her mission to unite the tennis world behind her country following Russia's invasion.
Svitolina had previously refused to play her opening match against Potapova at the Open. However she went ahead after tennis authorities decided to ban Russian and Belarusian players from competing under the name and flag of their countries.
Elina Svitolina's early life and career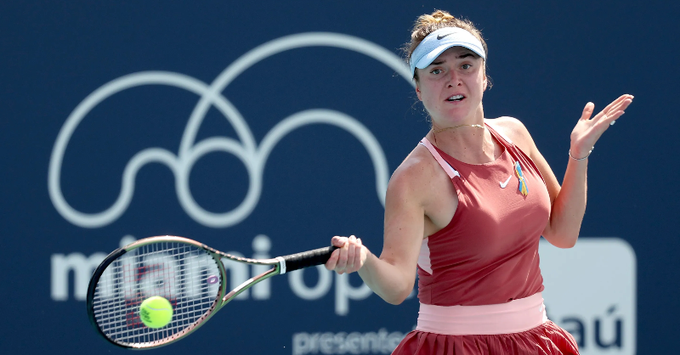 Elina Svitolina grew up in Odesa, Ukraine with parents, Mikhaylo Svitolin who is a former wrestler and Olena Svitolina – a former competitive rower. She has an older brother, Yulian who inspired Elina to play tennis.
Svitolina started playing at age five for which her family moved to Kharkiv, Ukraine, when she was 13. A businessman named Yuriy Sapronov became her sponsor as he had seen her play at one of his children's tournaments when she was 12. Impressed with her, it lead to his investment in her training and further professional development.
As a junior, Elina won the French Open girls event in 2010 by defeating Tunisian, Ons Jabeur in the final. She has won 16 WTA tour singles and has finished runner-up three times. She won the bronze medal in the 2020 Tokyo Summer Olympics. After the win she spoke on the significance of the victory after winning the bronze medal. Elina said, "To win such a big battle for the bronze, it means the world for me. Everyone in Ukraine is watching, we don't win so many medals, it's very special for me and Ukraine."
She added, "I want to be a fighter for my country. I want to win everything that I play and I always try to do my best and be at my best for Ukraine."
Elina's husband, Gaël Monfils
Elina Svitolina is married to French tennis player, Gaël Monfils. He reached a career-high ranking of number 6 in 2016 and named the ATP Newcomer of the Year in 2005. Monfils has won 10 ATP singles titles and has been a runner-up 21 times. He has reached at least one ATP singles final every year since 2005. He has reached two Grand Slam finals at the 2008 French Open and 2016 US Open.
Svitolina and Monfils married after having publicly dated since 2018. They announced their relationship in 2019 and announced their engagement on April 3, 2021. They tied the knot on July 16, 2021 in Geneva, Switzerland which is where Monfils resides. Svitolina has said that she does not plan on changing her surname to Monfils while she is an active player.
Net worth of Elina Svitolina
Elina Svitolina net worth is $23 million as of 2022. She earns around $3.2million per year from tennis, both from prize money and endorsements.
Elina Svitolina has long cooperated with the famous sportswear manufacturer Nike and tennis equipment manufacturer Wilson.
She endorses a golf and spa resort which is a 5-star resort, Poustovit, Jan Niche concept & Eafit – a brand for women's clothing. On social media, she did a lot of promotions with Maximilian London.