Controversy surrounded Italian tennis star, Matteo Berrettini when he posted a Instagram story with LeBron James. The story consisted of an image of the basketball start along with a gorilla and a crown emoji.
LeBron James appeared in the Drew League and scored 42 points. Berrettini being a huge fan of the basketball star, shared an image of James on his story from the Drew League and used a gorilla and a crown emoji.
He posted this… pic.twitter.com/gTeIHUimWs

— Sassy Jax 🇺🇦💙💛🇺🇦 (@SassyJaxIsBack) July 17, 2022
The emoji of a gorilla has racist connotations. Fans started badgering Berrettini to apologise to James for his racist post. The Italian star deleted the story after 8 hours and insisted that he is not a racist. He wrote, "I am very sorry if my previous story post offended anyone. I was informed that it can easily be misinterpreted so I have deleted it. Lebron is my biggest idol. Incredible role model and inspiration."
Matteo Berrettini criticised for his racist comments
World no. 15, Matteo Berrettini received backlash from people around the world for using a gorilla emoji alongside a photo of LeBron James. Gorillas or apes have been used since time immemorial to degrade Black people all over the world. It is a very racist symbol.
However, Berrettini realising his mistake took down his Instagram story and subsequently apologised to LeBron James and the fans for his actions.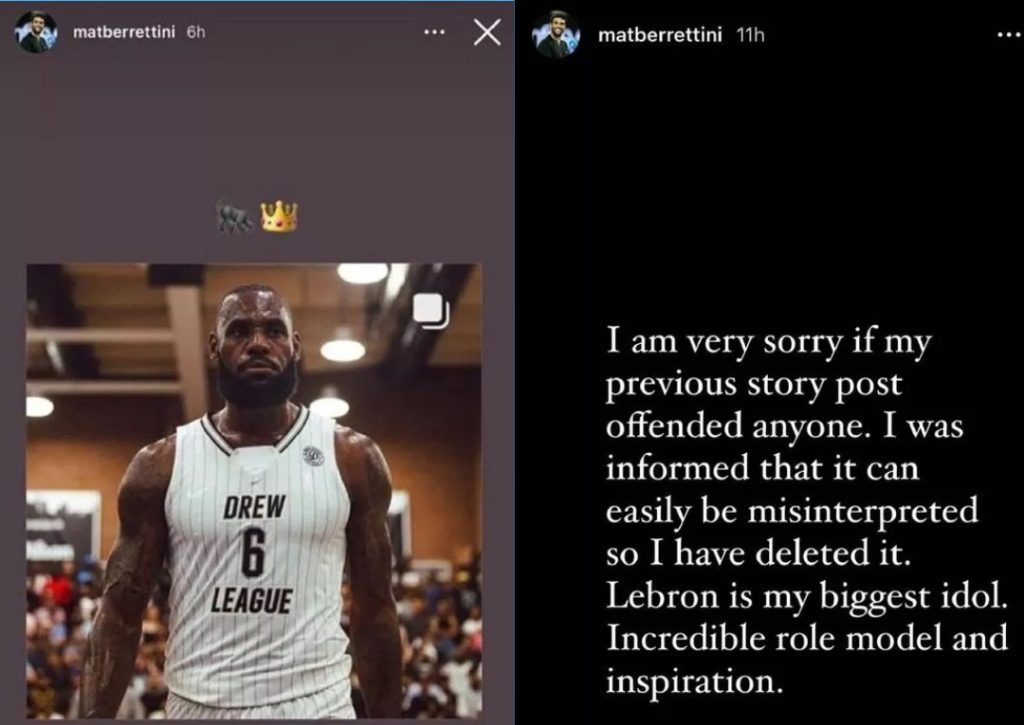 Previously Matteo has spoken out about his admiration for the basketball star. After his early exit from the 2022 Wimbledon Open, Berrettini gave an interview to La Stampa. There he compared LeBron James to Rafael Nadal. He said, "The LeBron James of tennis? Nadal, in terms of physicality and why they both exploded [onto the scene] very young. I would compare Federer to Michael Jordan. Djokovic reminds me of Kobe Bryant, for how he remains cold in difficult situations."
@SwissOpenGstaad evening practice for @MattBerrettini with his brother Jacopo, welcome to #Gstaad and good luck in the WC doubles!! pic.twitter.com/HVTZzEzpbU

— Brigitte Urban (@brigitte__urban) July 15, 2022
Matteo underwent a right hand surgery in March however he quickly returned to the Tour in June. Lifting back to back grass-court titles in Stuttgart and at The Queen's Club. However, the Italian was forced to withdraw from Wimbledon due to Covid-19.
Berrettini will mark his return to court at the 2022 EFG Swiss Open Gstaad. Previously he has won his first tour-level title in Gstaad in 2018. He will begin the tournament against Richard Gasquet or Roberto Carballes Baena.