Stefanos Tsitsipas is a Greek professional tennis player. He is currently ranked world no.4 by the Association of Tennis Professionals (ATP).
Whenever Stefanos visits Australia he is overwhelmed by the love of the Greek community in Melbourne. They make him feel at home and he considers them to be his family.
Also Read:- You're A Star Naomi Osaka Sends A Heartwarming Message To Her Boyfriend Cordae, Calls Him Inspiring
Stefanos Tsitsipas loves the Greek restaurant, Stalactites in Melbourne. The Greek food over there especially their Souvlakis are loved by many.
Stefanos partnered with them and released a Souvlaki named after him. This good item is always sold during the Australian Open.
Stefanos Tsitsipas Partners Up For A Good Cause
Stefanos Tsitsipas had partnered up with the Greek restaurant, Stalactites to launch a Souvlaki named after him. The "Tsitsipas Souvlaki" is a result of Stalactites' ongoing culture of christening souvlaki just after their own Australian Open Hellenic Heroes.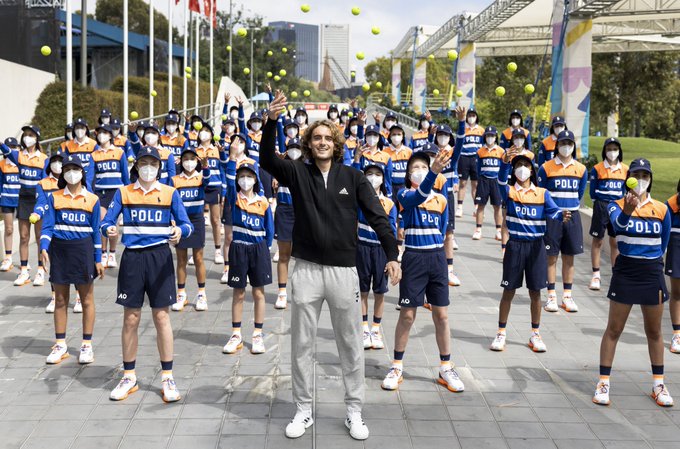 The co-owner of Stalactites, Nicole Papasavas said, "Naming a souvlaki after our Australian Open Hellenic heroes has been an ongoing tradition of ours since 2006 and we are thrilled to team up with Tsitsipas again. After the year that was it seems important now more than ever to support our community and we encourage everyone to come down and try the souvlaki. We promise it won't disappoint, and it'll taste even better knowing it's for a good cause."
The 'Tsitsipas Souvlaki', costs AUD $17 and includes lamb gyros, tomato, tzatziki, fresh pomegranate, onion, mint, crumbled feta and chips. The pomegranate are an addition made by Tsitsipas himself.
Stefanos has partnered by the restaurant for a good cause. All the dollars which are donated after buying the Souvlaki, will be matched by Stefanos.
He will do it for the betterment of the mental health of the Aussies who were affected during the pandemic.
Tsitsipas Previously Helped Aussies With The Help Of Stalactites
Previously the Greek eatery had re-launched he "Tsitsipas Souvlaki" during the bushfires. All the proceeds went to the Country Fire Authority and Wildlife Victoria. 100 per cent of the sales went to bushfire relief.
Stalactites restaurant had already donated $10,000 to the organisations but wanted to do more.
"We approached Stefanos a few weeks ago and asked him if he'd be interested in us bringing back the Tsitsipas souvlaki to raise money for bushfire relief and he just loved the idea," the co-owner, Nicole Papasavas had told AAP.
"Last year I think we sold about $16,000 worth of the souvlaki in two weeks so we're hoping to match that, or even beat that, this time."
The restaurant re-launched the limited edition Souvlaki last year. 100% of last year's sales would go on to assist those affected by COVID-19 and food insecurity.
"I feel at home in Melbourne and I love being welcomed by the Greek community here. All throughout quarantine I'd been craving a Stalactites souvlaki so I'm excited to finally be here with my team and family," Tsitsipas had said.
The donations were split amongst two charities –the Melbourne based charity SecondBite and 'Together for the Children', a charity which is close to Tsitsipas' heart back in Greece.