Carlos Alcaraz, the teenage tennis sensation from Spain has taken the tennis world by storm. His entry into the tennis limelight happened during the 2021 US Open.
Taking the court in front of a crowd of more than 8,000, Carlos Alcaraz played in the Grandstand stadium for his fourth-round match at the US Open. Crowd there were buzzing about the 18-year-old sensation.
Coming back from a set down and entering into the fourth against Peter Gojowczyk, Alcaraz became the youngest man to advance to the quarter-finals at the tournament in the Open Era. Those in attendance cheered raucously for his every point and frequently chanted for him during breaks.
Carlos won his first professional title last year in on clay in Umag. His first professional victory in the circuit also came in Rio de Janeiro, two years ago.
Carlos Alcaraz defeated world no. 14, Diego Schwartzman in straight sets in the 2022 Rio Open final to win his second ATP title. With his victory, the 18-year-old not only became the youngest ATP 500 champion. He imitated several feats achieved by fellow Spanish tennis legend, Rafael Nadal.
Alcaraz's first clay-court match of the season also turned out to be an impressive showing, as the Spaniard earned a 2-6, 6-2, 6-1 win over Jaume Munar. It was encouraging for his supporters to see young Carlos dominate the match.
"I felt like home today. It is very hard to have that so far from where I came from," Alcaraz said before a joyous Brazilian crowd.
Carlos Alcaraz feels motivated through his grandfather's words
Young Carlos Alcaraz has started climbing the ladders of the tennis world. He says that his grandfather's words help through crucial and difficult moments. He said, "I always remember what my grandpa says to me. That is three Cs – cabeza, corazón, cojones (head, heart, balls). That moto is always with me."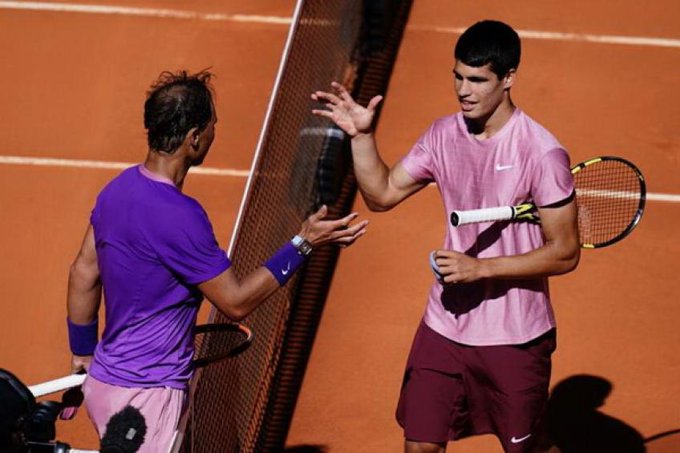 Rafael Nadal hit the court with young Spanish phenomenon, Carlos Alcaraz in an Indian Wells practice session on opening day of the BNP Paribas Open.
Very impressed with Carlos Alcaraz, Rafael Nadal said, "Well, he's playing very aggressive. He has a lot of potential. He's a young and good guy, so, I mean, he already has a great level of tennis today, but I really believe that he gonna be a fantastic player in the near future, no?"
The master and the student 🇪🇸@RafaelNadal x @alcarazcarlos03#IndianWells pic.twitter.com/BJx0s2VybW

— BNP Paribas Open (@BNPPARIBASOPEN) March 9, 2022
He added, "Yeah, I wish him all the very best. I mean, like Spanish player and like in Spanish fan, I really believe that we need somebody like him, and it's great to have him here."
Alcaraz is the youngest active male player to have won multiple ATP titles. It is another record that was previously held by Nadal. Alcaraz currently holds two ATP titles – the 2021 Umag Open and the 2022 Rio Open – at the age of 18 years and 9 months.
Pure tennis joy 😍

Astonishing from @HubertHurkacz & @alcarazcarlos03! pic.twitter.com/4Gam0QDeA8

— Tennis TV (@TennisTV) April 2, 2022
Carlos Alcaraz is one win away from creating Miami Open history after defeating defending champion Hubert Hurkacz in straight sets. He will face Norway's Casper Ruud in his first ATP Masters final.
Alcaraz held his nerve in the two tie-breaks to put himself one win away from being the youngest player to win the event in its 37-year history. Only two men have won titles at this level at a younger age. They were Michael Chang (1990, Toronto) and Rafael Nadal (2005, Monte Carlo) were both 18 on their first triumphs.