Rafael Nadal advanced into the Australian Open final for a 6th time with a 6-3, 6-2, 3-6, 6-3 victory on Friday over Matteo Berrettini. Nadal is now within an arms reach of a record 21st Grand Slam singles title.
Also Read:-"I Proved Him Wrong Stefanos Tsitsipas" Takes a Cheeky Dig at His Doctor Who Advised Him Not to Compete in Australia Open
With one more win, he'll break the record of 20 major titles he shared with Roger Federer and Novak Djokovic. He will also become just the 4th man in history to win all four of the Grand Slam titles at least twice.
The Spaniard stormed into the final of the Australia Open and kept his dream alive of becoming the first men's player to win 21 Grand Slam titles.
Rafael Nadal Bringing Out His Vintage Game
Rafael Nadal played his best game in this semi-final match. He brought out his vintage forehand play and was calm and relaxed.
Rafa had a great momentum and was playing flawlessly. His opponent Matteo Berrettini did not have a chance against the tennis master.
Nadal won his 1st set 6-3 and used his forehand and backhand play. He continued his winning tendencies and won his 2nd set comfortably.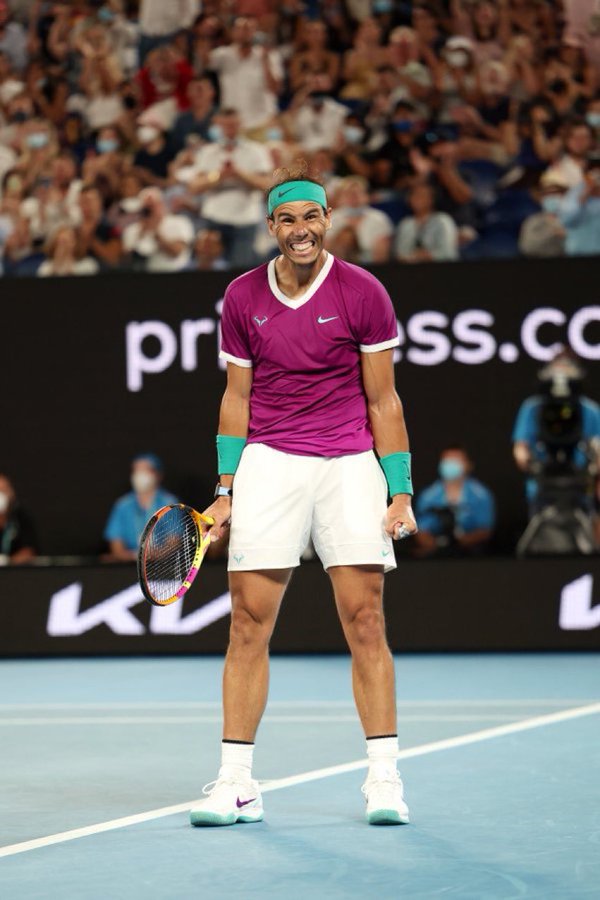 With only one set away from the final, Rafa's focus wavered a little. This gave Italian, Matteo Berrettini a chance to win the 3rd set.
Berrettini staged a comeback in the 3rd set and dominated Nadal. He sent the match into the 4th set. For the first time in the match, the Spaniard looked a bit frustrated.
This was the first time that Berrettini managed to win a set against Nadal.
However, the Spaniard did not get flustered by the 3rd set loss. He raised his game winning the 4th set to progress into the finals.
Nadal Gets Emotional After The Win
Nadal's win over Berrettini was under a closed roof at Rod Laver Arena because of heavy local rain. It was his 500th appearance on hard courts at tour level. He has won the Australian Open title only once in 2009.
After the match, Nadal got very emotional and put his head on his kit bag and shed a few tears. The fans could see teary eyed Nadal when he clapped Berrettini off the court.
What it means to be back in an #AusOpen final ????@RafaelNadal • #AO2022 pic.twitter.com/OF29zQkF9i

— #AusOpen (@AustralianOpen) January 28, 2022
In his on-court interview Nadal said, "For me, it's all about the Australian Open more than anything else. I have been a little unlucky [here] in my career with some injuries and have played some amazing finals with good chances."
"I feel very lucky that I won once. And I never thought about another chance in 2022."
Rafa is the only member of the Big Three who has a chance to break the deadlock in Australia this time. Roger Federer missed the tournament to continue his recovery from knee surgery.
Djokovic was deported on the eve of the tournament for failing to meet the country's strict COVID-19 vaccination criteria.
Rafael Nadal is set to face Daniil Medvedev in the Open final on Sunday.