Carlos Alcaraz became the youngest champion in Miami Open history. He beat Novak Djokovic previously held the record when he won the Miami Open at the age of 19 in 2007. The Spaniard picked up US $1,231,245 for the victory, nearly doubling his career earnings with one check.
Carlos finally got Spain it's Miami Open men's title. The 18-year-old will head into the clay-court season arguably playing as well as anyone. He shook off a slow start to beat sixth-seeded Casper Ruud of Norway 7-5, 6-4 in the final.
The melting pot city of Miami – with its massive Spanish-speaking community – loved seeing Carlos Alcaraz. The Spanish fans brought plenty of their nation's flags to Hard Rock Stadium. The supporters waving the flags high into the air whenever things were going well for Carlos Alcaraz.
The Spaniard said that made a big difference throughout his two-week stay. "I love Miami. I felt like I was home from the first minute I began playing," Alcaraz said.
Everything to know about Carlos Alcaraz's team to training grounds
We're not crying, you're crying ❤️@alcarazcarlos03 @juankiferri #MiamiOpen pic.twitter.com/f5mRWKII5v

— Tennis TV (@TennisTV) April 3, 2022
Carlos Alcaraz trains at the JC Ferrero-Equelite Academy. Previously, former tennis player and academy head Juan Carlos Ferrero noticed the potential in Alcaraz. He took on coaching personally when Alcaraz turned 16 years old. Sometimes Carlos trains in Rafael Nadal Tennis Academy.
Juan Carlos Ferrero is a pro tennis player from Spain. He has 16 ATP wins under his belt along with a Grand Slam title (Roland Garros 2003). He also ranked at the top of the ATP rankings and retired from the game in 2012 to coach at his academy.
Carlos Alcaraz had great admiration for his coach. He said, "He influences my game in a way no other coach could. Ferrero understands what's going on in my life because he's been through it himself – this pressure. It's hard for me to open about it but I trust Ferrero 100%."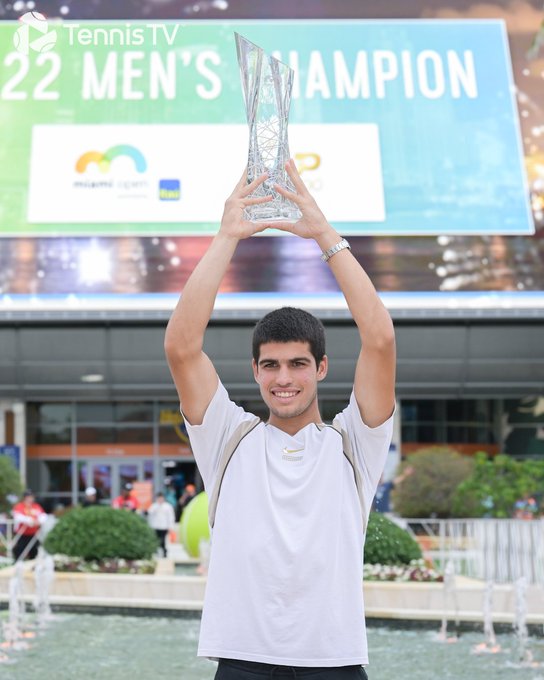 Carlos Alcaraz credits his physio, Juanjo Moreno for his success in the 2022 Miami Open final. He said, "Well, he told me that everybody knows it's going to be my first final, but trying to think that this is the first match of the tournament, try to manage the nerves like I did in the semi-final."
Moreno helped Carlos with managing pressure and expectations. According to Alcaraz it helped a lot.
THE FUTURE IS HERE 🇪🇸

The moment @alcarazcarlos03 broke Djokovic's record as YOUNGEST men's champion in #MiamiOpen history! pic.twitter.com/9zX8ZidYyK

— Tennis TV (@TennisTV) April 3, 2022
Juanjo Moreno praised Alcaraz for his work ethics, physical and mental stability. He credited Alcaraz's willingness to work hard and his on court training for his success.
He said, "If I had to highlight two strong points of Carlos, I would prefer his talent and the culture of effort he received from the team. We succeeded in making him understand that, without effort, talent can be lacking, and that at these levels it is essential to take care of all the details."