Joel "The Process" Embiid is probably one of the best players in the league and just as funny online. His dominating performances on the court balance his social media antics off the court. He finished 2nd in MVP voting this year and to imagine that some years back he hadn't even touched a basketball. It's an amazing story and a truly inspiring one.
How was Joel Embiid 's early life?
Joel Embiid was born on 16 March 1994 in Yaoundé, Cameroon. A country classed as third-world in the continent of Africa. Embiid was great academically, played football really well and even a beast on the volleyball court. He was allowed to leave the house only for sports or school.
Cameroon did not have much coverage of the NBA. But Joel managed to watch a clip of Kobe Bryant against the Celtics in the NBA Finals. At the age of 15, he picked up his volleyball and shot it like a basketball at the local basketball court. That clip really motivated him into getting into basketball.
It started off as just a game he played with his friends on the side, for fun. However, in July 2011 his life changed.
Also Read: Anthony Davis and the Modern NBA's Most Fragile Centers
The start of the Process
Luc Mbah a Moute was an NBA player who also was Cameroonian held a basketball camp there. Joel knew he was too inexperienced to join the camp but his volleyball coach signed him up anyway. Joel wasn't that good but he was 6ft 9 at the age of 16 and had tremendous potential. He had footwork and speed and that made him the obvious best player at that camp. Embiid was invited to play in the basketball without borders camp. It's how the NBA can procure talent worldwide.
Embiid now wanted to play basketball in America but his dad was hesitant at first. He wanted Joel to play Volleyball in Europe. But after some deliberation he let Joel go. Embiid got an opportunity to play for Montverde Academy, the same one that Mbah a Moute played for. He left his family not knowing when he would get to meet them next.
How did Joel Embiid fair in high school?
Joel Embiid found it tough to fit in. He was not that good at the game and his teammates ridiculed him. His coach, Kevin Boyle, told the rest of his teammates to 'laugh all you want but in 5 years you'll be asking him for loans because he's going to be worth 50 million.' A couple of months on and his improvement in the game and the language was drastic.
Joel Embiid saw tapes of Hakeem to better his footwork. He grinded a lot and finally, at the end of the season, he got into the varsity team. However, the lack of minutes forced him to transfer schools. His decision was a good one as he made the starting lineup and led his team to a 33-4 record. He averaged 13 points, 10 rebounds and 2 blocks which led to him becoming a 5-star recruit.
Kansas was amazed by Joel's ability and gave him a full scholarship.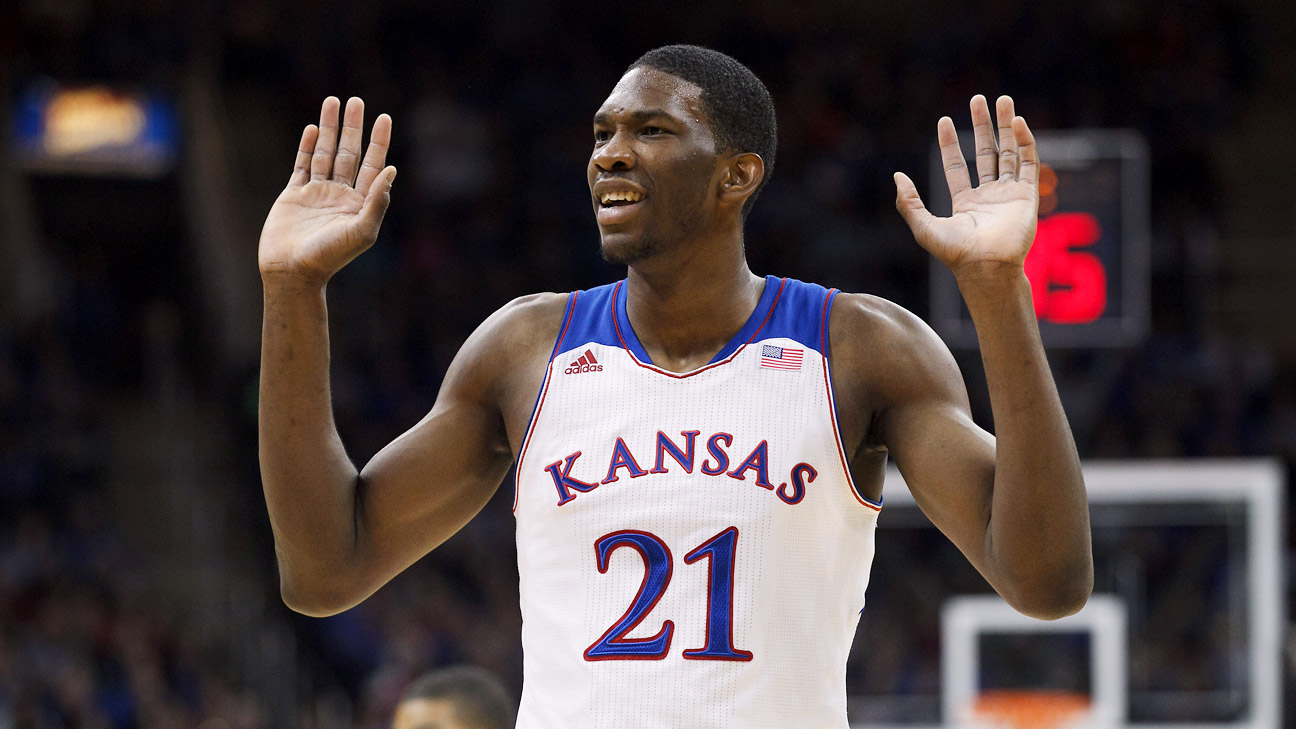 Also Read: NBA Playoffs: Kyrie Irving Injury Gets A Disgusting Reaction From Glen Davis
The Process into the NBA
Joel Embiid was now a D1 athlete. In a scrimmage, before the season began, the Kansas coach told his players to go have fun. That's what Embiid did, whilst throwing up bad shots and making flashy passes the whole game. Bill Self, the coach, yelled at Embii after the game saying things like he looked like a jackass and should go back to Cameroon. That really hurt Embiid but drove him to become better.
In his freshman season, he played 28 games averaging 11 points, 8 rebounds and 3 blocks in just 23 minutes. However, before the NCAA tournament began, Joel Embiid suffered a stress fracture in his back. He was considered a top pick in the draft just because of his amazing season. Unfortunately, in a pre-draft workout, he broke a bone in his right foot which would keep him out for the whole season.
The Philadelphia 76ers decided to take that gamble on Embiid and drafted him with the 3rd overall pick. The happiness was short-lived as just a couple of months into the season, Joel Embiid's brother passed away in a car crash at the age of 13. He hadn't even met his family for 4 years since leaving.
View this post on Instagram
All of this journey led to him working even harder and made him into the NBA Superstar he is today. He knows the struggle of how he got here. His story is an inspiration to everyone around the world. He put in the work and above all, Trusted the Process.
Also Read: Everything You Need to Know About Joel Embiid 's Wife and Kids