We've been wondering when AMD's CPUs would make their way into the most premium gaming laptops for the last few years as the company grows in popularity and performance, and that's exactly what happened at E3 2021 with the Razer Blade 14.
The Razer Blade 14 will be powered by an AMD Ryzen 9 5900HX processor and up to an Nvidia GeForce RTX 3080. As announced at Razer's first E3 conference. All of this power will be contained into a tiny and light 0.66-inch (1.67cm) chassis weighing only 3.92 pounds (1.78kg).
Capping off E3 with a bang, @Razer has unveiled the Raptor 27, the world's first-ever THX certified PC monitor!

In addition, Razer has also announced it's Razer Blade 14, which will feature an @AMD processor for the first time.

Details 💢 https://t.co/M4LvUp8pbb pic.twitter.com/yGc5lxmA0P

— Esports (@esports) June 15, 2021
There have been a lot of 14-inch gaming laptops recently, especially since Intel's latest Tiger Lake-H35 CPUs were released. However, the Razer Blade 14 is unique in that it makes advantage of this small form factor to give top-tier PC gaming performance, owing to some inventive cooling from Razer. The new Blade 14 can accommodate up to an RTX 3080 GPU in a still-portable design.
How Razer Blade 14 would make an impact
Intel made a big fuss of a new class of gaming laptops debuting at CES 2021.  That was dubbed "Thin Enthusiast." Basically, gaming laptops that are tiny and light but don't sacrifice on performance. And it appears that Intel will no longer be the sole provider of this technology.
We've only looked at a couple of the laptops that are intended to fit into this category – the Asus TUF Dash F15, for example – but the Razer Blade 14 and the Alienware X-series introduced at Computex appear to be the ones that will really send this category into high gear.
Meet the all-new Razer Blade 14—the world's most powerful and thinnest 14" gaming laptop built with an @AMD Ryzen 5900HX processor and the latest @NVIDIAGeForce RTX 3080. Experience the ultimate AMD laptop for uncompromising performance that can't be beat: https://t.co/XtfhqzKtyL pic.twitter.com/jOYVvhOTMS

— R Λ Z Ξ R (@Razer) June 14, 2021
Laptops like the  Blade 14 should allow people to have a superb gaming laptop that isn't too heavy. Especially as travel becomes more popular.
The Drawbacks
The only thing holding this back could be the battery life. The Blade 14 is said to last up to 12 hours on a single charge by Razer. Which would be astounding if accurate. However, with all of the high-end hardware within it. We assume it'll be difficult to squeeze a large battery in as well. When we get this laptop in for a thorough assessment, we'll see how tough it is.
However, if a gaming laptop this small and light can combine good performance and battery life.
The Razer Blade 14 Prices
However, there will be a price to pay for this. The base configuration costs $1,799 . and includes an AMD Ryzen 9 processor, 16GB of RAM, an Nvidia GeForce RTX 3060, and a 1080p 144Hz monitor. And if you want one with an RTX 3080 and a 1440p monitor, you'll have to pay $2,799.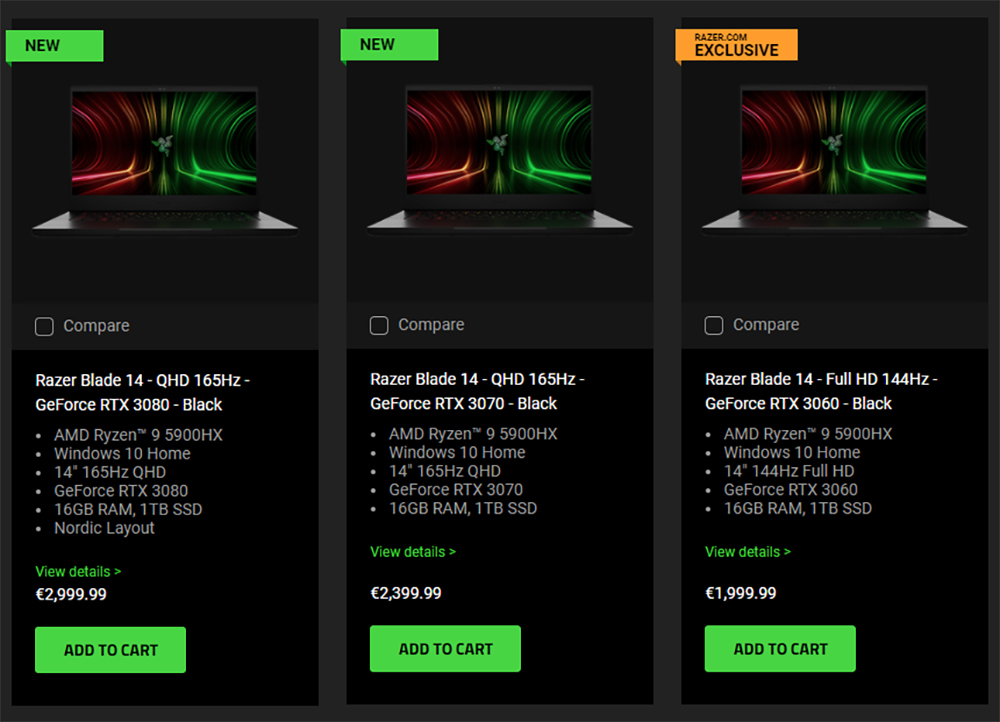 It'll certainly be a thrilling piece of hardware.
Also Read: Pokémon Unite Gets a Release Date on Nintendo Switch – Mobile Debut to Follow