Things have been not so good lately for Tony Ferguson. After his fight with Khabib Nurmagomedov fell apart for the fifth time, he fought Justin Gaethje in UFC 249. Though an underdog, Gaethje managed to secure a fifth-round TKO over El Cucuy ending his 12-fight win streak.
This loss cost him the interim belt along with the opportunity to fight for the title. However, he again came back in UFC 256 to face rising contender Charles Oliveira but again failed to leave his mark. On top of it, he found himself getting dominated by Oliveira for the whole 15 minutes.
Also Read: How to Become a UFC Fighter
Many MMA fighters and pundits blamed his back-to-back losses on the damage he has taken over all these years plus him being in the twilight of his career. Nonetheless, he has no plans of giving up on fighting professionally. So, the next move that he made was to make some serious and highly needed changes in his training camp.
He has also shed some light on it in his most recent Instagram post. Check out what he said: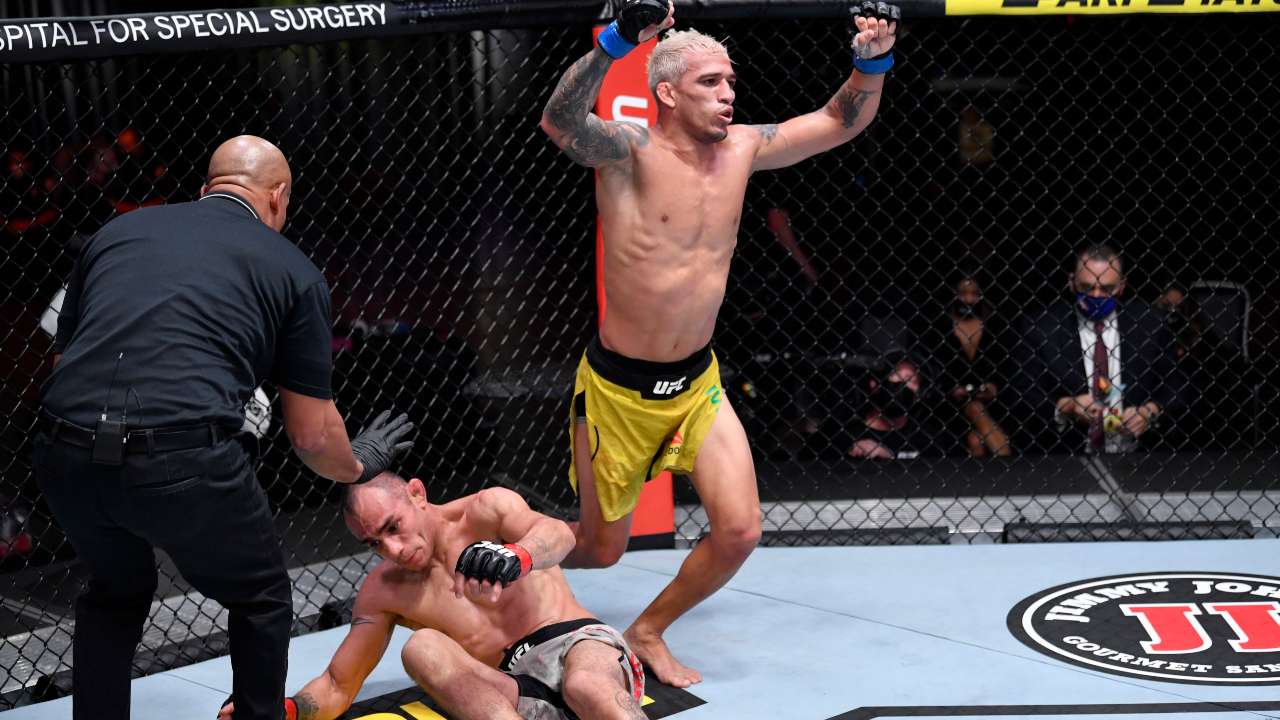 "I used to not get hit. Then I changed things up a little bit. Had to figure it out after getting hit more and more each fight. Decided not to take unnecessary damage.
Made the mandatory changes. Promised my faith/family/friends I would not take unnecessary damage like the last few fights."
He also discussed what led him to make changes in his corner:
https://www.instagram.com/p/CMeMmb5BU6-/?igshid=tsz9romcwecd
" When a corner of mine wouldn't work on simple slip drills I knew I had to make changes. When a cornerman forgot water during the round mid-fight I knew I had to make changes.  When I got sick and tired of Being sick and tired, I did something about it, quit bitchin' & went to work."
Tony Ferguson has now begun training under Freddie Roach
He has taken a big step towards making changes in his corner and training team. One of them include him joining forces with the legendary Freddie Roach. He has recently started training under Roach to improve his boxing.
Also read: UFC Vegas 22: Kennan Song vs Max Griffin: Stats, Fight Prediction and Breakdown
Tony has been doing this for the long time. And one of the reasons for him getting dominated is might be his advanced age. Nevertheless, it is quite likely that he will comeback and snap his losing streak.
It will be quite interesting to see how training under Freddie Roach is going to help him. Even more fascinating will be to see what positive changes it will induce in El Cucuy's fighting style that would again cement him as an elite 155 pounder.
Also read: "Ladies and Gentlemen We Are Back" – Dana White Announces Exciting News for Fans Ahead of UFC 261
Recently his next opponent has also been finalized. He is none other than #9 lightweight Beneil Dariush. Let's see if Ferguson manages to emerge victorious over him with the help of his new coach or if Dariush manages to extend his new opponent's losing streak.
Also read: Paul Costa Suffering From Severe Flu – Pulls Out of Robert Whittaker Fight