Seems like Tony Ferguson is not ready to let bygones be bygones. After Khabib vs Tony fight getting scrapped 5 times, Khabib Nurmagomedov seems to have made peace with the situation. But El Cucuy doesn't like the chance to fight one of the best in the world slipping out of his hands. Maybe, that's why he has been taking jabs at The Eagle on social media for quite some time.
Also read: Meet Ana Karolina – UFC Legend Henry Cejudo's Girlfriend
Ferguson has recently post an animated video where he can be seen hitting Khabib in a mockingly manner while he's eating. Check out the video posted by Ferguson on his twitter handle:
"You Can Der-Elite-Deez🥜Nutz Khabieber!!!"🖕😆👍 I'm Sure Good Ol'e Fathead Is On His 2nd Piece By Now 🥣*MaCk* 🤦‍♂️ Tiramisu🍮Tuesdayze In Full Swing @ # SnapDowns&Dreams 💪🤩👍 # Keepin'ItSweeterThanSweetThisWeek 💯
⚔️🕶 -CSO- 🇺🇸🏆🇲🇽
It's Tiramisu🍮Time!https://t.co/JNxmA38C6z pic.twitter.com/5OyVKecBdM

— Tony Ferguson (@TonyFergusonXT) February 24, 2021
The 5th Booking Of Tony Ferguson vs Khabib Nurmagomedov Was A Title Fight Which Got Scrapped
El Cucuy was set to face Nurmagomedov in UFC 249 what would have been the Russian's title defense and Ferguson's 1st and only shot at the strap. But, COVID-19 restrictions forced Khabib to withdraw from the bout and Justin Gaethje came in as a replacement. But, things didn't go as planned, at least for Tony, as he lost via 5th round TKO.
Also read: Nate Diaz Wants To Fight Charles Oliveira – But Should Oliveira Take This Fight?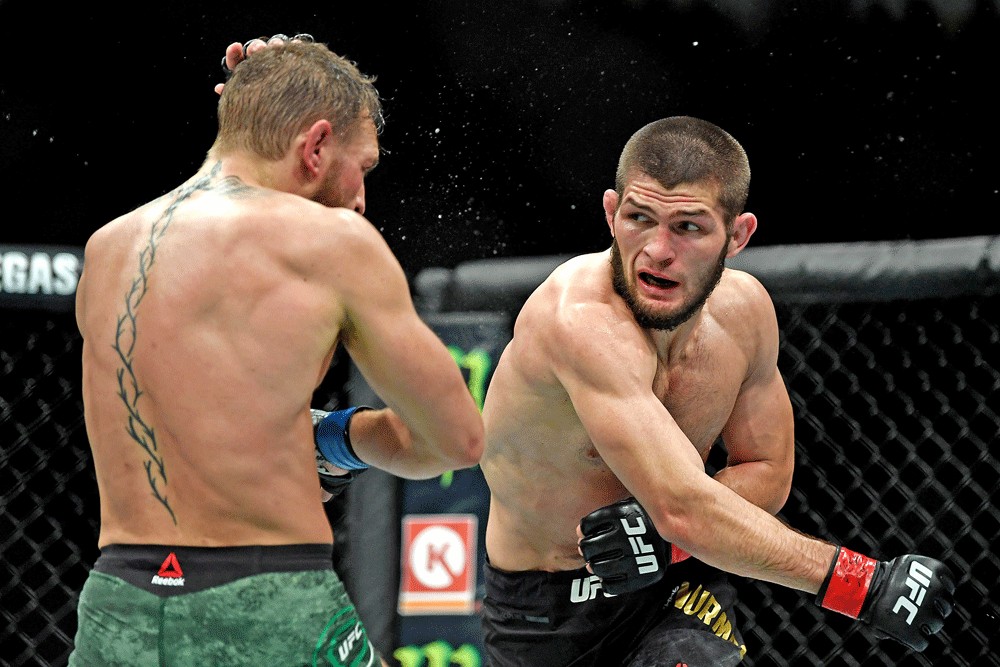 This loss very well meant that his long awaited shot to the 155lb gold has been delayed. Looks like the slipping out of that hard earned title opportunity has left a bitter taste in Tony's mouth. Consequently, he is regularly mocking Khabib on social media with no response from the champ.
On the other hand, The Eagle went on to extend his record to 29-0 defeating Gaethje followed by his retirement. He seems to have lost interest in fighting Tony after his back-to-back losses against Gaethje and Charles Oliveira. According to Khabib, Tony Ferguson has aged and come way past his prime.
Also read: What Went Wrong For Gilbert Burns Against Kamaru Usman?
Now, since Khabib has made his retirement clear, possibility of any fight involving him has become 0. On the other hand, Ferguson might surely want to come to the winning track after getting picked apart by The Highlight and du Bronx. Even though he is 37, he still has the potential to emerge victorious among the elites. What do you think- does Tony Ferguson still possess the mettle to show that he's still among the best lightweights in the world?
Also read: Leon Edwards Reasons Why He Wants To Fight Khamzat Chimaev Despite His Low Ranking In The Division