Miranda Maverick– this is the name of one of the next big things in the UFC. She's just 23 years old and seems to have a great future ahead of her. Just like some other fighters who got signed by the world's biggest MMA promotion in their early twenties like Max Holloway and Jon Jones, she also seems to be a bright and young MMA prospect.
With an impressive record of 7-2, she made her UFC debut last year at UFC 254 which she won in the most scintillating fashion possible. She is now slated to make her main card debut in UFC 260 against Gillian Robertson. It is evident that she is quite young, she has great potential in the fight game. However, we don't know much about her.
Also Read: UFC 260: Gillian Robertson vs Miranda Maverick Stats, Breakdown & Prediction
So, let's have a look at some exciting facts about her.
Miranda Maverick is a Ph.D. student
Not every day do we come across people who excel equally in academics and sports. However, Maverick is one such person. Not only she is a UFC fighter, but she is also currently pursuing her Ph.D. in Industrial Psychology from Old Dominion University. Hard to find people with both brains and muscles, isn't it?
Maverick was introduced into the world of MMA by her father
Her father was the one who introduced her to MMA. It was her father by virtue of whom she got introduced to the female roster of the UFC. The moment she watched those female fighters on the T.V., she knew that she wanted to give fighting a shot:
"I was watching girl fights on TV with my dad and I said, 'Wait, girls do that?' I knew I wanted in."
Also Read: UFC 254 Witnesses a Controversial Doctor Stoppage After Fighter Refuses to Quit
Consequently, she became a fan of Ronda Rousey and ended up fighting in the same promotion she once watched on TV.
Maverick has been physically very strong since childhood
Her father used to flip farms. They used to move around a lot in the Midwest and Southern United States to find underdeveloped rural properties. They used to make those properties alluring to potential buyers of those properties.
So, coming from a farming-based family, she had been doing physically strenuous jobs ever since she was young. This helped in gaining that physical strength that she is most well-known for in the MMA world.
She has been a top-ranked amateur fighter
Her fighting credentials date way back to her amateur days when Tapology listed her as the #1 amateur fighter of her region. With such an impressive performance under her belt, she was bound to get great offers from professional organizations. And that's how Miranda Maverick joined Invicta FC.
Also Read: UFC 260 Prelims: William Knight vs Alonzo Menifield Stats, Prediction & Breakdown
She prefers to keep a low profile
As a fighter in the world's biggest MMA promotion, it's understandably hard to maintain a low profile. A lot of students of her university have found out about her fighting career and eventually, they have ended up becoming her fans.
"They Google me and get confused and say, 'Wait, is that you?' Then I tell them, and they become fans. One of my students even set up a little watch party for one of my fights. That was kind of cool", she says.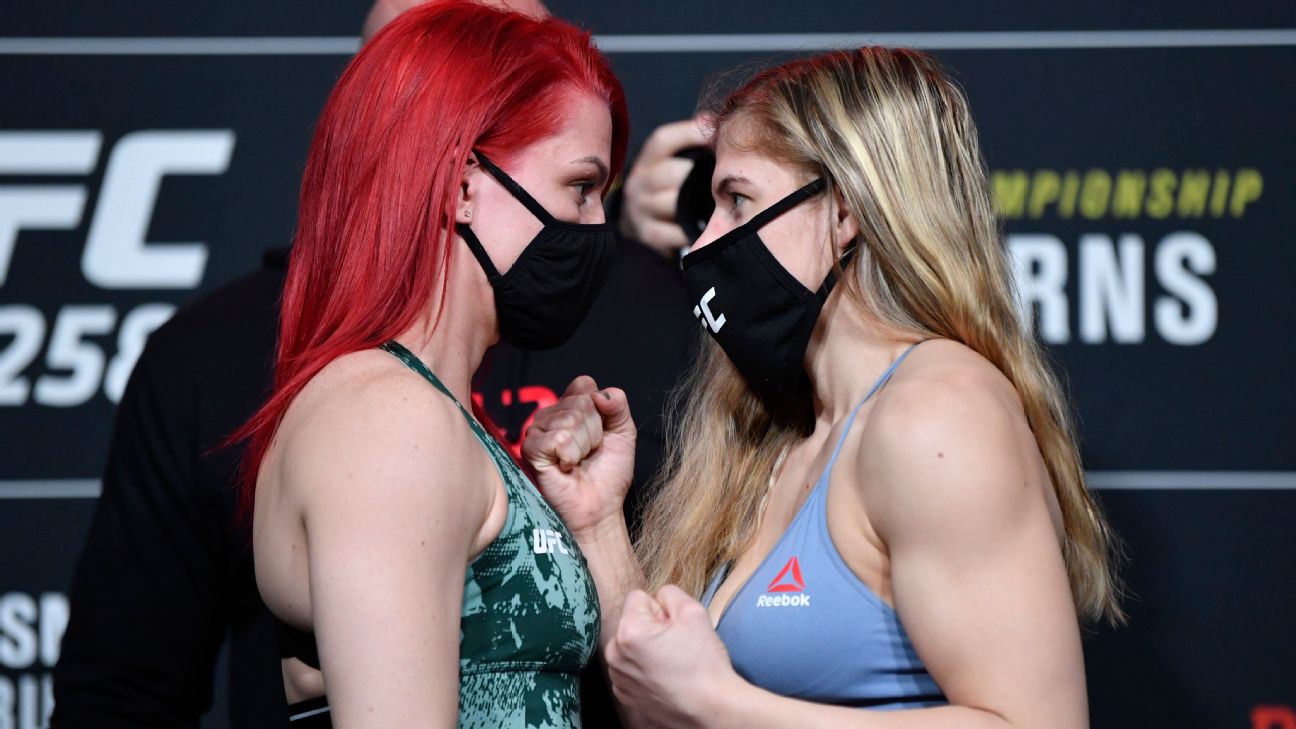 Currently, she is all set to make her second appearance for the UFC this Saturday. It will be interesting to see how this fight goes. Will she be able to get past the hurdle in the form of ranked contender Gillian Robertson? Or will this be the third loss of her career? All the questions will be answered this Saturday when both women will step inside the octagon to face each other.