Another fight night event of UFC. Excellent way to start-off February. Though it might not seem to be exciting to casual MMA fans, but it is a very important one to see the future title contenders. The main event is featuring #5 heavyweight Alistair Overeem against #6 Alexander Volkov. On the other hand, #2 bantamweight Cory Sandhagen is set to face the former 155lb champ Frankie Edgar in the co-main event. Alistair Overeem seems to be the victor of the main event affair. But what about the co-main event? Whoever wins the bout will be highly likely to be the next in line for the title shot after Aljamain Sterling.
Below is the detailed analysis of their fighting styles and certain aspects that can be the determining factor of the outcome of this fight.
Frankie Edgar Is The Veteran Of The Sport And Former 155lb King
Frankie Edgar has been in this sport for so many years. Plus, he has competed in 3 weight classes and fought for the belt in 2. But he's 39 years old, way past his prime. After starting out as a lightweight, he went on to win the 155lb strap. After losing it, he moved down to featherweight. Upon losing for the featherweight weight belt twice and once for the interim championship, he again cut weight to move down to bantamweight. After winning against Pedro Munhoz in his 135lb debut, a win over Sandhagen might pave his way for 135lb gold.
But, in recent years, his winning streaks have become inconsistent as he's getting old way past his prime. But, his maturity might fetch him a win over Cory. Talking about Cory Sandhagen, he's young, in his prime and #2 in bantamweight rankings. It's a golden opportunity for him to fight a legend in Frankie Edgar.
Also read: After UFC, Khabib Nurmagomedov is Ready to Take Over the World of FootBall
Comparing Edgar And Sandhagen's Standup Skills And Cardio
Though a wrestler during his amateur years, Edgar is a great striker too with extensive training and background in boxing and Muay Thai. Though not a renowned knockout artist, he's very great in going the distance with top notch KO artists, thanks to his cardio. But, he can knock you out as well. So, on the feet, he's a threat during the whole fight. Plus, he has 11 5-round fight out of 14 main events under his belt, while Cory has none.
Talking about Cory Sandhagen, he's stylistically similar with a great cardio and ability to go the full distance. But, since he's young, he might have an advantage over his older opponent in terms of speed and stamina.
Comparing The Answer And The Sandman Based On Their Ground Game
Based on the experience Sandhagen possesses, he's a better submission artist than Edgar. He has 3 submission victories out of 15 fights under his belt. On the contrary, Answer has only 4 in his 33 fights. So, if the game goes on the ground, Sandhagen might have an advantage over Frankie. But we can't underestimate the fact that Edgar has been a Division 1 wrestler and a student under Renzo Gracie. So, it doesn't seem that he would have any problem if the fight goes on the ground.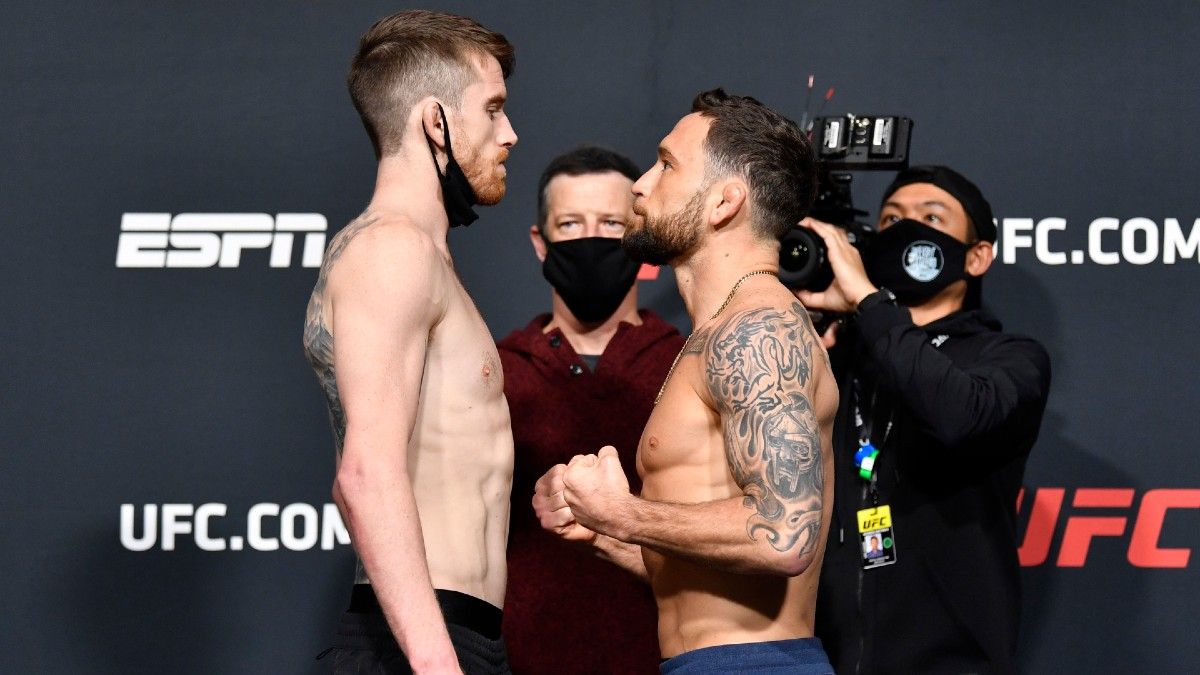 Their Last 5 Battles Inside The Octagon
Edgar possesses a less than impressive record of 2-3 in his last 5 fights. Though all the losses are against the men in their primes, it clearly shows that the results are mainly due to him coming a long way since his prime years. In contrast to this, Sandhagen is 4-1 in his last 5 with his sole loss coming against Aljamain Sterling. So, Sandhagen again seems to have an edge over Edgar. Besides this, Sandhagen also has a 2-inch reach advantage over Edgar which might play a role during the fight.
The detailed analysis points towards the victory of The Sandman. It will be interesting to see how the fight goes. Let us know in the comments section down below who do you think will win between Frankie Edgar and Cory Sandhagen.
Also read: Max Holloway Is a Better Boxer Than Conor McGregor- Dustin Poirier Makes a Striking Statement