Henry Cejudo is all over the news quite lately. From publicly taking jabs at Aljamain Sterling and Petr Yan, after the latter kneeing Sterling and getting disqualified, he's been everywhere now-a-days. Recently he sat down with Brett Okamoto of ESPN MMA to talk about his possible return and current top 135 pounders Funkmaster and Yan.
However, during the interview, he also expressed a keen interest in fighting Max Holloway. Sounds quite strange, isn't it? But, here we are. Triple C has is eyes set on the featherweight contenders as well.
Also read: Henry Cejudo is Done With UFC, Drops Out From USADA Testing Pool
Check out his reasons behind his interest in fighting Holloway:
"I have never called out Holloway. Look at any video that I've actually called out Holloway, even when he had the belt. I have never called out Max Holloway.
But he's another fight that I feel like, in the future, I would love to fight because, one, people would not believe me that I could beat him. He's so damn tall and what he's been able to do with a lot of these people. And then two, man I love the challenge. I love the fact that people do not believe I could beat him."
Further emphasizing on the fact that nobody would believe if he could beat Blessed as the reason he is even more interested, he said:
"I have never trolled Max Holloway. I have never called him out until now. What I'm saying is I think Max Holloway fight because nobody would believe me is the same reason why I would want that fight.
Also read: Max Holloway Is a Better Boxer Than Conor McGregor- Dustin Poirier Makes a Striking Statement
He's taller than me, he's inflicted a lot more damage on different people. But I feel like I'm just too smart, I'm too skilled and I love the challenge if I was to ever fight Max Holloway."
Henry Cejudo walked away from the octagon after defending his belt against Dominick Cruz
The last time Cejudo was seen in action when he stepped in the cage to defend his 135lb gold against Dominick Cruz. After putting up one hell of a performance in which he knocked out Cruz, he announced his retirement.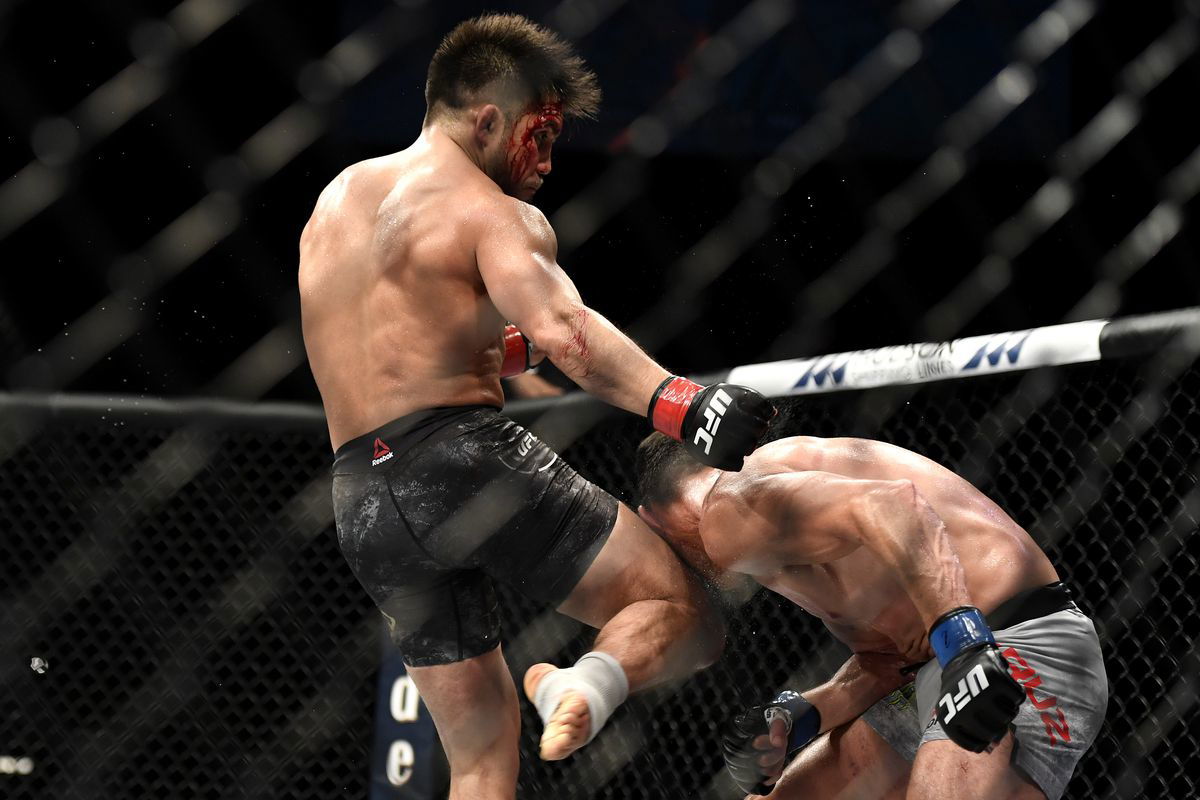 However, he still managed to make his presence felt by trolling and calling out various fighters. Most notable among all of them is Alexander Volkanovski. He even trolled Israel Adesanya's hair color ahead of the latter's fight with Paulo Costa.
Currently, he seems to be interested for a comeback, especially after what happened between Petr Yan and Aljo in UFC 259.
Also read: Henry Cejudo Mercilessly Trolls Sean O'Malley – "Champ At Rolling Blunts"
Max Holloway is coming fresh off a spectacular win over Calvin Kattar
After losing his featherweight strap to The Great, Holloway again fought to claim his belt. However, he lost the rematch as well. He managed to turn things around by beating Calvin Kattar in an interesting five-round back and forth earlier this year.
This scintillating victory has again cemented his place as probably the next in the line for title shot after Brian Ortega.
It will be interesting to see if Holloway and Cejudo cross paths at some time in the future. Who do you think will win if they ever decide to meet inside the octagon? Let us know your opinions in the comments section down below.