The fighters usually strive and work hard to be crowned as the champion of their respective divisions. The feeling of being able to wear the belt is indeed one of a kind. But for Nate Diaz, the "Stockton gangster", this is a foreign concept. He's just too brave to walk in right towards the opponent. Barges into the cage with no fear what so ever. Diaz's only intention is to "hit them with some good shots". It is obvious for Nate Diaz to gain fans from the fight vicinity. One such fan is Francis Ngannou.
Francis Ngannou, the reigning UFC heavyweight champ had some interesting words for Diaz. He says "Nate Diaz? Man, I don't know how to describe Nate Diaz. I think he's just a psychopath, he's just crazy. He doesn't give a s*** about anything. I love that part of him, you know, he's just there to fight, have fun, doesn't care if he wins or if he loses. He just wants to have fun, enjoy, and nobody would tell him what to do. He does exactly what he wants to do, and that's it. Doesn't care at all".
Francis fights Ciryl Gane in his next fight at UFC 270 on January 22. This is his first title defense. His last fight was against one of the most profound fighters, Stipe Miocic. This is going to be his last fight on this contract.
However, the younger Diaz does not have anything lined up for his last contract fight. Diaz lost his last two fights to Leon Edwards and Jose Masvidal. The Masvidal match up was very unusual. They fought for the "Baddest Motherf****r" belt. Masvidal won the fight via TKO.
Nate's last win came against Anthony Pettis, one of the hardest hitting fighters. But Diaz is known as the fighter who just wants to fight. The belt, weightclass or the record does not matter. He goes into the cage, lands some good shots. Diaz is one of the best with respect to his cardio and ground game. He displayed the same against his fierce rival The Notorious Conor McGregor. He took the Irish fame to the last round and chocking the life out of him.
This match up is considered to be the most entertaining and the most savage rivalries in the whole of UFC. It all started off with Diaz's most famous interview on Fox where he calls out McGregor right after beating Michael Johnson.
Massive respect to Diaz for taking his first fight against McGregor on a short notice.
They went all out in the press conferences as well. This by far is one of the most entertaining main events. Both fighter have a strong fan base. The fans stormed the event with cheers and chants. This fight 1.65 paper view buys. This even set the record for all-time high for the leading buy-rates of UFC pay-per-view events at the time.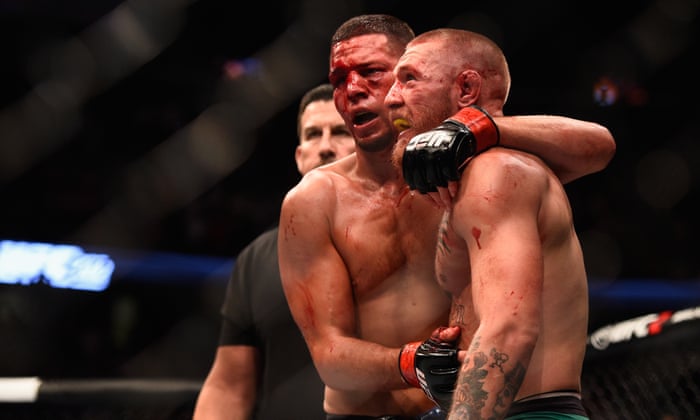 Will Francis Ngannou fight Tyson Fury in 2022?
Intriguingly , Ngannou has shown interest in boxing the biggest names in boxing, Tyson Fury. The " gypsy king" shows equal interest and comes up with a proposal. He wants this fight with boxing rules wearing UFC gloves.
Fury defended his WBC and ring heavyweight titles with his thrilling trilogy with Deontay Wilder. Francis is facing issue with his contract renewal with the UFC. He wants boxing to be included if he is offered a new contract. Ngannou does not want to retire without trying his hands in the ring. He has some of the biggies like Fury and Wilder in his bucket list. Can the UFC heavyweight champ make an impact in the ring?