Former UFC interim welterweight champion, Colby Covington went off on his ex-best friend, Jorge Masvidal.
The rivalry between Colby Covington and Jorge Masvidal needs no introduction. At this point, both men just want to take off each other's heads. Recently, the rivalry gained some momentum as Covington was allegedly fired from the ATT gym, the same gym in which Masvidal trains.
Although Colby denies any of that, Masvidal said otherwise. Seemingly angry with Masvidal, "Chaos" verbally trashed the BMF titleholder in an interview with theScoreMMA.
Colby Covington claims that Masvidal is scared
"It would definitely be the friends turned enemies angle with Journeyman Street Judas, Jorge Masvidal. Jorge can't read, he can't write, he can't spell, and he definitely can't fight.
"What's going on? Why doesn't he wanna fight [Kamaru] Usman? Why is he holding up? Why is he scared? Maybe there's something going on that we don't know about. Maybe Jorge wants America's Champ."
Furthermore, Colby claimed that Jorge is scared of "The Nigerian Nightmare." He also stated the only two fights he will entertain at this point in his career.
"The UFC knows that I have expressed my interest that I either want my rematch with Mary Fake Newsman which I deserve. Or I want this fight with Journeyman Jorge Masvidal because dude, for like six months the guy's been coming at the gym in ATT and screaming, 'Oh I'm gonna mess you up. I'm gonna f*ck you up. I'm gonna beat your a*s right now.' "
Covington challenges Masvidal
"Let's do it. Why are you screaming from across the gym? Why are you yelling when coaches are in between us? You're just making a scene because you want Dan Lambert to step in and intervene."
On multiple occasions, Colby has claimed that Jorge is afraid to fight him, mainly because of his high paced non-stop wrestling offense.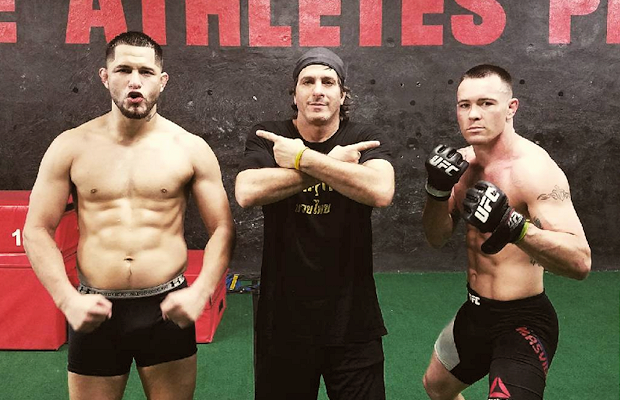 "You don't really wanna get locked in a cage with me. You don't really wanna fight with me, Jorge. If you know what happened all the time we trained together and we fight, I beat your a*s.
"I take your soul out of your body. So there are only two fights that need to be made and if the UFC doesn't make em, that's okay. I'm gonna keep getting better. I'm getting better every single day."
Do you want to see Colby Covington vs Jorge Masvidal next?