It's official! The 170lb champ Kamaru Usman and Jorge Masvidal will again lock horns with each other in UFC 261. These two have quite a history together.
However, their beef peaked when Masvidal came in on a 6-day notice as the replacement for Gilbert Burns in UFC 251. Usman made his second successful title defense against Masvidal. However, the fight failed to live up to the hype as Jorge failed to land anything big and Usman had him against the fence for most of the time.
Also read: Gamebred – What is the Meaning of Jorge Masvidal's Nickname
Guess what! Now the UFC has decided to reignite their beef by booking them for the second time in UFC 261. Though Gamebred failed to exhibit his striking the last time, he will be surely eyeing for successfully salvaging his striking to turn the game to his favor.
Believe it or not, he probably has even come up with a plan to do just the same. However, it might not be a game-plan to be executed inside the octagon. Here's a hint for you. It might have something to do with the mind games.
Jorge Masvidal might be playing some sort of mind games with Kamaru Usman
The Nigerian Nightmare is one of the best wrestlers in the 170lb division. With his wrestling credentials dating back to his college days, there's no doubt if he gets you in a clinch, it would be hard to get out.
Gamebred has already fallen for the trap in his last meeting with Usman. Even though Kamaru Usman is good at stand-up as well with a dangerous quality of dropping people with a jab, it would still be rather safe for Masvidal to swing with him instead of wrestling him.
Also read: HUGE! Francis Ngannou Takes Help of Kamaru Usman For Stipe Miocic Rematch
Since he's predominantly a kickboxer, fighting on his feet would be something he would be quite comfortable doing. For the same reason, he might be playing mind games on Usman to trick him into fighting him on their feet. It is just a possibility but can be true as well as this would surely improve his chances of winning. After all, mind games are a big part of the game.
Just look at his recent tweets:
Game plan to putting me in a "coffin" hug and toe stomp 😂😂 who is this guy fooling? He 👃🏿's #theresurrection https://t.co/Yh3N1ZgQTY pic.twitter.com/j6DiqOgOtx

— Jorge Masvidal UFC (@GamebredFighter) February 14, 2021
Here he can be clearly seen mocking Usman's clinch game which he used for nearly the whole fight.
Again he seems to be taking jabs at Kamaru Usman's grappling and clinch game. These activities point towards the subtle sign of Jorge trying to trick Usman into swinging strikes with him the next time they meet.
Over/under usman goes for my crotch within 2 min ? #andnew

— Jorge Masvidal UFC (@GamebredFighter) March 16, 2021
Upon looking at these tweets, Masvidal's plan seems to frustrate Usman enough prior to the fight. So much that instead of sticking to his game-plan, Usman starts putting up a striking battle against him.
In order to emerge victorious over the champ and claim the welterweight title, he needs to do whatever it takes. Whether it be mind games, or psychologically tricking his opponent into fighting him on the feet instead of wrestling, Gamebred seems to be more than ready in his preparations for the eventful UFC 261.
Also read: Can Leon Edwards Beat Kamaru Usman in a Rematch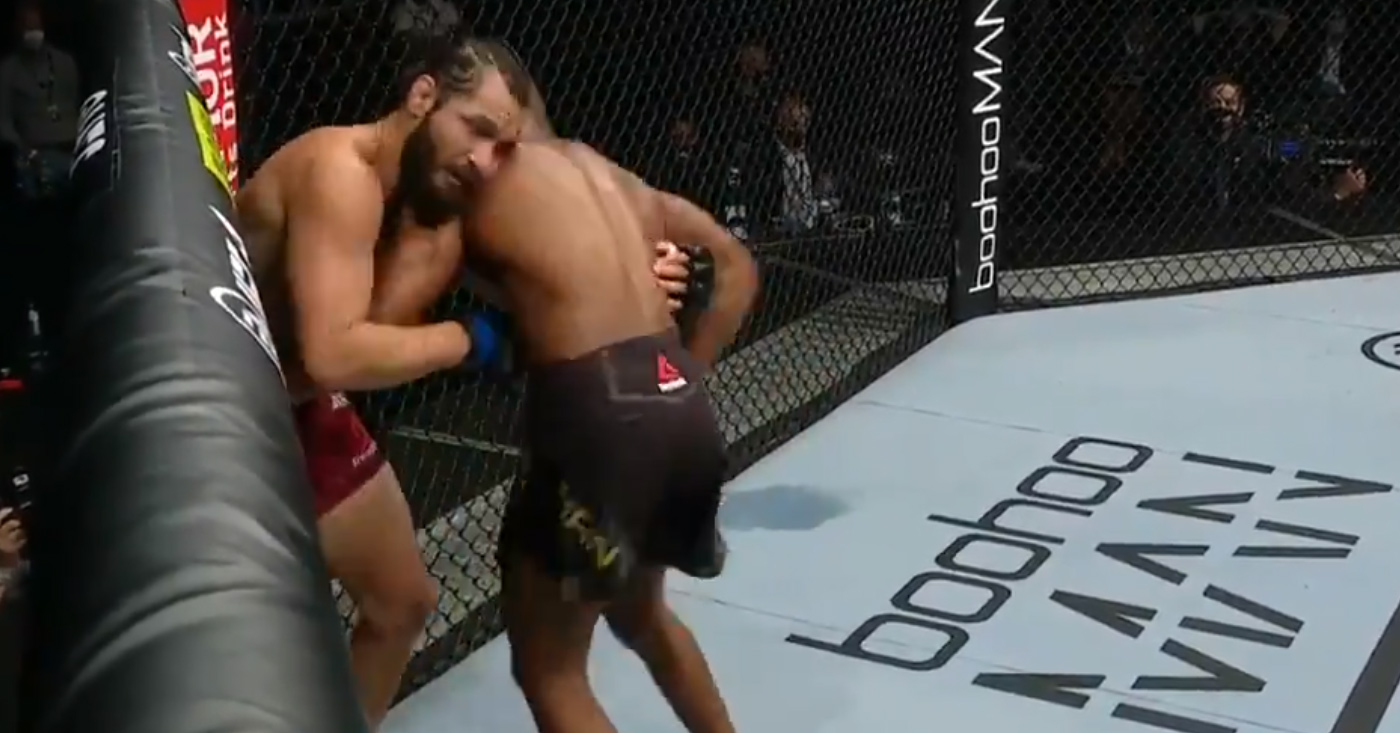 Now the question that arises is whether Masvidal's trick would be of any advantage when he steps to face Usman again. Or will Usman again defend his belt successfully and will show that he's better than him? Let's know what do you think.
Also read: Colby Covington Mocks Jorge Masvidal for Training Jake Paul for Ben Askren Bout