The UFC has managed to successfully kick-start 2021 in the most spectacular fashion. With a fight night event headlined by Max Holloway vs. Calvin Kattar, Max Holloway's managed to produce another scintillating example of his specialty- volume striking. He beat his own record of landing the highest number of significant strikes in a single fight. It clearly showed that Blessed has still got it even after losing the belt.
Following UFC Fight Night was this year's first PPV event, UFC 257. Headlined by the rematch between McGregor and Poirier, it marked the debut of Bellator legend Michael Chandler. Both the main and co-main events were won by the underdogs making UFC 257 even more exciting.
Fans and MMA pundits alike are speculating about the future of the 155lb division. With Poirier pulling off one of the biggest upsets in recent years, he's set to fight for the title next. The opponent might very well be Chandler himself. On the other hand, Holloway has broken his 2 fight losing streak with a massive victory. This clearly shows he's one of the most dangerous at 145lb. Now, with both men starting off 2021 with great victories over their opponents, it doesn't seem to be a distant possibility of seeing them facing each other in a trilogy.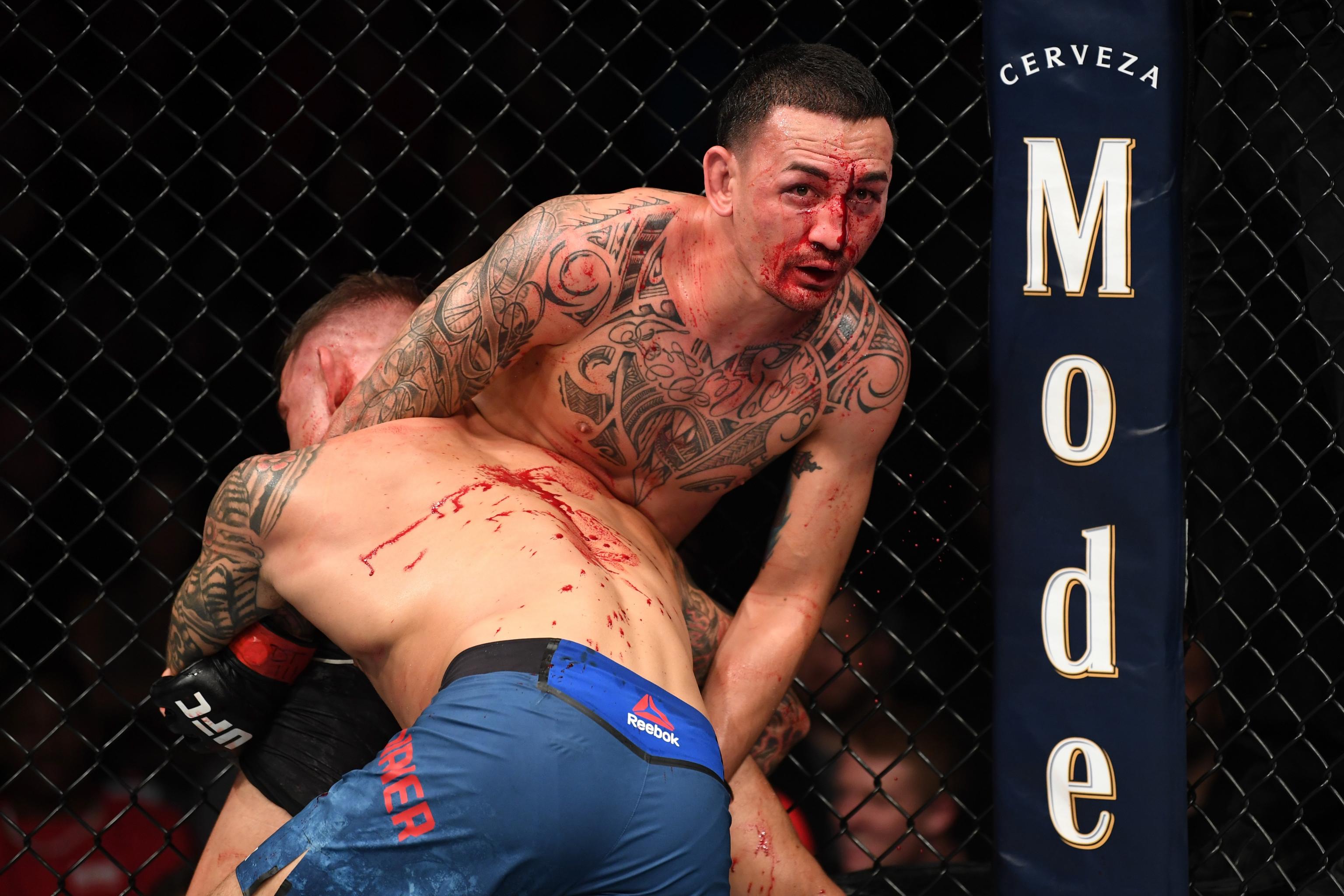 Max Holloway And Dustin Poirier Have Some History With Each Other
MMA fans know about this history very well. Both men have fought each other 2 times, once at 145lb and then at 155lb. The lightweight fight was for the interim lightweight championship. Dustin came out victorious during both meetings- first one by submission and the latter by unanimous decision. Though Diamond won both bouts, it doesn't mean Blessed is not good. While Poirier is #7 pound-for-pound, Max is just below him at the 8th spot. Both men are #1 in their respective divisions.
Apart from rankings, their fighting styles are also bound to make the trilogy bout a very interesting one. Both are great boxers inside the octagon- probably 2 of the best besides Conor McGregor. While Holloway was emitting legendary boxer Ali vibes during his fight against Kattar, Poirier managed to KO Notorious in his own game of boxing.
Poirier's leg kicks are terrific. Even McGregor couldn't stop himself from falling prey to those. In contrast to this, Holloway is known for his stamina. His gas tank never exhausts. Plus, his number of significant strikes is just out of this world. This man just broke his own record of landing the most significant strikes in a single fight against Kattar landing an unbelievable 445 significant strikes.
Men lie, women lie, but numbers don't! The numbers mentioned above are certain to sell this trilogy fight. Plus these men are in a position where they can fight whoever they want, whenever they want.
Also read: Why is Floyd Mayweather vs Logan Paul Postponed?
Max Holloway Has Issues With Properly Putting On Weight
Holloway has spent most of his career as a 145lb fighter. Though he's tall, it seems that he has some issues with putting on a few pounds to move up a weight class. It is even considered to be one of the reasons that cost him his second fight against Poirier. Even the UFC president has stated that he didn't actually fit at 155lb. But now that Poirier has established himself in the lightweight division, this trilogy makes sense only at 155lb. Since Holloway is 5'11", taking time in putting on weight properly with a proper diet under the inspection of a good nutritionist can solve this problem.
Who Will Win The Trilogy: Poirier Or Holloway?
It is certainly a difficult one to answer since both of them are tremendously talented and complete fighters. Moreover, both of them are well into their primes. Dustin's got 20 finishes under his belt compared to only 12 finishes by Holloway. Both of them are great boxers and good on the ground as well.
Comparing them on the basis of their last 5 fights, Poirier seems to be on the winning side. While Holloway is 2-3 in his last 5, Poirier is 4-1 with his loss coming at the hands of the legendary Khabib Nurmagomedov. And now that The Diamond has become the only man to KO Conor McGregor and the winner of the previous 2 Poirier vs. Holloway bouts, he seems to have an edge over Blessed in their trilogy.
It is to be noted that Dustin Poirier is just slightly favored to win the trilogy against Max Holloway. Looking at the reputation of this sport due to its uncertainties, the fight can very well go on either side. Let's know in the comments who do you think is more likely to win the trilogy between Max Holloway and Dustin Poirier.