If you think that the headliner between Israel Adesanya and Jan Blachowicz is the only one exciting fight in UFC 259, then you're dead wrong! This card features not 1 but 3 belts on the line. Apart from a golden opportunity of becoming the double champ that it presents in front of Adesanya, this card also features Amanda Nunes defending her featherweight title against Megan Anderson.
If you are a MMA fan, you know who Amanda Nunes is. The GOAT of women's MMA, she is one of the 4 double champs in the UFC history. Out of the 3 belts on the line in UFC 259, one belongs to her. Nunes' 2nd defense of her featherweight gold against Anderson is to be featured as the co-main event of UFC 259.
Also read: Conor McGregor Suggests Comeback Fight For Luke Rockhold Ahead of UFC Return
So let's have a look at the comparison of these 2 fighters going to face each other this Saturday.
Amanda Nunes or Megan Anderson, Who is a better striker?
Talking about the challenger first, Anderson has an extensive background in Muay Thai. So, it's pretty evident that she's very well versed in not only throwing punches and kicks but in throwing knees and elbows too. Apart from that, 6 out of her 11 professional victories have come from KO/TKO. So, it's quite safe to assume that her stand-up skills are legit.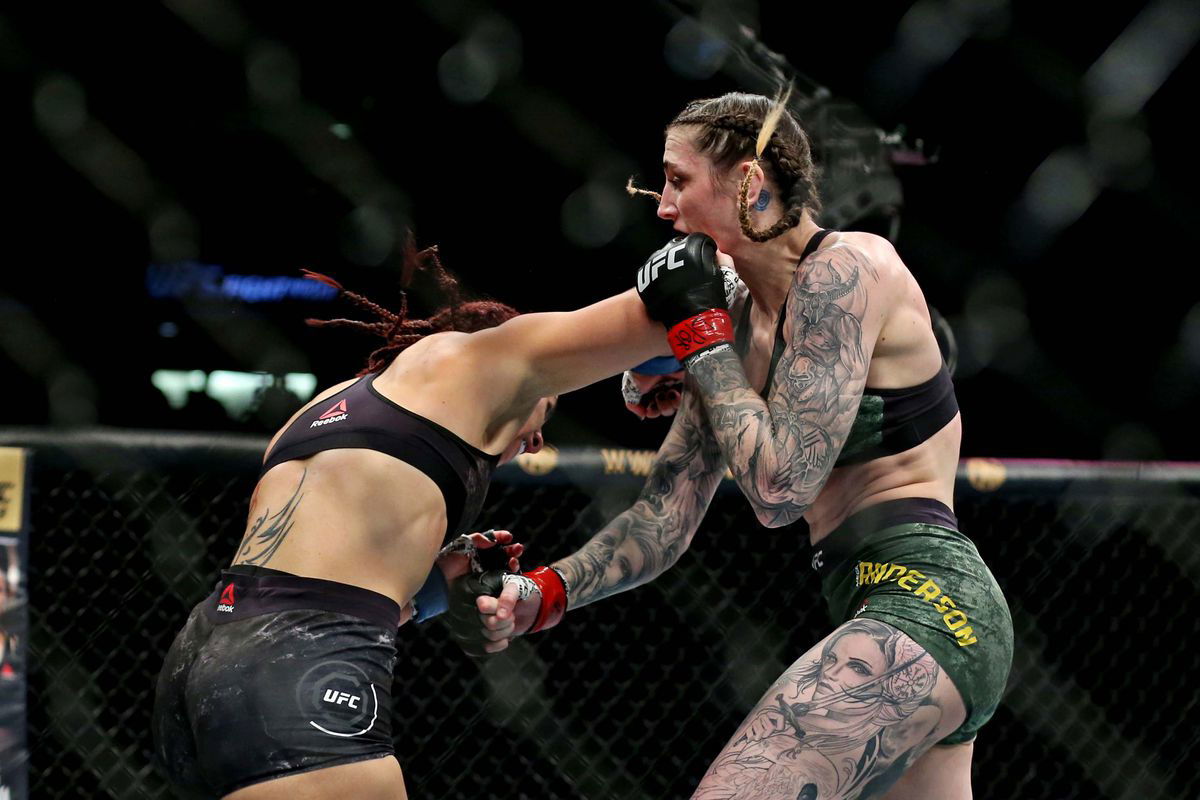 On the other hand, The Lioness is one of the most vicious in women's MMA. There's no doubt in it. She's on a terrific 11-fight win streak, 5 of them coming from KO/TKO.
Lookin at for how long Nunes has been fighting the top contenders and KOing them, she seems to have a upper hand over her next opponent in stand-up fighting. Just have a look at her KO list- it has the names of Cris Cyborg, Ronda Rousey and Holly Holm (considered to be one of the best boxers in women's MMA).
Also read: UFC 259: Israel Adesanya vs Jan Blachowicz: Stats, Fight Prediction and Analysis
https://youtu.be/kUPOll-53aQ
The champion has 4 5-round fights under her belt. This shows that she has no problem going the distance. In contrast to this, Anderson doesn't possess any experience in fighting 5-round bouts. So, it will be interesting to see how she performs if the fight goes in championship rounds.
So, the Brazilian is a clear favorite in fighting on the feet.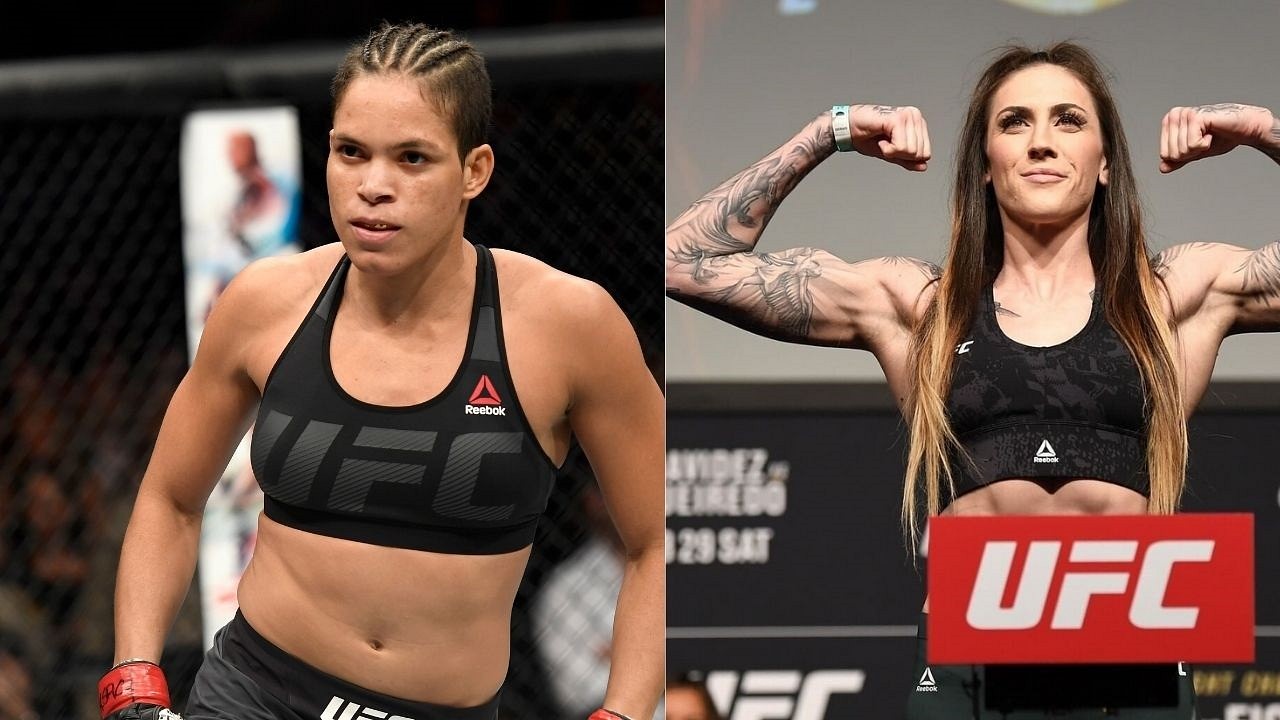 Amanda Nunes or Megan Anderson, Who is a better grappler?
While the champ-champ holds a black belt in BJJ and a brown belt in Judo, the Australian challenger is no joke either. She currently holds a purple belt in BJJ. Even though Megan Anderson can offer some trouble to Amanda off the feet, Nunes has an advantage of Judo over the Australian.
She can use it to her advantage in dictating the pace of the fight during takedowns. Apart from securing decisive takedowns, Nunes can also use her Judo skills to counter her opponent's takedown attempts. So, if the fight goes on the ground, the aggressor will most likely be Nunes.
Also read: Joe Rogan Is Not Sure if Dustin Poirier Can Beat Conor Mcgregor in the Trilogy Fight
But, as it is always said that it is a game of uncertainties, Anderson still has enough weapons in her arsenal to stun the champ on the ground.
Nunes vs Anderson: Last 5 Fights' Stats
Let's have a look at the challenger's recent performance. Coincidentally, she currently has 5 fights in UFC. So, her previous 5 are basically her whole UFC career in a nutshell.
She is 3-2 in her last 5 bouts. Her most notable bots include a decision loss to Holly Holm, a spectacular 1st round TKO victory over Cat Zingano and a submission loss against Felicia Spencer.
Talking about The Lioness, she is on a terrific 11-fight win streak. So, it would be unfair to just talk about her last 5. Her win streak has witnessed victories over opponents like Valentina Shevchenko (x2), Ronda Rousey, Cris Cyborg, Miesha Tate and Holly Holm. She has 3 victories coming from KO/TKO in her last 5 fights.
The numbers heavily favor Nunes for the bout. It will be quite interesting to see how this fight goes.
Also read: Jon Jones Looks Huge in Latest Sparring Video as He Prepares for His UFC Heavyweight Debut
Only time will tell what the true outcome of this fight will be. Till then, let us know in the comments section down below who are you rooting for the women's 145lb title bout- Amanda Nunes or Megan Anderson.
Amanda Nunes vs Megan Anderson Prediction:
Winner Amanda Nunes