The most feared heavyweight in the UFC will be entering the octagon once again in an attempt to dethrone Stipe Miocic to become the new heavyweight champion. The last time these two men met, Francis Ngannou fell short to Stipe Miocic in his quest to be the rightful owner of the belt. This time he seems to be more than ready for his second title opportunity.
Francis seems to have not only learned from his past mistakes, but his team has also worked hard to prepare him for this bout. Let's have a look at his training partners and coaches.
Also Read: "I See Kamaru Usman as a Brother"- Francis Ngannou Calls Usman an Inspiration, Trolls Daniel Cormier
The gym where Francis Ngannou trains
Ngannou is the product of one of the most reputed MMA gyms in the world- Xtreme Couture. Headed by the legendary Randy Couture, it has a number of MMA fighters and champions under its wing. One of the most notable among them is The Predator himself.
Striking coach of Francis Ngannou- Dewey Cooper
Dewey Cooper is not only his striking coach but his head coach as well. Ngannou has been training under him for quite a long time. A professional kickboxer and boxer in his fighting days, his most notable student came to be none other than the current heavyweight title challenger.
Also Read: UFC 260: Stipe Miocic vs Francis Ngannou: Stats, Fight Prediction & Breakdown

Eric Nicksick- The man working on all aspects of Francis Ngannou's game
The 2020 Coach of the Year awardee and Xtreme Couture gym manager, Nicksick has training The Predator for the biggest fight of his career. Eric has been working on every aspect of Ngannou's game, whether it is stand-up fighting or ground game. Under the guidance of such a tremendously talented coach, Francis Ngannou seems quite certain to show far better results in the octagon since the last time he fought Stipe Miocic.
Also Read: "I Don't Find it Fun to Talk About" – Francis Ngannou Opens Up About Growing Up in Cameroon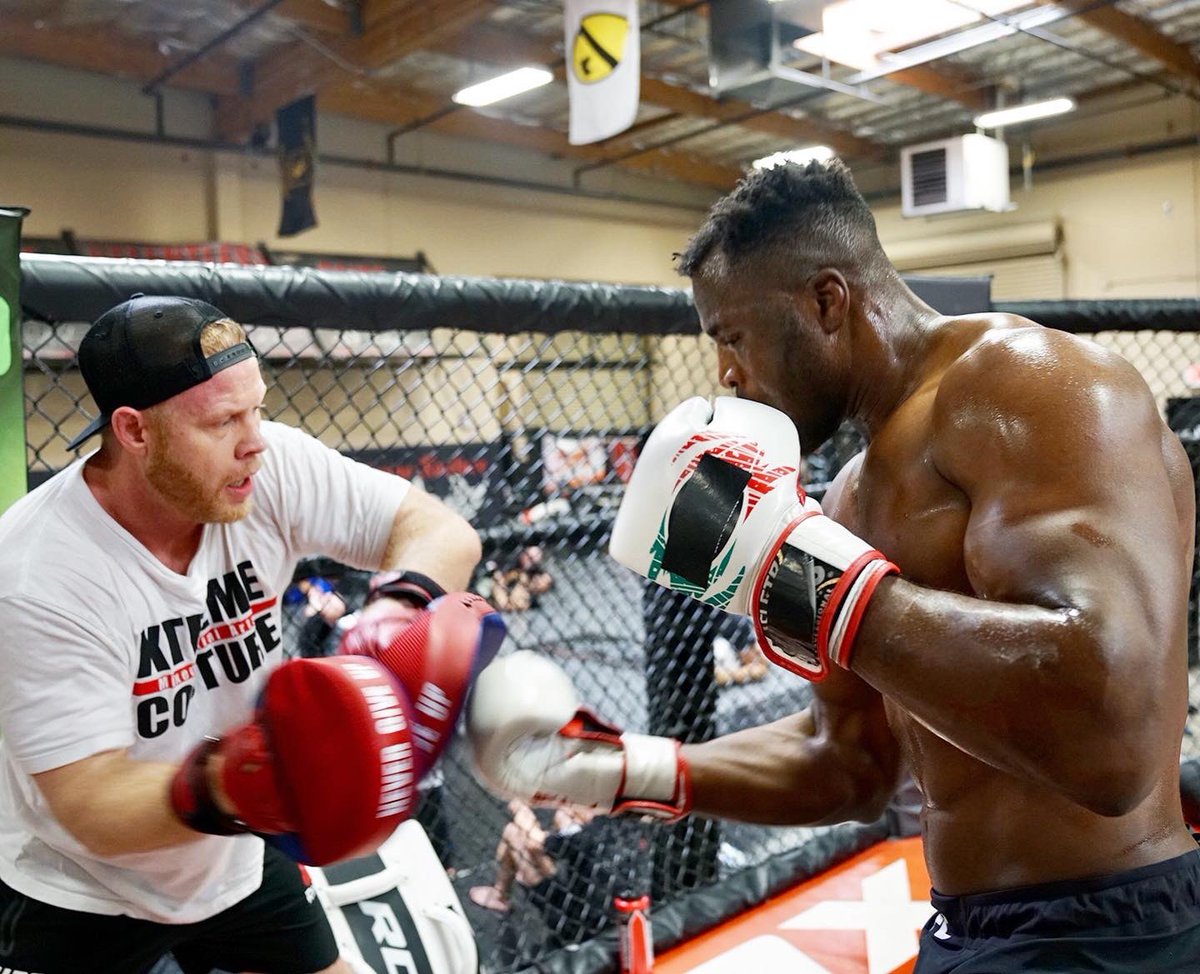 Kamaru Usman- A very significant addition to Francis Ngannou's team
The 170lb king of the UFC is the latest and probably the most significant addition to the Cameroonian-French's corner. The experience he possesses as a fighter along with his championship mentality will surely help Francis in fulfilling his dream to become the titleholder.
Plus, they are very close as they have so much in common. This will give the challenger a mental boost prior to his fight. Apart from this, sparring and training with a fighter of Kamaru Usman's caliber will not serve as a confidence boost for Ngannou, but it will improve his skills too which is a must if you are going to fight someone like Miocic.
The 34-year old has a great team and people surrounding him. It is very likely that Francis' preparation under these men will surely bring great results in his fight for the belt at UFC 260. Who do you think will emerge victorious? Let's know your opinions in the comments section down below.
Also Read: The Journey of Francis Ngannou