Stipe Miocic is set once again to defend his heavyweight belt against the feared Francis Ngannou at UFC 260. Stipe is considered to be the greatest heavyweight fighter to ever grace the octagon. However, behind each fighter, there is a huge team of loyal and hard-working trainers and partners working day and night towards his success.
And we will be looking at the very group of people surrounding the champ, who is the reason behind his success.
Also Read: "Vegas Hates Me"- Stipe Miocic Reacts to the Bizarre Predictions for Francis Ngannou Rematch
The gym where Stipe Miocic trains
The reigning heavyweight king's training routine is based in the Strong Style Fight Team. His first introduction to this gym was when he was brought as the wrestling partner for Dan Bobish in 2005. Since then, he's been training in the same gym which ultimately led to his huge success in MMA.
Miocic's head coach- Marcus Marinelli
Marcus Marinelli and Miocic's relationship dates back to 2005 when he started training at his gym. The heights of success in MMA that Stipe has touched wouldn't be possible without the coaching and guidance of the Strong Style head. As a result, they have stuck by each other's side for more than 15 years.
Also Read: UFC 260: Stipe Miocic vs Francis Ngannou: Stats, Fight Prediction & Breakdown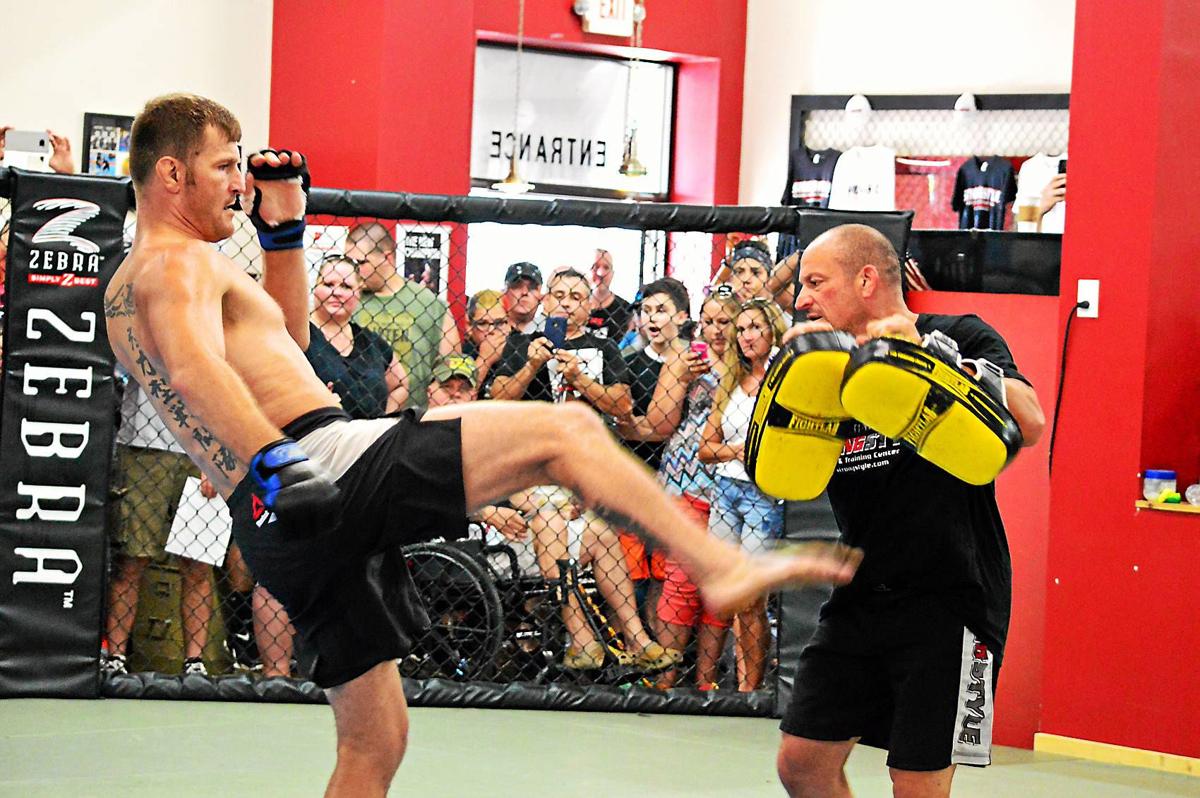 BJJ coach of Stipe Miocic
Though Miocic has a solid background in wrestling and has been an NCAA Division 1 wrestler, an addition of a submission game in his already big arsenal will only be better for him. So, here he is, training in BJJ under Pablo Castro.
He has been a college professor and a magistrate in Cleveland Municipal Court. However, now he works with Strong Style gym as the head BJJ instructor. And the best part is that he is one of those people who help Stipe becoming comfortable on the ground as well.
Miocic's long-time sparring partners
Just like other fighters, the champ also hones his craft by sparring his teammates and other fighters. Three men play the pivotal role in preparing Miocic for most of his fights. They are Demoreo Dennis, Aleksa Camur and John Hawk.
https://www.youtube.com/watch?v=DC0L5jLu86M
Talking about Demoreo Dennis, he is a kickboxer. His primary role is to help polish Stipe's stand-up fighting skills. Plus, he also helps him in preparing for five five-minute round fights. They spar generally thrice or four times a week.
Also Read: Here's Everything You Need to Know About Stipe Miocic's Wife, Daughter, and Family
John Hawk- he's yet another name who helps Miocic in becoming the man he's inside the octagon. A veteran of the game, he's known as a powerful heavyweight who possesses a good amount of power in his punches. His power helps Stipe get comfortable fighting the heavy-hitters the heavyweight division is mostly known for.
Then comes his younger training partner and fellow UFC athlete Aleksa Camur. Since he is 205 pounder, he is naturally faster than the heavyweights. His fast-moving ability helps in improving Stipe's fighting pace inside the cage, a quality for which he's widely known for.
With the help and support of such a great team, it is no surprise that Stipe Miocic became so much success in this brutal sport. He is certain to go down as the greatest heavyweight in UFC history. Let's see how Stipe Miocic's next title defense against Francis Ngannou goes.
Who do you think will exit the octagon with the heavyweight strap wrapped around his waist? Let us know in the comments.
Also Read: Stipe Miocic's Tattoos and the Stories Behind Them