Kevin Holland takes on Derek Brunson to further cement his position in the UFC's middleweight rankings in the main event of UFC Vegas 22. However, the card boasts of other interesting match-ups as well.
The fight between two welterweight prospects Kenan Song and Max Griffin is just the same. An interesting one! Let's have a look at the detailed breakdown of both the fighters leading up to their fight on Saturday.
Also read: BREAKING: Michael Chandler Takes on Justin Gaethje Next
Kenan Song vs Max Griffin stats
Kenan Song has 21 professional fights under his belt. He has emerged victorious on 16 occasions. During his five-fight stint with the UFC, Song is currently on a two-fight win streak which he must be looking eagerly to increase to three.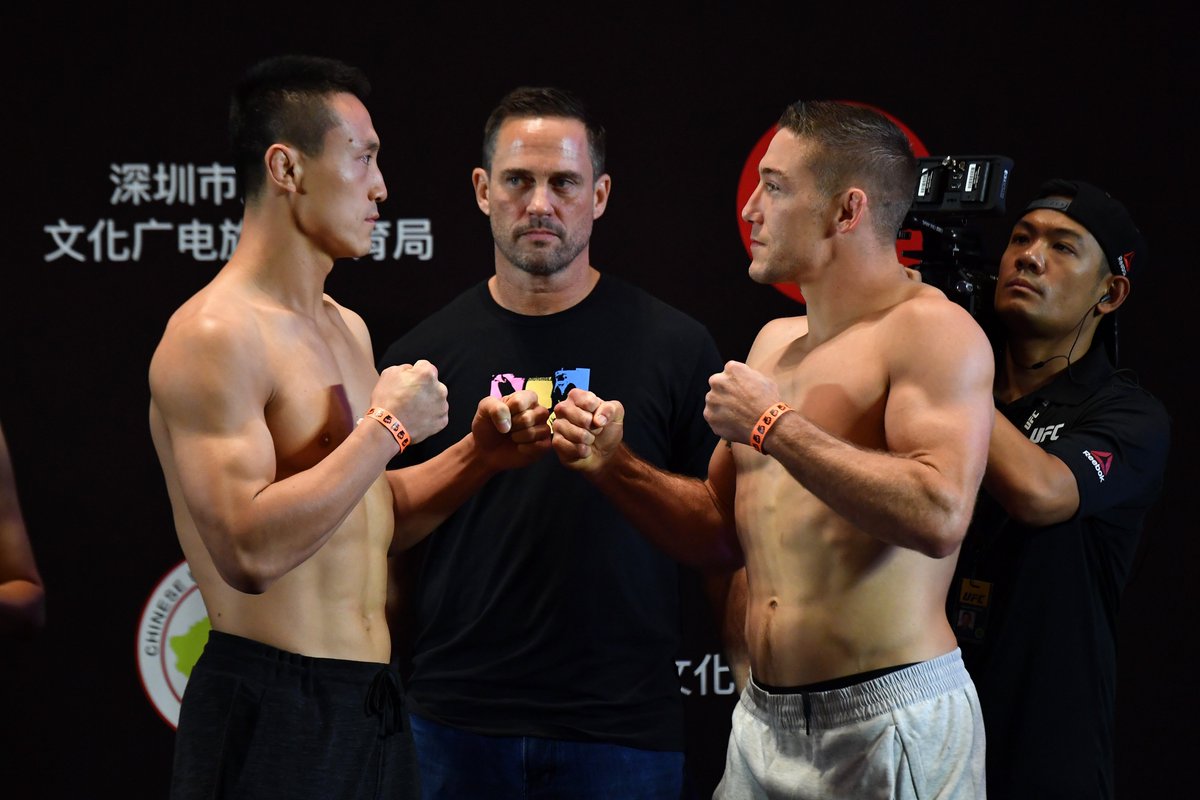 Talking about his opponent, he has 24 fights under his belt with 16 victories. Though he got his hand raised during his last presence inside the octagon, his recent performances don't look quite good. During his 10-fight stint with the UFC, he has managed to pull out victories on only 4 occasions.
| | |
| --- | --- |
| Name | Kenan Song |
| Record | 16 Wins and 5 Losses |
| Last Five Fights | 4 Wins and 1 Loss |
| Reach | 71.5 in |
| Team | MY Fighting Academy |
| Nickname | The Assassin |
As per their performances in their last five fights, Song looks way better than Pain. While Song is 4-1, his next opponent is 2-3. Out of his four victories, Song has knocked out three of his opponents.
Name
Max Griffin
Record
16 Wins and 8 Losses
Last Five Fights
2 Wins and 3 Losses
Reach
76 in
Team
Marinoble's Martial Arts
MMA Gold
Nickname
Pain
Having a look at their recent and overall performances in their respective careers, it can be said that Song has a clear upper hand over Griffin.
Song vs Griffin predictions
Out of his 16 victories, Kenan has finished 14 of them, eight via knockout and six via submission. Looking at his impressive record, it is safe to assume that he is one hell of a threat inside the cage whether on the feet or on the ground.
Also read: UFC Vegas 22: Leonardo Santos vs Grant Dawson: Stats, Fight Prediction & Breakdown
Talking about his opponent, he has legit stand-up skills with eight of his victories coming via KO/TKO. Max also holds a first-degree black belt in kickboxing. Besides this, he also holds black belts in Bok Fu and Marinoble's fighting system. Though he has not relied a lot on his ground game, there were two occasions when he finished his opponents via submission.
https://www.facebook.com/ufceurope/videos/ufc-auckland-song-kenan-knockout/3112557682089245/
So, his abilities on the ground and the threat he is there can't be overlooked. Even though he is slightly more experienced than Song in the fight game, Kenan Song seems to be the favorite over Pain.
There's only one area where Griffin seems to have an edge above Song, which is the reach advantage. Griffin enjoys a 4.5-inch reach advantage over Song. However, with the skillset that Song possesses, it doesn't seem a difficult task for him to easily counter Griffin's reach advantage over him.
Kenan Song vs Max Griffin prediction: Kenan Song via KO/TKO
Who do you think will come out of the octagon victorious on Saturday? Let us know your thoughts in the comments section down below.