This Saturday's card is almost all set and booked with pretty good fights. One of them is the recently announced bout between Tai Tuivasa and Harry Hunsucker. With the back-and-forth between Kevin Holland and Derek Brunson is going to headline this event, other fights seem to be quite attention-worthy as well.
This bout is interesting in many ways. First of all, Tuivasa is going to step inside the octagon for the first time since nearly saving his position in the promotion. Second, it is scheduled with the promotional newcomer Harry Hunsucker.
Also Read: Derek Brunson Claims that Kevin Holland is Trying to Mimic Israel Adesanya
It was initially scheduled to be against Don'Tale Mayes. However, he pulled out due to some unknown reasons. Tuivasa is currently 4-3 in UFC, with just recently snapping his disappointing three-fight run. On the other hand, Hunsucker will be making his debut for the company.
Let's have a look at how they weigh against each other.
Tai Tuivasa vs Harry Hunsucker- Stats
Bam Bam is fresh off a first-round KO win over the seven-footer Stefan Struve. This bout not only snapped his losing streak but catapulted him to much-needed action as well. He is 2-3 in his last five, with all the losses of his career coming in those five bouts.
Even though he is 10-3, recent times have been less favorable for him. After securing three straight wins in UFC, he went on to lose the other three that tainted his previously perfect record. Nonetheless, he's back on the winning track after finishing Skyscraper within five minutes.
| | |
| --- | --- |
| Name | Tai Tuivasa |
| Record | 10 Wins and 3 Losses |
| Last Five Fights | 2 Wins and 3 Losses |
| Reach | 75 in |
| Fighting Style | Boxing, Kickboxing |
| Team | TK MMA & Fitness |
| Nickname | Bam Bam |
Talking about the newcomer, he'll soon be making his debut for the biggest MMA promotion in the world. And even that against a fighter who can't be underestimated at all. He holds a record of 7-3.
Also read: UFC Vegas 22: Cheyanne Buys vs Montserrat Conejo Ruiz: Stats, Fight Prediction & Breakdown
He has also fought in Dana White's Contender Series losing the bout in the very first round. However, it seems like this doesn't concern the UFC boss who nonetheless decided to sign him. He seems to be in great form with only one loss in his last five fights.
| | |
| --- | --- |
| Name | Harry Hunsucker |
| Record | 7 Wins and 3 Losses |
| Last Five Fights | 4 Wins and 1 Loss |
| Reach | – |
| Fighting Style | Striker |
| Team | Elite Martial Arts and Fitness |
| Nickname | The Hurricane |
However, it is hard to compare them based on that. The reason is Tai has fought high-level opposition since being signed to the UFC. Even though he has lost three bouts, those defeats came from the hands of elite heavyweights.
Talking about The Hurricane, though he has won four out of his last five, it was against the opponents who are not touted as elite as the UFC roster. So, Tai Tuivasa seems to have an upper hand over Hunsucker.
Tuivasa vs Hunsucker- breakdown
Tuivasa is predominantly a stand-up fighter capable of landing game finishing big shots. It is also quite evident from his record. Nine out of his 10 victories have come via a KO/TKO. After all, his boxing and kickboxing credentials speak for themselves.
Also read: UFC Vegas 22: Johnny Eduardo vs Anthony Birchak: Stats, Fight Prediction & Breakdown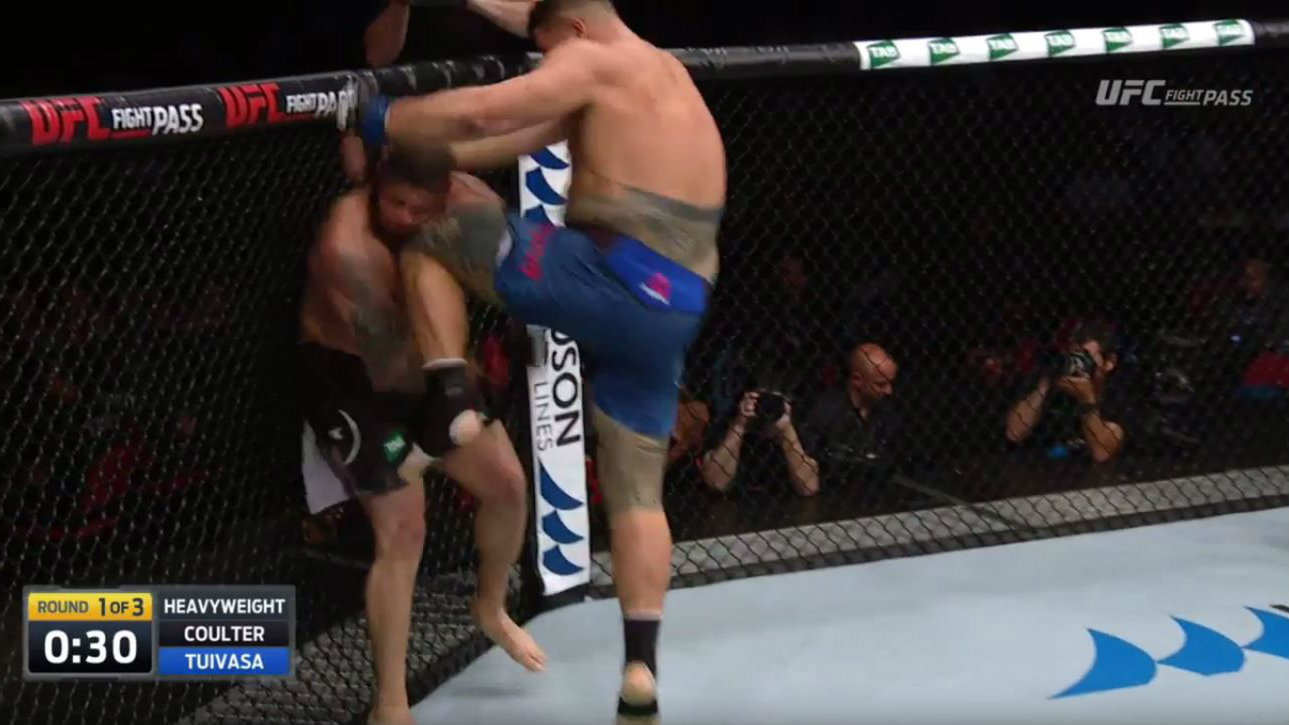 Even more dangerous is the fact that all of his KO/TKO victories have come in the very first round themselves. Crazy and hard to believe, yet true. This shows the danger Bam Bam poses especially in the first round. However, he is less inclined towards grappling and submitting his opponents. So, if the fight goes to the ground, it might be a problem for him.
Talking about The Hurricane, he is also a good stand-up fighter, but the biggest advantage he holds over Tuivasa is his equal application of stand-up and ground game in his fights. Out of his seven professional victories, three have by way of a KO/TKO, while the other four opponents got submitted. It doesn't matter if you are swinging or grappling, Harry is comfortable in all aspects of the game. This can be quite a big problem for Australians.
However, Tuivasa is way more experienced in dealing with the elites than Hunsucker. Apart from fighting them, he has also defeated many in a brutal manner, important knowledge, and experience which Hunsucker greatly lacks. This experience blended with the fierce knockout power looks to be more likely to come out victorious on 20th March.
Tai Tuivasa vs Harry Hunsucker prediction – Tai Tuivasa by Unanimous Decision.