Michel Pereira, hails from Pará, Brazil. Coincidently, the state is also the birthplace of the Brazilian jiu-jitsu creator, Helio Gracie. The former UFC Flyweight champion Deiveson Figueiredo also comes from the same state.
Pereira has been stunning everyone with his rather unconventional and unorthodox style of fighting. He is a complete package of violence and some serious guts. The Brazilian is either throwing backflips at his opponent or is sometimes break dancing in the cage.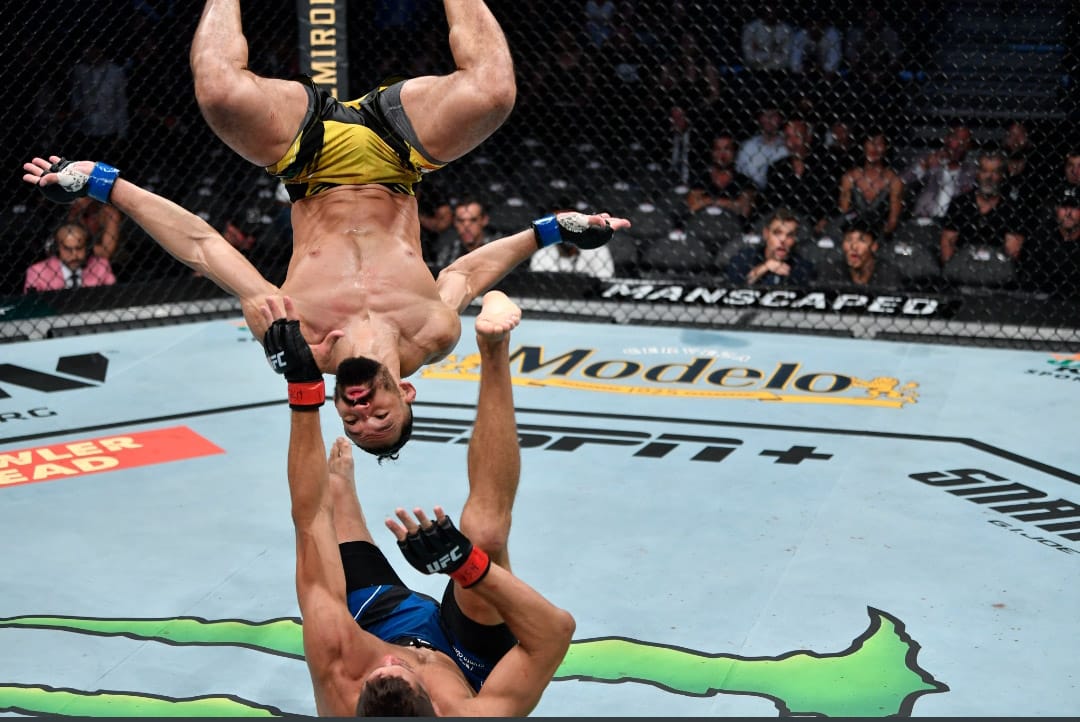 He brings his unique style of fighting from a technique called "capoeira", an Afro-Brazilian style of fighting introduced by the natives during the Portuguese colonization. The technique is a complicated one involving a blend of acrobatic and unorthodox moves. Pereira for sure has mastered it with ease.
Pereira has been practising Karate since he was 12 and switched to Brazilian Jiu-Jitsu at 16. Fighting from a very young age, he oozes confidence and craziness at the same time. His UFC debut had all eyes on him as he breakdances, practices moonsault and some acrobatic moves while Bruce Buffer makes his official announcement.
He fought Danny Roberts in his debut and the fans knew what to expect from his absolutely crazy yet brutal style of fighting. He lands a flying knee followed by a punch on Roberts to kick start his UFC career with a win.
His second UFC bout is his craziest fight ever. It's safe to say, Pereira tried everything he ever wanted to, in a single fight. He breakdanced and tried to land on his opponent, Tristan Conelly with a backflip and gases himself out. He then happens to lose the fight via unanimous decision.
Pereira in his third fight was disqualified at the UFC fight night 167. He landed a knee to the body, dropping his opponent, Diego Sanchez to the canvas and then hitting him with an illegal knee. Not surprising at all from the Brazilian.
UFC fight night 176 witnessed another savage moment from Pereira. His opponent, Zelim Imadaev slapped Pereira's head during their pre-fight face-off. Pereira then comes with his humiliating tactics, dancing and taunting Imadaev. He then goes on to slap Imadaev in the face to then stand victorious via a rare naked choke.
Pereira has four wins in his UFC career with being undefeated in his last three fights. He also called out the former lightweight champ, Anthony Pettis.
"(I) want to say to Anthony Pettis if he wants to fight in two or three weeks I am ready."

-After his victory over Khaos Williams at #UFCVegas17, Michel Pereira (@UFCPereira), calls out Anthony Pettis pic.twitter.com/Zekdete2fG

— UFC News (@UFCNews) December 20, 2020
Michel Pereira UFC record
Pereira has fought 6 fights under the UFC with 4 wins and 2 losses. He has been a part of 6 promotions before the UFC. He fights next at the UFC 270 against Andre Fialho, on the 22nd of Jan.
He has had a very successful run in the UFC. Owing to his ability to land on his opponents a significant number of times, he has 3 wins via unanimous decisions and one via rare naked choke. His win over Danny Roberts is a KO win by a "flying-knee". Savage, for any fighter, to have a TKO win via an acrobatic finish.
However, he has lost 2 fights, won via DQ. Pereira has one of the most complete fight resumes and is going into the cage at UFC 270 as the fan's favourite.
Career earnings, Nationality, Walkout music
Michel Pereira has earned $270,100 in his UFC career so far. His highest paychecks came aginst his two wins over Danny Roberts and Zelim Imadaev. The 27-year old is from Maraba, Brazil. He walks out to a different song every time. The songs are usually by the same singer. Some of the notable ones are, "Chora Ate Perder a Fala" by Gusttavo Lima and "Falando de Amor" by Gusttavo Lima.