Another blockbuster PPV event of the UFC is on the way. And this time it is going to be headlined by a bout between 2 teammates. Yes, you guessed it right. UFC 258 is being headlined by the championship bout between Kamaru Usman, the champion, and Gilbert Burns.
The fact that these men train at the same gym and maintain a close relationship is drawing the attention of many fans. They have been training since 2012 when they were both parts of Blackzilians. So, it's natural that they know a lot about one another's fighting styles. It will be fascinating to see what these 2 men have in their arsenals against each other.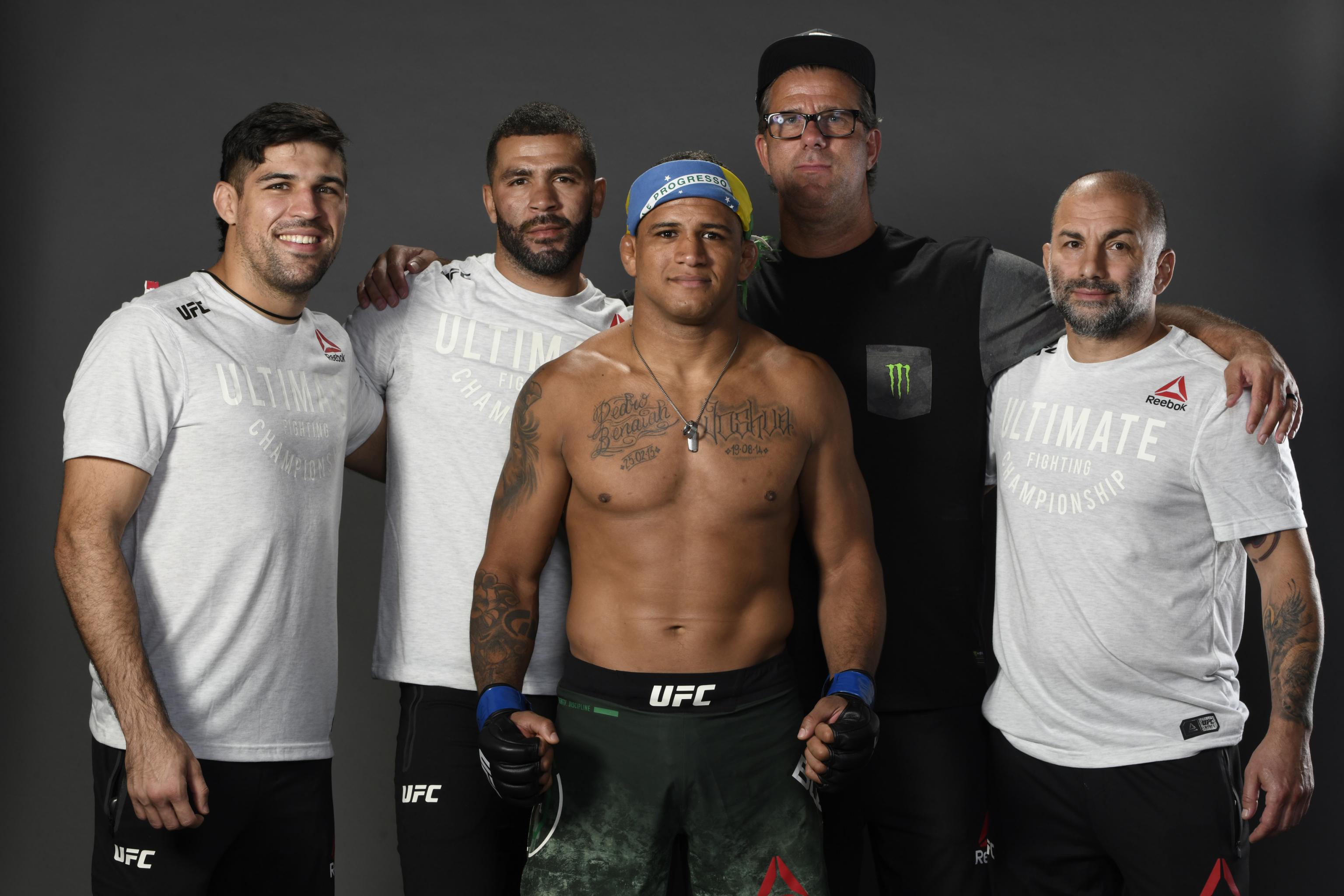 They have been training for so long. During these times, they also have cornered each other many times. Like the time when Durinho warmed Usman up before his fight against Demian Maia. In this article, we will look back at the time when Kamaru Usman was cornering Burns.
Also read: "He Did Like Some WWE at the End of His Fight" – Nate Diaz Pokes Fun at Michael Chandler
Kamaru Usman Cornered Durinho In One Of His Fights
It is not clear in which fight Usman cornered Durinho. But it can be clearly seen that he is clearly instructing his fighting teammate to not give up. Usman can be clearly seen instructing Gilbert Burns on how to counter his opponent's offense. Then, he can be seen encouraging the Brazilian to not give up this fight.
Check out the words Usman is telling his fighter, Gilbert Burns:
"… stops or he backs up, flick, inside. Keep your hands up, OK? You just went with hooks. Don't give up this fight right now. OK? You gotta work. Keep working. Just start to finish 5 minutes. Let's go, OK?"
https://youtu.be/kUUQm9AC5co
UFC 258 Headliner Is Surely Going To Be Scintillating One
While the welterweight king Kamaru Usman has very strong wrestling, Gilbert Burns is a world-class grappler having won many BJJ world championships. With their transition into MMA, both Burns and Usman have also become very good strikers.
Plus, they know a lot about each other's fighting styles. So, it is going to be very difficult to predict who will emerge victoriously. While many fans and MMA pundits have been favoring the champ, others can also be seen siding with the challenger also.
Whatever the case may be, one thing that everyone is agreeing to is the fact that the Brazilian is going to be Kamaru's toughest opponent. So, let's wait till February 13th when the whole world will see one man exiting the octagon with 170lb gold.
Let's us in the comments section down below who are you backing up in the UFC 258 main event.
Also read: Nate Diaz Revisits His Rivalry With Khabib Nurmagomedov – Reveals Why He Didn't Fight the Dagestani Fighter